Written by Dr. Davide Di Maio
Thursday, 03 September 2009 18:23
The latest addition to the database shows a flip chip component reflowed using a Pb-free process to a standard laminate printed board. Based on optical inspection, a question was raised over one of the joints

at the far left and the fiber contamination. The component was x-rayed and the solder joints were found to be satisfactory. Small fibers like the one in Figure 1 are not uncommon on the surface of printed boards. They can be airborne contamination held in place by the flux applied prior to flip-chip placement. Random in-process inspection of boards prior to component placement and inspection of bare boards for cleanliness could be considered remedies.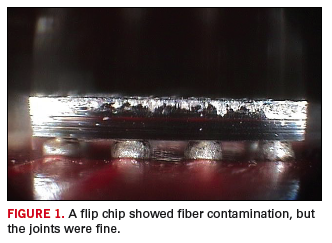 These are typical defects shown in the National Physical Laboratory's interactive assembly and soldering defects database. The database (http://defectsdatabase.npl.co.uk), which is available to all Circuits Assembly readers, allows engineers to search and view countless defects and solutions, or to submit defects online.  
Dr. Davide Di Maio is with the National Physical Laboratory Industry and Innovation division (npl.co.uk); This e-mail address is being protected from spambots. You need JavaScript enabled to view it .
Last Updated on Wednesday, 09 September 2009 18:42
Columns
Eastern-US: China's New Competitor?
Parity emerges among EMS Factories from Asia, Mexico and the US.
For the first time in years we see parity in the Eastern US among EMS factories from Asia, Mexico and the US. This EMS market condition will permit American OEMs (the EMS industry refers to OEMs as customers) to have more EMS pathways to choose from. Now more than ever, such EMS assignments will require deeper investigation relating to the OEMs' evaluation of manufacturing strategies.
Read more...
For those who count on the electronics industry for big feats, it's been a remarkable couple of years.
Read more...
Features
Advances in Concentration Monitoring and Closed-Loop Control
Contaminated bath water skews refractive index results. New technology can accurately measure aqueous cleaning agent concentration.
Read more...
Circuits Disassembly: Materials Characterization and Failure Analysis
A systematic approach to nonconventional methods of encapsulant removal.
Read more...