Written by E. Jan Vardaman
Thursday, 03 September 2009 17:41
Driven by production adoption, happy days are here at last.
In an era of slower growth and limited investment, wafer-level packages are bucking the trend, with unit

volumes expected to top 12.5 billion die this year. What is driving WLP shipments in what is for many package types an otherwise slow year? And what is the impact on major IC package contract assemblers?
As end-users continue to strongly prefer small form factor, low-profile consumer products, small packages such as WLPs meet the requirements. Demand for thin packages and greater functionality in smaller spaces drives the increased adoption of WLPs in mobile phones. Cellphone makers are increasing WLP use. Under the most pessimistic scenario, more than a billion handsets are expected to ship this year. Many Japanese DoCoMo phones contain four to nine WLPs per handset. Shipments are growing as many companies convert leaded packages into WLPs in the search for low-profile packages. In addition, the perception is WLPs are less expensive because they have no substrate or wire bonds. Many companies are designing wireless devices in WLPs, resulting in growth for 300 mm wafers, whereas many early WLPs were fabricated on 200 mm or smaller wafers. However, demand for 200 mm wafers is also increasing.
WLPs are also found in an increased number of consumer products (PDAs, watches, MP3 players, cameras, and digital camcorders), and are expected to see greater use in laptops.
Issues and improvements. Wafer-level packaging requires a good material set and process, as well as test and backend processes such as wafer thinning and sawing. This can be challenging with copper low-k wafers at the 65 and 40 nm nodes. For this reason, companies are looking at improvements in wafer-thinning technology and use of laser singulation to prevent chipping and cracking.
WLPs, often with underfill, are increasingly able to pass the drop test (one of the most important tests for cellphone makers). New processes to make WLPs more reliable are key to greater adoption. Process improvements include increased dielectric thickness, new materials with improved properties, and improved designs. Unfortunately, the wide range of Pb-free alloys for WLP solder balls makes it difficult to predict reliability from supplier to supplier.
Traditionally, WLPs have been used for a variety of devices with low pin counts and small die sizes. WLPs are used for power MOSFETs, power management, controllers, ringtones for mobile phones, battery management devices, integrated passives, DC-DC converters and some memory devices. RF components such as Bluetooth and wireless LAN devices, as well as diodes, EMI filters, and devices for ESD protection are packaged in WLPs. Many of today's cellphones contain CMOS image sensors packaged in WLPs using ShellCase technology (now owned by Tessera). The latest image sensors are being fabricated with TSV technology to reduce the size of the camera module for cellphones.
Fan-out WLPs. With increased interest in using WLPs for larger die with higher pin counts, an increasing number of companies are looking at fan-out WLPs. Casio Micronics' copper post technology has been used for years in cellphones and consumer products such as watches. Infineon developed a "molded reconfigured wafer" technology for its fan-out WLP solution, called eWLB (Figure 1).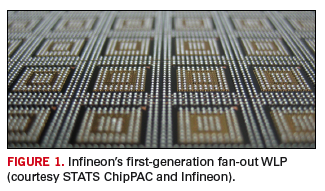 The chip backside and edges are covered with a mold compound and array interconnect solder balls attached to the active side of the die. This permits use of a fan-out redistribution. The technology is targeted at medium-to-high-I/O count (<300) devices such as baseband processors and multiband transceivers. Several companies have licensed eWLB and production lines have been installed at ASE and STATS ChipPAC. Infineon, STATS ChipPAC and STMicroelectronics are proposing eWLB as a standard for future-generation products.
Capacity expansion. WLP capacity, especially for 300 mm wafers, is in short supply at several major IC package subcontractors, especially in certain geographies. The transport time and logistics to move wafers from the fab to the WLP processing operation cuts into the tight time-to-market that many semiconductor makers are experiencing. Frequent flyer miles are no substitute for WLP stocks. In response, some subcontract assemblers have placed customers on allocation. The announced capacity additions are a welcome signal for advanced packaging equipment suppliers, as they benefit from investment. Happy days are here again – at least in advanced packaging.  CA
E. Jan Vardaman is president of TechSearch International, (techsearchinc.com); This e-mail address is being protected from spambots. You need JavaScript enabled to view it . Her column appears bimonthly.
Last Updated on Wednesday, 09 September 2009 18:45
Columns
Eastern-US: China's New Competitor?
Parity emerges among EMS Factories from Asia, Mexico and the US.
For the first time in years we see parity in the Eastern US among EMS factories from Asia, Mexico and the US. This EMS market condition will permit American OEMs (the EMS industry refers to OEMs as customers) to have more EMS pathways to choose from. Now more than ever, such EMS assignments will require deeper investigation relating to the OEMs' evaluation of manufacturing strategies.
Read more...
For those who count on the electronics industry for big feats, it's been a remarkable couple of years.
Read more...
Features
Advances in Concentration Monitoring and Closed-Loop Control
Contaminated bath water skews refractive index results. New technology can accurately measure aqueous cleaning agent concentration.
Read more...
Circuits Disassembly: Materials Characterization and Failure Analysis
A systematic approach to nonconventional methods of encapsulant removal.
Read more...