Written by Mike Buetow
Thursday, 03 September 2009 17:40
In May, after its Electronics Assembly Systems business had lost tens of millions of euros over the past few quarters, parent Siemens reclassified the unit for "disposal." With more than 22,000 installments worldwide, and a huge market share in Europe, the unit might be considered a prize to some. However, the current

outlook for electronics equipment is slow, and several competitors are on the block as well. Yet SEAS pushes on, introducing a new placement head (see Equipment Advances, March 2009) and the SX placement platform (see http://www.circuitsassembly.com/cms/component/content/article/120/8242-siemens-rolls-out-siplace-sx-placement-machine). It was against this backdrop that SEAS CEO Guenter Lauber spoke with Mike Buetow in July. Excerpts.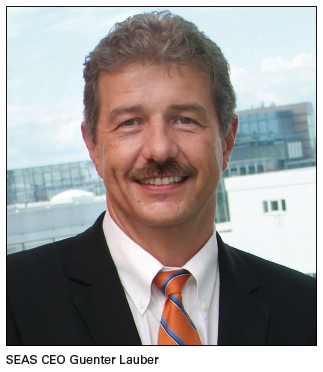 CA: According to Siemens, SEAS could be integrated into other Siemens segments, divested, rolled into a joint venture, or closed. Which of these options is most likely?
GL: What is most likely is a partnership to go forward and continue our successful way to grow the business. Health care, automation and infrastructure, and energy are Siemens' three cores. With our setup and customer structure, we don't fit those core strategies. Additionally, we don't fit in the Siemens organization with the Siemens regional setup anymore; we wouldn't get the opportunity to develop the Siplace business in the best possible way; thus the carve-out of the Siplace business was decided some time ago.
Since Jan 1, 2009, we are a separate legal entity. We are 100% owned by Siemens, but we report not to any of the three core sectors, but directly to the Siemens board as a separate company. This helps us in terms of controlling our business in a specific way. All our regional companies with the regional and local sales and service teams are directly controlled, supported and managed by Siplace management. In doing so, we set up our business in seven clusters. Before, we were part of the Siemens business in each region, which meant we had a far bigger structure than was eventually needed, with a lot of overhead positions and processes, and a lot of different reporting structures, which could make things a bit complicated from time to time. Now, we can decide to be only where the customers are. In doing so, we could save significant money. For example, we don't have to pay for marketing costs for dual efforts. A lot of those examples helped us reduce our costs, and we can better support our customers.
CA: What are those clusters?
GL: The Americas – North and South; China; Rest of Asia; Germany; Northwest Europe (Scandinavia, UK); Southwest (France, Italy, Spain, Portugal); Central/Eastern Europe (Austria and the rest of Eastern Europe). There is no general manager for each region, just a sales manager in each cluster running the sales and service organization.
CA: What would the ideal partner look like?
GL: There are several options: One would be a strong partner in the industry with similar products, same or different but with synergies. Other possibilities would be a sale or a joint venture, or even remaining an individual company under the Siemens roof.
CA: What do you think the SEAS unit's major appeal would be to a prospective partner?
GL: Definitely our strength in innovation and technology. We are an innovation driver. That would be a real appeal, with our know-how and products. Of all technology and equipment suppliers, we come closest to the ideal of real on-demand production, thanks in part to our strengths in software development and integration.
CA: What would be the risks of acquiring the unit?
GL: With the new SEAS, with new setup and restructuring done for the future, and with a global team like this, I personally don't see a risk that could jeopardize the success of any future arrangement.
CA: One might point to the forecasts for equipment sales over the next few years and say the outlook poses a risk.
GL: Electronics equipment suppliers have always been part of a very volatile market. So downturns are not really new to us. Consequently, it also means the market will recover, at which level we cannot say right now, of course. But be assured, SEAS is in very good shape, not only in its setup, but also with its new and innovative products.
CA: Is an employee or management buyout of the unit a consideration?
GL: Again, why should we exclude any options and limit our flexibility? We will analyze each realistic option that can make us more competitive and successful.
CA: You appear confident of SEAS' future.
GL: We went through this carve-out and it helped us to save some costs. We are an equipment supplier and solution provider, and now, we are more acting like a mid-size company – flexible, and reacting very quickly to customer demands. We feel very comfortable under the Siemens umbrella. It makes me very happy about our future. Also, looking into our product portfolio, the SX placement machine has been launched and we're already bringing it into the market. This gives us a bright and strong future.
SEAS has installed more than 22,000 placement machines around the world. In each region we are one of the leading equipment suppliers, and in Europe we are by far No. 1. Within our service business, the share of classic support and after-sales services is, in relative terms, on the decline. On the other hand, the share of ambitious, customer-specific process improvement projects is rising steadily, because they enable customers to benefit from double-digit efficiency improvements and significant cost reductions. These start from new built-to-order concepts, which eliminate rigid manufacturing concepts and inflexible SMT lines. This means new technologies are required that make the flexible line reality.
Two recently unveiled innovations – the MultiStar CPP head and the modular gantry SX-Line, which separates the investment of feeder capacity and placement performance – bring us a lot closer to the holy grail of on-demand production. This is the future of electronics production. And rest assured, at Productronica we have something really exciting in our pipeline. 
Last Updated on Wednesday, 09 September 2009 18:45
Columns
Eastern-US: China's New Competitor?
Parity emerges among EMS Factories from Asia, Mexico and the US.
For the first time in years we see parity in the Eastern US among EMS factories from Asia, Mexico and the US. This EMS market condition will permit American OEMs (the EMS industry refers to OEMs as customers) to have more EMS pathways to choose from. Now more than ever, such EMS assignments will require deeper investigation relating to the OEMs' evaluation of manufacturing strategies.
Read more...
For those who count on the electronics industry for big feats, it's been a remarkable couple of years.
Read more...
Features
Advances in Concentration Monitoring and Closed-Loop Control
Contaminated bath water skews refractive index results. New technology can accurately measure aqueous cleaning agent concentration.
Read more...
Circuits Disassembly: Materials Characterization and Failure Analysis
A systematic approach to nonconventional methods of encapsulant removal.
Read more...