Written by Dr. Davide Di Maio
Saturday, 01 August 2009 00:00
A thinly plated hole could be susceptible to PTH lead damage.

The latest addition to the database is delamination on the surface of a board assembly. A microsection (Figure 1) shows a plated through-hole with a through-hole lead after soldering using a PbSn process. Prior to sectioning, the board had shown evidence of minor delamination and measling around the pad area on the board subsurface. The board was being produced in medium volume for a consumer product.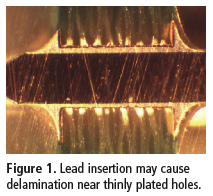 Mechanical strain or damage may occur during pin insertion. The soldering temperature or the time to solder may have been excessive, causing board expansion. The image in Figure 1 is not very clear, but based on the examination and comparison of the relative dimensions, the plating in the hole is thin, probably less than 20 µm. There is evidence of delamination/separation of the glass bundles at the hole-copper interface.
Close examination of the microsection and the rest of the board will be required for root cause analysis. There are a number of possible causes, and along with the board examination, all the process details would be reviewed, or even the assembly/soldering operation audited.
These are typical defects shown in the National Physical Laboratory's interactive assembly and soldering defects database. The database (http://defectsdatabase.npl.co.uk), available to all Circuits Assembly readers, allows engineers to search and view countless defects and solutions, or to submit defects online.
Dr. Davide Di Maio is with the National Physical Laboratory Industry and Innovation division (npl.co.uk); This e-mail address is being protected from spambots. You need JavaScript enabled to view it .
Columns
Could 3-D printers undo decades of frame-up circuit board assembly?
Read more...
J-STD-004B: A New Twist on an Old Standard?
Before rejecting a flux, be sure you understand the standard.
Read more...
Features
A Systems-Level Approach to Product Development
Is there a way to more tightly integrate materials and process development so as to accelerate the pace of innovation?
Read more...
Reducing Stencil Wipe Frequency
A new study of nanocoatings allows users to visualize solder paste flow under the stencil.
Read more...
Products
Hitachi Updates Sigma G5S Modular Mounter
Sigma G5S modular mounter has a multi-function head that now features lead-clinching and tamping functionalities. Uses side-mounted lighting and machine vision to identify and locate through-hole...