Written by Rita Mohanty, Ph.D.
Monday, 29 June 2009 17:41
The effect of various print and reflow factors on broadband printing.

Last November, we introduced the concept of broadband (dynamic) printing, which in simple terms is solder paste deposition for components of multiple (and dramatically varied) sizes on a single board.
We recently finished a study that investigated the effect of various print and reflow factors. Step one focused on the printing process and included the following printing factors: stencil technology, stencil thickness and board finish. Step two focused on effect of reflow environment, stencil technologies and pad finish on solder joint integrity. I'll summarize the study and findings over the next couple columns.
The test vehicle (Figure 1) TV was divided into four quadrants with the same pad layout in each quadrant. The top half of the board was a "step and repeat," while the bottom half was the "mirror image" of the top half. The board layout was created to understand the interaction between pad orientations, pad location, board and stencil stretch. Each quadrant incorporated a range of commercially available components and packages that included miniature (01005 and 0201 passives) and larger components (BGA-256, QFP-180, etc.).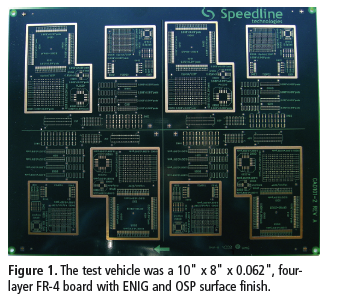 As the objective was to overprint the larger components to provide higher volume of paste, the larger components' aperture size was systematically increased from 100% to 160% (based on the component type) of the pad size. Table 1 shows the aperture layout for these components and Figure 2 shows typical schematic of a QFP-160 and TSOP-32 aperture size distribution.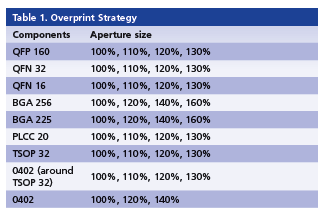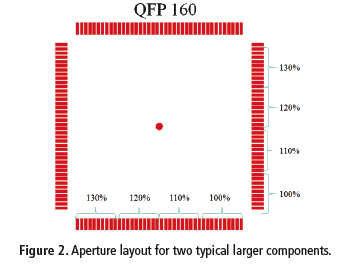 Printing DOE. A full factorial design with two factors, at two levels, was performed to optimize paste transfer efficiency. This DOE was blocked over two different stencil technologies to assess the effect of stencil technologies on large and small pad sizes. Table 2 shows each stencil's actual measured thickness and taper.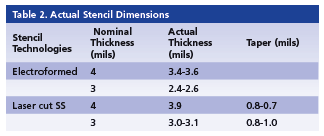 Factors used were:
Variable:
Stencil thickness – 0.003" and 0.004".
Board finish – OSP and ENIG.
Fixed:
Paste type – SAC305, Type IV
Print speed – fixed for each stencil type.
Print pressure – fixed for each stencil type.
Separation method – fixed for each stencil type.
Blocked:
Stencil technology – Electroformed and stainless steel laser cut.
Table 3 shows the standard order design table. Before each block of DOE was started, print parameters were optimized. Print optimization started with printing a board with the paste manufacturer's recommended settings, followed by visual inspection to verify the board-stencil alignment. The offsets were then input in the printer, and the same board was cleaned and printed again. This process was repeated until the paste was completely deposited on the pads. The initial setup for print speed, print pressure and separation speed were then modified to obtain optimum print quality. The criteria for the optimum print quality were deposit aperture fill, deposit shape, and clean sweep of the stencil after every stroke. Figure 3 shows a typical acceptable print setup.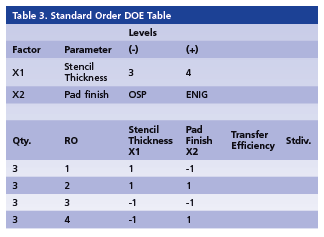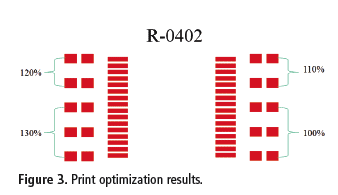 The responses considered for this study were the transfer efficiency (TE), paste height, absolute paste volume and bridging. Transfer efficiency is defined as:
        
TE = Measured paste volume/Theoretical volume of the aperture * 100

A "repeat" noise strategy was adopted for this study to learn run-to-run variations. Three boards per treatment combination were printed with "rear to front" squeegee direction only. This strategy was adopted to minimize noise effects due to squeegee stroke direction on the print quality. All data analysis was conducted using JMP statistical software.
Next time, we'll discuss the findings.
Rita Mohanty, Ph.D., is director advanced development at Speedline Technologies (speedlinetech.com); This e-mail address is being protected from spambots. You need JavaScript enabled to view it .
Columns
There's been a flurry of EMS acquisition activity of late, with Natel's acquisition of EPIC Technologies and Benchmark's pickup of Suntron and CTS among the larger deals.
Read more...
What Does New CEO for Microsoft Mean for Hardware?
In the end, Microsoft couldn't pull the trigger. In Seattle, outside just wasn't "in."
The world's largest software developer today named Satya Nadella, head of the the company's Server and Tools unit, as its new chief executive. The 46-year-old Nadella becomes just the third person to lead Microsoft, one of the most successful and wealthiest companies ever.
Read more...
Features
A Systems-Level Approach to Product Development
Is there a way to more tightly integrate materials and process development so as to accelerate the pace of innovation?
Read more...
Reducing Stencil Wipe Frequency
A new study of nanocoatings allows users to visualize solder paste flow under the stencil.
Read more...
Products
Getech Releases GLRS Laser Singulater
GLRS laser singulation system is configurable with a near IR laser (1032nm) for use with metal-core substrates or a green laser (532 nm) for use with ultra-thin and flexible substrates. Inert gas...