Written by Mike Buetow and Chelsey Drysdale
Monday, 04 May 2009 13:49


It was Apex vs. the economy, and the economy won.
In 2009's first test of how the electronics manufacturing industry is holding up, the crowds mostly stayed home from the major North American trade show of the year. Travel bans at several major OEMs clearly dampened Apex turnout in April – down 34% year-over-year. Sensing the pending void (and disgruntled over the inflated costs of the show), exhibitors scaled back on equipment and booth sizes and, in a few cases, pulled out altogether. Perhaps Rehm COO Marc Daldrup summed it best, calling it "a real survival year."
One survivor was the technical conference, which held its own with last year. Overall numbers were solid, even though several traditional classes were canceled due to lack of registrants. The standards-writing task groups were busy as well, as the organization's primary documents, including J-STD-001 and IPC-A-610, are undergoing revision.
According to members of the task groups authoring the documents, much of the review of the two popular documents centers on eliminating the conflicts in the qualification criteria. The J-STD-001E revision appears on track for completion well ahead of IPC-A-610E, but publication of the former will be held to coincide with the latter, a task group member told Circuits Assembly. "What is good," the member said, is that the respective task groups are giving the documents "a very thorough scrub" to be sure there are no conflicting criteria. The goal is to have them done by Apex next year, says IPC vice president of standards and technology Dave Torp.
Two other joint standards, J-STD-004 and J-STD-005, covering fluxes and pastes, respectively, are undergoing updates to incorporate low halogen versions (generally defined as less than 900 ppm of chlorine or bromine, and a total of less than 1500 ppm of both). Henkel Electronics Global Marketing Manager Doug Dixon said the solder materials company has seen "significant activity" on halogen-free materials, while noting a cost-savings in refrigeration and the reworkability of such products.
Some of the test methods need to be revised for finer pitch components, Torp told Circuits Assembly. For example, the silver chromate paper test (IPC-TM-650 method no. 2.3.33) doesn't detect halides at certain levels and is prone to false positives from the presence of certain chemicals. Some of the lessons learned from the Pb-free process need to be incorporated as well, Torp said.
One proposed document generated a small amount of controversy. According to several technical committee members, IPC is pushing for a box build standard. The response, the members told Circuits Assembly, ranged from disbelief to amusement. ("It would be a one-sentence standard: 'Build per manufacturer's specifications,' " joked one member). Others pointed to extensive existing documentation in the plastics and sheet metal arenas and claimed any efforts by the electronics industry would be largely redundant. "It's going to be another big standard," Torp acknowledged. "It will take years to develop. But there is a demand for it."
Continued attempts to attract designers under the IPC umbrella were a complete bust.
'An Inspection Breakthrough'

The show floor had its moments of noise and congestion, but they were few (Figure 1). (Official attendance numbers were not available in time for publication.) Many exhibitors had equipment, although the number of machines in toto was certainly lower than in past years, and almost every machine was in dry run mode – if switched on at all.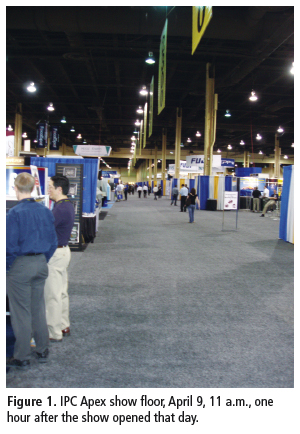 The most impressive advancement on the technology side was a product that, as of this writing, officially hasn't even been introduced. Koh Young (kohyoung.com), known for its SPI equipment, has leveraged that eight-way light projection platform for a new 3-D AOI that, in the words of a couple EMS engineers who saw demonstrations, "could be a game-changer." The as-yet unnamed inline machine, which Circuits Assembly saw in action, offers topside 3-D inspection and bottom-side 2-D inspection. It looks for six types of failure: overhang, solder fillet, coplanarity, component dimensioning, markings and bridging. It uses IPC-A-610 as a measurement benchmark (the guidelines are incorporated, with supporting images, in the software), and compares images taken (a 4-MP camera is onboard) to the CAD data, thus eliminating use of a golden board – not to mention the operator's visual comparisons. The software is simple, containing no menus or sliders, and its library contains component shapes and dimensions. The 3-D imaging was a treat: A bridging defect showed the distinct ripple of the solder; a coplanarity defect could be measured in quantifiable terms (Koh Young claims accuracy of 10 to 30 µm). If it works in the field, this machine will turn more than a few heads.
The other distinct advancement we saw was in soldering. Heller (hellerindustries.com) showed its new Mark 3.5 Series reflow oven, whose 10" zones caught some eyes. And Rehm (rehm-group.com) had its Dual Lane Vision X convection reflow oven, which comes with two conveyor lanes that can be operated asynchronously at different speeds, enabling simultaneous lead-rich and Pb-free soldering (Figure 2).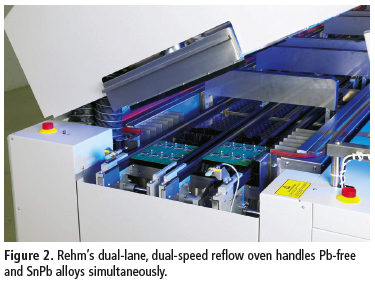 Zestron (zestron.com) introduced a cleaning chemistry called Vigon N 500 that is novel for its pH-neutral formulation. Although cleaning remains fairly uncommon among most EMS companies, its penetration rate is ramping as concerns become more widespread over the residues left by Pb-free alloys. Kyzen (kyzen.com) and Aqueous Technologies (aqueoustech.com) are also said to be enjoying both increased interest and orders as a result.
Apex this year took on a distinctly regional feel. Attendees were visibly American, with precious few Europeans, Mexicans and Asians represented. While quick to cite the economy, many exhibitors expressed hope (or concern) that the lousy business environment isn't masking a further regionalization of the major trade shows.
Apex is the first of the major electronics manufacturing trade shows this year. What can we expect going forward? Most observers Circuits Assembly spoke with felt Nepcon China, in Shanghai later this month, would be slower than in the past, and relatively devoid of US and European attendees. The consensus is that, assuming a economic upturn this fall, SMTAI would benefit from its timing (October) and location (San Diego), while the biennial Productronica – still the Mother of All Trade Shows – would be solid from an attendance standpoint even if the booths – often extravagant shows of "Can you top this?" – are restrained relative to previous years.
As for Apex next year, timing is going to be an issue. The show is scheduled for April 6-8. Easter Sunday is April 4. As one exhibitor noted, "I guess Christmas was taken."
Service and Innovation Recognized in Uncertain Times

Anyone who says this year's Apex trade show was empty did not attend the reception for the Service Excellence Awards and New Product Introduction awards. While the trade-show floor was sparser than usual, the event kicked off the week properly, with some 150 participants and guests converging to learn the results of Circuits Assembly's much-anticipated programs.
In its 17th year, the SEAs for electronics manufacturing services providers and electronics assembly equipment, materials and software suppliers recognized the companies that received the highest customer service ratings, as judged by their own customers.
In the EMS category, overall winners were Mack Technologies (sales above $100 million), EIT Inc. (sales of $20 million to $100 million), and Krypton Solutions (sales under $20 million). Mack and Krypton were repeat sequential winners, while EIT earned its first SEA accolade.
EMS companies with the highest scores in each of five individual service categories also received awards. (Overall winners were excluded from winning individual categories.) In the small-company category, newcomer Sunburst EMS held the top spot in the areas of dependability/timely delivery, responsiveness, technology and value, while tying with second-time winner Screaming Circuits in the quality category.
In the medium-company category, Western Electronics took highest honors for dependability/timely delivery and value. Electronic Systems Inc. and Applied Technical Services won for quality, while MEC Companies excelled in responsiveness and tied with Applied Technical Services for technology.
In the large company category, EPIC Technologies swept all five individual categories.
Electronics assembly equipment award winners were Asymtek for dispensing; Assembléon for pick-and-place; BPM Microsystems for device programming equipment; DEK for screen printing; Kyzen for cleaning/processing materials; Mirtec for test and inspection, OK International for soldering equipment, EFD for materials, and BEST Inc. for rework/repair. Aegis Industrial Software received top honors yet again in the manufacturing/supply chain management software category.
A donation of $2,500 was made on the participants' behalf to the Surface Mount Technology Association's Charles Hutchins Educational Grant.
In its second year, Circuits Assembly's 2009 New Product Introduction Award for electronics assembly equipment, materials and software suppliers recognized leading new products for electronics assembly during the past 12 months. An independent panel of practicing industry engineers selected the recipients.
The winners were ASYS for automation tools for the FIFO Buffer System FPS30B; Speedline in the category of cleaning equipment for the Electrovert Aquastorm 100; Kyzen for Aquanox A4241 in the cleaning materials category; Juki Corp. for component placement – high-speed and multi-function for the FX3 and JX100, respectively; BPM Microsystems in device programming for Flashstream -C; Asymtek for the DispenseJet DJ-100 in the dispensing equipment category; labeling went to Polyonics for Product Sentry; materials-flux went to Nihon Superior for its NS-F850; KIC took home the process control tools recognition for RPI, and VJ Electronix for 400ST in the rework/repair tools category.
Milara's TD2929 Automatic Inline Printer and Assembléon's Yamaha YGP tied for screen/stencil printing; Juki took home software-production and software-selective for Intelligent Shopfloor Solutions and its Flex Solder Series, respectively, while Henkel scored the title for soldering-materials for its Multicore LF700; Heller Industries was recognized for soldering-reflow for the Mark 3.5 Series, while soldering-other went to EVS International for EVS 7000 Solder Dross Recovery.
Finally, soldering-hand tools went to OK International for the Metcal MX-5000 Series, and test & inspection-AXI went to Dage Precision Industries for Dage XD7600NT100; Agilent was honored for test and inspection-ICT for Cover Extend; Mirtec's MV-3L finished in the top spot for test and inspection-AOI, and underfills went to Henkel for Hysol UF3800.
In a rough market, these programs remind us industry firms are still providing customers with new technology and the assistance to support it, and these companies will guide us into the next phase of prosperity.
Look for photos of the awards reception on the Circuits Assembly website in the coming weeks, and find out about the 2010 programs toward the end of summer. – Chelsey Drysdale
Mike Buetow is editor in chief and Chelsey Drysdale is senior editor of Circuits Assembly; This e-mail address is being protected from spambots. You need JavaScript enabled to view it .
Columns
Eastern-US: China's New Competitor?
Parity emerges among EMS Factories from Asia, Mexico and the US.
For the first time in years we see parity in the Eastern US among EMS factories from Asia, Mexico and the US. This EMS market condition will permit American OEMs (the EMS industry refers to OEMs as customers) to have more EMS pathways to choose from. Now more than ever, such EMS assignments will require deeper investigation relating to the OEMs' evaluation of manufacturing strategies.
Read more...
For those who count on the electronics industry for big feats, it's been a remarkable couple of years.
Read more...
Features
Advances in Concentration Monitoring and Closed-Loop Control
Contaminated bath water skews refractive index results. New technology can accurately measure aqueous cleaning agent concentration.
Read more...
Circuits Disassembly: Materials Characterization and Failure Analysis
A systematic approach to nonconventional methods of encapsulant removal.
Read more...