Written by Tony Bellitto
Monday, 04 May 2009 13:11
Nothing beats hands-on training and built-in flexibility.

Much has been written on implementation of Lean manufacturing philosophies on the factory floor. However, the most efficient Lean systems grow out of Lean cultures, where everyone contributes to continuous improvement. EPIC's training program is a core building block of its Lean philosophy. It focuses on three primary areas:
Lean principles.
Job skills and operator certification.
Cross-functional training tied to EPIC's Synchronous Flow Manufacturing (SFM) process.
A core principle of the SFM program is flexibility. Production systems and processes are designed to maximize throughput. At an equipment level, this has translated to a common equipment strategy that utilizes machines capable of broader process windows and minimized changeover times. However, the company's philosophy also considers the human factor. EMS providers have a challenge in implementing Lean manufacturing because, unlike an OEM, they lack complete control over production demand. EPIC addresses this by providing information systems and a robust cross-training program that allows production operators to shift between work areas as demand dictates. The result: a highly flexible, efficient production floor where resources are deployed as demand dictates.
The Quality team is integrated into the organization, working closely with direct and indirect employees and the processes that make up the quality management system. This is the primary reason the training function is overseen by the Quality department and fully supported by senior management.
All employees are trained in Lean methodology and company objectives, and undergo a core training program. The core training program was developed to lay the foundation for Lean principles and a culture driven by continual improvement. Training is given to all employees and refresher courses conducted annually. Elements of this core training include safety, IPC-A-610 overview, and Kanban.
Although Lean concepts are universal, EPIC's manufacturing environment is unique and training needs to be tailored to accommodate its approach. One example would be the Kanban training program. In addition to teaching students basic Kanban principles, students are tested on sample racks seeded with problem issues that they must effectively troubleshoot. Sitting in a classroom receiving mass training material is not nearly as effective as the "hands-on" approach. This is one of the drivers of improvements within the training program and the ongoing evaluation process for all employees.
To meet customer demands and remain flexible, it is critical for the Lean company to have strong relationships with temporary staffing agencies. To improve the screening process for potential new hires, EPIC teamed with a local temporary staffing firm to initiate a custom training/screening program. The company and staffing firm co-developed the program with the goal of enhancing the explanation of its electronics manufacturing culture to potential hires and screening these applicants through a series of tests. EPIC-defined "criteria" assist the staffing agency toward only bringing in qualified applicants. This initiative has kept the temporary turnover rate consistently below industry average levels. Industry-standard resources are also used for a portion of the core and job skill training. For example, IPC-generated resources include:
Introduction to IPC-A-610D using an internal IPC-certified instructor.
ESD training.
IPC-A-600 training for bare board inspection using an internal IPC-certified instructor.
IPC-7711/-7721 training on rework and repair using an internal IPC-certified instructor.
Six Sigma training is also being added to Lean curriculum. Six Sigma Black Belts were hired and are now training
Green Belts at multiple sites.
Training translated to flexibility. Once the core training is completed, there are specific training paths for indirect and direct personnel. Indirect personnel training includes placing employees directly on the production floor before learning the specific tasks defined in their job description. This time spent rotating through production areas ensures familiarity with critical electronics manufacturing processes.
Job descriptions are integral in driving workforce flexibility. Each indirect job description includes a corresponding training checklist to ensure each person performing that job has been trained in all competencies required for the position. This flexibility is built into the job descriptions/training checklists to focus not only on that specific job, but also to incorporate cross training. This gives the employees a much broader scope of how things work and enables them to assist other disciplines within the company. Each job description or training checklist includes:
Job summary.
Essential duties and responsibilities.
Competency requirements.
Education and/or experience requirements/qualifications.
Core training requirements.
Departmental training.
On-the-job training on the processes.
Procedural review.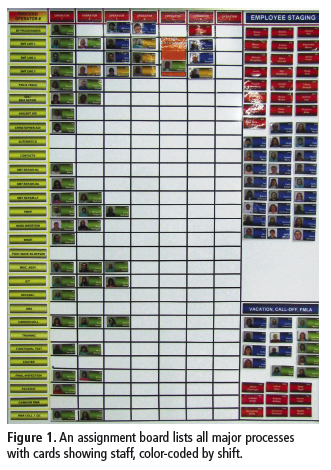 Operator certification for direct employees ensures that operators are qualified to perform assigned duties. To facilitate a flexible direct workforce, a core training matrix is used to identify all competencies of all the people on the floor. There is an assignment board with all the major processes with cards showing staff color-coded by shift. Team leaders on all shifts assign work areas, and employees check the board at the beginning of a shift and after each break (Figure 1). The result is a Lean production team schedule based on production demand and worker competency. It is important to note that team members aren't simply viewed as additional resources of production. Instead, they are considered to be integral elements in the company's focus on continuous improvement, and the expertise gained in performing multiple tasks is highly regarded. Cross-functional team members can make improvement suggestions anywhere in the company. Some of the best ideas for product, process and safety continuous improvement initiatives come from the employees working directly in the processes every day.
Tony Bellitto is quality manager-US Operations, and Patience Day is Norwalk training coordinator at EPIC Technologies (epictech.com); This e-mail address is being protected from spambots. You need JavaScript enabled to view it .
Columns
Eastern-US: China's New Competitor?
Parity emerges among EMS Factories from Asia, Mexico and the US.
For the first time in years we see parity in the Eastern US among EMS factories from Asia, Mexico and the US. This EMS market condition will permit American OEMs (the EMS industry refers to OEMs as customers) to have more EMS pathways to choose from. Now more than ever, such EMS assignments will require deeper investigation relating to the OEMs' evaluation of manufacturing strategies.
Read more...
For those who count on the electronics industry for big feats, it's been a remarkable couple of years.
Read more...
Features
Advances in Concentration Monitoring and Closed-Loop Control
Contaminated bath water skews refractive index results. New technology can accurately measure aqueous cleaning agent concentration.
Read more...
Circuits Disassembly: Materials Characterization and Failure Analysis
A systematic approach to nonconventional methods of encapsulant removal.
Read more...