Written by Susan Mucha
Thursday, 04 June 2009 14:07
The city-state's focus on business growth and addressing niche market needs creates a robust supply chain.


In March, I toured seven facilities in Singapore and visited with several Singapore government agencies. Perhaps the most interesting impression I came away with was the optimism encountered in virtually every management team. To be sure, every company has been impacted by the global recession, but the perception was that this was a cyclical bump in the road to be dealt with. To those familiar with the region, this attitude is not a surprise. Over the past three decades, Singapore and its supply base have evolved in response to continually changing market conditions and industry focus. The result is a resilient management attitude that sees change as a door to opportunity and focuses on building strong businesses that cater to under-addressed market needs. At a time when many US companies are re-evaluating their market and supply-chain strategies, I thought it interesting to explore that attitude and the business models it generates in more detail.

Robust government support. One of the reasons the supply base is optimistic is because they have a robust government support infrastructure behind them. Government agencies listen to Singapore-based suppliers and multinational companies investing or sourcing in the region and develop programs tailored to their needs. These public/private partnerships pave the way for larger R&D investments, acquisition of new capabilities, internal process improvements and expanded marketing reach. But an interesting dynamic is that participation comes with a cost. Companies participating in agency-sponsored programs pay a portion of the cost of shared infrastructure and must list expected results from the activity as part of the proposal submission. At the end of the project, results are measured. While the model is applied on a relatively small geographic scale, Singapore remains a strong player economically at both the regional and global level. According to International Enterprise (IE) Singapore, the country's GDP was $178.8 billion (S$257.4 billion) in 2008, up 1.1% in terms of real GDP growth, despite the recession. Total trade increased 9.6% in 2008 to $644.2 billion (S$927.7 billion).

Key agencies and programs include:

IE Singapore (iesingapore.com), an agency under the Ministry of Trade and Industry. It assists Singapore-based suppliers wishing to expand to new markets and foreign MNCs wishing to find new suppliers. IE Singapore's supply base search and matchmaking services make sourcing hard-to-find commodities much less of a challenge. MNCs can submit specifications for supplier capabilities to an IE Singapore representative, which will develop a list of compatible suppliers. With offices in over 30 cities worldwide, including London, Frankfurt, New York and Los Angeles, IE Singapore officers will also set up meetings with the short list of suppliers chosen by the MNC's sourcing team, so that the team can visit and/or audit the selected companies during a single visit. In some cases, that visit may include side trips to satellite facilities in other lower-cost-labor markets. They also organize trade missions to various countries, which can provide a localized "first look" to sourcing teams wishing to explore options prior to traveling to a supplier facility. Programs such as this help lower costs of supplier identification and qualification on both the supplier and customer side of the equation.

The Singapore Economic Development Board (sedb.com), the lead government agency for planning and executing strategies to enhance Singapore's position as a global business center and grow the Singapore economy. The EDB dreams, designs and delivers solutions that create value for investors and companies in Singapore.

The Agency for Science, Technology and Research (a-star.edu.sg), Singapore's lead agency for fostering world-class scientific research and talent for a knowledge-based Singapore. A*STAR actively nurtures public sector research and development in biomedical sciences, physical sciences and engineering, with a particular focus on fields essential to Singapore's manufacturing industry and new growth industries. It oversees 22 research institutes, consortia and centers, and supports extramural research with the universities, hospital research centers and other local and international partners. At the heart of this knowledge-intensive work is human capital. Top local and international scientific talent drive knowledge creation at A*STAR research institutes. The Agency also sends scholars for undergraduate, graduate and post-doctoral training to the best universities, a reflection of the high priority A*STAR places on nurturing the next generation of scientific talent.

One of its research institutes is the Singapore Institute of Manufacturing Technology (simtech.a-star.edu.sg). SIMTech develops high-value manufacturing technology and human capital for use by Singapore industry. It collaborates with MNCs and local companies in precision engineering, electronics, semiconductor, medical technology, aerospace, automotive, marine, logistics and other sectors. Its technology competencies include research groups, research programs and innovation and commercialization projects. Current research groups are focused on manufacturing processes, manufacturing automation and manufacturing systems. Innovation and commercialization foci include product innovation and development; equipment innovation and development; and sustainability and technology assessment. This platform permits participating companies to access collaborative research, participate in consortia or access expertise for a specific internal project.

SPRING Singapore (spring.gov.sg), the enterprise development agency for growing innovative companies and fostering a competitive small- and mid-sized enterprise (SME) sector. The agency works with partners to help enterprises in financing, capabilities and management development; technology and innovation, and access to new markets. As the national standards and accreditation body, SPRING also develops and promotes internationally recognized standards and quality assurance.
Programs Translated to Results

The Growing Enterprises with Technology Upgrade (GET-Up) program is one example of cross-agency cooperation with local industry. GET-Up is a joint initiative by A*STAR, EDB, IE Singapore and SPRING Singapore to partner with SMEs to boost their efforts to grow their businesses and create future industries. Assistance can include loaned research personnel, strategic planning/roadmapping assistance, loaned consultants and access to A*STAR laboratories and facilities for specific R&D efforts.
A recent survey conducted by the NUS Entrepreneurship Centre comparing over 100 companies that had participated in GET-Up projects, and 100 companies of similar size that had not, found:
GET-Up participants projected revenue and employment growth of 15% and 18%, respectively, compared to 6% and 7% estimated by companies not participating in GET-Up.
Companies in GET-Up also reported a higher proportion of new and improved products in annual sales, and noted that 16 to 20% of sales were derived from new and improved products, compared with 11 to 15% for non-participating companies.
On average, GET-Up companies spent 3 to 4.9% of their sales on R&D, compared with 1 to 2.9% for non-participating companies.
The real strength of the Singapore model is breadth and scope of the supply, which focuses on higher-mix, lower-volume, complex projects for higher reliability product niches, such as medical, laboratory equipment, instrumentation and aerospace. There is a strong electronics manufacturing services sector, but there is an equally strong supply chain for precision metal forming and machining, custom plastics, rubber and polymer formulation, optics, and mechanical and electromechanical assembly. Many of these companies have multinational operations in lower cost countries, such as China, Indonesia, Malaysia, India and Vietnam. This offers customers a choice of build site locations, while still working through the Singapore headquarters in a country with strong IP protection and a legal system based on British Common Law. Continuous improvement initiatives, industry-specific quality certifications, engineering expertise and robust program management are also standard practice, even at the component supplier level.
The companies toured were:
AMS Biomedical (Pte.) Ltd. (ams-biomedical.com), a Singapore-based contract manufacturer of complex electro-mechanical equipment and devices for the medical industry. Its capabilities include engineering design, as well as electronic and electromechanical assembly. The company is registered to ISO 9001:2000 and ISO 13485:2003. Its manufacturing operations are located in Singapore.
In terms of developing a unique niche, AMS Biomedical and its parent company, Manufacturing Integration Technology Ltd. (mit.com.sg), focus on low-volume, technically complex electronics and electromechanical equipment in the medical and semiconductor industries, respectively. DfM/DfA are key disciplines in the product development process. Precision machining, welding, casting and secondary processes, such as surface treatments, are vertically integrated capabilities. There is also a robust supply chain management process with strong traceability, documentation control and IP protection elements.
Beyonics Technology (beyonics.com), a top 15 EMS company headquartered in Singapore, with manufacturing facilities in Singapore, China, Indonesia, Malaysia and Thailand. It is publicly traded on the Singapore Stock Exchange and had revenues of S$1.41 billion in fiscal 2008. Its industry focus includes automotive, consumer electronics, data storage, electronics/electrical, electronics equipment, medical and healthcare, communication and networking, and security surveillance applications. Certifications include Six Sigma, ISO 13485, ISO 14001, ISO 9001, OHSAS 18001 and ISO/TS 16949. Manufacturing capabilities include PCBA and system-level electronic assembly/test; medical disposables assembly and packaging; metal stamping; aluminum die-casting and precision machining; plastics injection molding, and surface finishing. It has Class 100, Class 1,000 and Class 100,000 clean rooms. In recognition of its strategic use of Singapore's advantages to achieve manufacturing excellence, Beyonics received the Singapore Advantage Award, MAXA 2007.
Beyonics' business model also has some unique aspects. Its manufacturing footprint is entirely in Asia, and part of its value proposition is its size and range of services combined with a single region approach, providing economies-of-scale at much lower overhead than competitors fielding a mix of factories in high- and low-cost regions. This can be particularly attractive to companies that wish to manufacture in a single location. Another element is its level of vertical integration. In the medical industry, the company manufactures both electronics and disposable products. At a systems level, it can manufacture custom metal and plastics components, as well as electronics.
CEI Contract Manufacturing Ltd. (cei.com.sg), headquartered in Singapore and with manufacturing facilities there, China, Indonesia and Vietnam. It is publicly traded on the SSE, had revenues of S$89.5 million in FY 2008 and is profitable. It concentrates on the analytical equipment, medical devices, oil and gas, avionics, electroluminescent displays, photonics and metrology instruments, and semiconductor equipment industries. Certifications include ISO 13485:2008, ISO 14000, ISO 9001:2000, ISO/TS 16949, AS 9100 (LOC), ISO 14001 and UL508. It has Class 10,000 clean rooms. Capabilities include board- and system-level assembly/test, metal stamping and machining.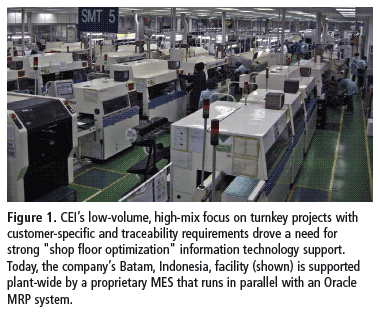 CEI is an excellent example in terms of use of government agency programs to enhance capabilities. The company's low-volume, high-mix focus and a market orientation toward projects with customer-specific and traceability requirements drove a need for strong shop floor information technology support. Five years ago, it tapped A*STAR resources in searching, selecting and developing a shop floor optimization software engine for a proprietary manufacturing execution system. Today, this MES is in plant-wide operation in incoming inspection, materials and kitting verification, and production scheduling and shipment traceability. It also provides quality alerts and documentation control, and runs in parallel with an Oracle MRP system. CEI is also a GET-Up participant and used that program to enhance its technology capabilities through the addition of one of A*STAR's photonics engineers. A cross multi-disciplinary engineering team was formed to work on laser, photonics, optics assembly and testing-related processes, which has enhanced internal capabilities for its metrology business segment.
First Engineering Ltd. (first-engr.com.sg), which provides ultra-precision molds, plastics components and modular manufacturing assembly for high technology engineering applications. It is one of a few companies in the world able to produce ultra-precision optical plastic lenses. Headquartered in Singapore, its capabilities include product design, tooling, production and assembly services, predominately for the hard disk drive, PC peripherals, optical-related products, life science, healthcare, business machinery and automotive industries. Manufacturing facilities are located in Singapore, Malaysia, India and China. Certifications include ISO/TS 16949, ISO 13485 and ISO 14000. Six Sigma programs are also in place.
First Engineering has tapped EDB funding to enhance its plastics optics technology and expand into imaging systems and healthcare applications. Head-worn eyewear personal video viewers use plastics technology to provide the big-screen experience, built using a technology that also has applications in low-cost, wearable augmented information displays and healthcare protective eyewear and diagnostic devices. First Engineering used EDB funding in adding a high-volume, high-cavity production line using cube mold technology. The line produces double the output of conventional multi-shot technologies through increases in yield and reduction in processing cycle time. There are also improvements in energy consumption, equipment footprint size, degree of automation, and range of production techniques.
Forefront Medical Technology (forefront.sg), an integrated medical device contract manufacturer that provides collaborative product design and development, rapid SLS prototyping, tool making, injection molding and extrusion, clean room scalable assembly and packaging, testing, sterilization, and global logistics. Its manufacturing facilities are located in Singapore and China, and the firm is registered to ISO 9001:2000 and ISO 13485:2003 and FDA CFR 21 Part 820.
FMT is both an ODM and a contract manufacturer. Its core business base is airway devices, but it also manufactures drug infusion products and is engaged in the development and investigation of devices for urology and cardiac applications. A key part of its business model is full lifecycle support. Its client base isn't simply looking for a product development or manufacturing solution. They also want a logistics solution that addresses issues such as sterilization, customs processing and end market fulfillment. The company has both strong supply-chain management and program management functions to support this effort. In growing its business, FMT has tapped EDB resources for tax abatement. The money saved in tax relief has enabled them to put more into R&D. Its R&D investment typically runs 6 to 7% of revenues.
Onn Wah Precision Engineering (onnwah.com), headquartered in Singapore and with manufacturing facilities in both Singapore and China. Its products and services include precision CNC-machined parts, production tooling, and jigs and fixtures. Industries served include aerospace, electronics/electrical, medical, oil and gas, and photonics. Its certifications include AS 9100 and ISO 9001:2000.
Onn Wah's business model uses Lean manufacturing philosophies to both address the challenges of scheduling in a high-mix, low-volume environment, and ensure high levels of quality for products often mission-critical. The company initiated a continuous improvement program in 2001 to drive its Lean manufacturing implementation, and partially funded the use of an outside consultant through a program offered by SPRING Singapore. Today, Onn Wah's facilities combine 5S, Total Productive Maintenance and Lean manufacturing principles with a low-cost structure environment that is typically half that of Europe or the US.
Rayco Technologies (Pte.) Ltd. (raycotechnologies.com), a precision elastomeric solutions specialist whose components are used in the medical device, lifestyle products, data storage, electronics, automotive and aerospace industries. Capabilities include dispense-in-place gasketing (DIPG), and liquid injection, compression and transfer molding. It can also overmold a variety of elastomers with materials such as plastic, metal and other substrates, as well as provide PTFE coating. Its manufacturing facilities are located in Singapore and China.
One of the byproducts of a rapidly changing environment is the need to adapt to shifting patterns in demand. Singapore's government agencies and its supply base provide excellent examples in addressing this challenge through collaborative research, continuous improvement initiatives, robust supply-chain strategies and a focus on creating a business-friendly sourcing environment.
Susan Mucha is president of Powell-Mucha Consulting Inc. (powell-muchaconsulting.com); This e-mail address is being protected from spambots. You need JavaScript enabled to view it .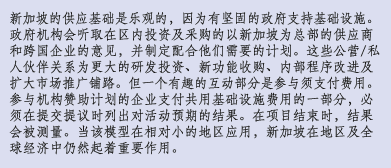 Last Updated on Thursday, 04 June 2009 14:10
Columns
Eastern-US: China's New Competitor?
Parity emerges among EMS Factories from Asia, Mexico and the US.
For the first time in years we see parity in the Eastern US among EMS factories from Asia, Mexico and the US. This EMS market condition will permit American OEMs (the EMS industry refers to OEMs as customers) to have more EMS pathways to choose from. Now more than ever, such EMS assignments will require deeper investigation relating to the OEMs' evaluation of manufacturing strategies.
Read more...
For those who count on the electronics industry for big feats, it's been a remarkable couple of years.
Read more...
Features
Advances in Concentration Monitoring and Closed-Loop Control
Contaminated bath water skews refractive index results. New technology can accurately measure aqueous cleaning agent concentration.
Read more...
Circuits Disassembly: Materials Characterization and Failure Analysis
A systematic approach to nonconventional methods of encapsulant removal.
Read more...