Written by Dr. Rita Mohanty
Wednesday, 19 May 2010 08:20
By increasing the FOV, on-board inspection is now feasible.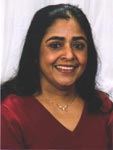 Solder paste printing is widely recognized as a common source of defects in the surface mount assembly process. One approach to increasing yields associated with solder paste deposition is to detect print defects immediately after the print operation, and reject defective boards before component placement. This enables SMT manufacturers to save time otherwise wasted in the assembly of defective boards, and avoids costly rework or scrap.
These defects can be detected in two places: inside the printer with an on-board inspection system or outside the printer with a 3D solder paste inspection system. SPI machines have come a long way since their introduction. We will leave that topic for another day, however, and focus on in-printer inspection.
Ideally, a stencil printer, in combination with stencil and solder paste, would deposit paste right on the pad, never deviating from the exact volume. That rarely happens, due to the noisy environment associated with the printing process. Instead, board assemblers spend considerable time using various inspection methods to verify printed board integrity. Inspection clearly reduces scrap, but can hamper throughput. As miniaturization becomes more common, post-print inspection becomes an economic necessity.
Most automatic stencil printers include on-board 2D inspection, each with its own advantages and disadvantages. Common to all inspection systems is that it adds time to the print process. Some systems take longer to inspect than others. The goal of a superior in-printer inspection system is to minimize inspection time, while providing required inspection data. There are several ways to accomplish this goal. Based on the process need, considerations include 1) inspecting a few selected components; 2) inspecting periodically; and 3) increasing inspection speed through some means to implement 100% inspection of the board.  
An elegant, clever way to increase inspection speed is to increase inspection area through a combination of camera, lenses and optics, especially by designing a system not governed by device pitch or feature size. From the camera prospective, the area under inspection at any particular time is known as "field of view" (FOV). A simpler definition of FOV is the area seen through the vision system. For example, consider Figure 1. It shows FOV 2 is nearly four times larger than FOV 1. In theory, then, the inspection time for the board shown will be nearly four times faster with "2" FOV. 

In a recent study, this theory was put to test by comparing two camera systems with a FOV ratio of nearly 1:4. Three different size boards with different device densities were inspected using two cameras. Camera 1 had a FOV of 87.5 mm2, and Camera 2 had a FOV of 320.9 mm2, which means FOV 2 was 3.8 times larger than FOV 1. All inspections were carried out under identical conditions, with the exception of camera type (Figure 2). As we see, based on the board type, Camera 2's inspection speed is up to 3.4 times faster than camera 1.
In the past, especially for large, complex boards, 100% inspection inside the printer was impractical and time-consuming. With the introduction of larger FOV options, in-printer inspection becomes a true option. Inspection such as the one described here is not only capable of decreasing cycle time, but also capable of providing quantitative data down to the individual pad level, with information about pad overage, overprint, paste transfer and various levels of bridging. Based on the specific application, it has the potential of eliminating the need of a downstream SPI machine.  CA
Rita Mohanty, Ph.D., is director advanced development at Speedline Technologies (speedlinetech.com); This e-mail address is being protected from spambots. You need JavaScript enabled to view it This e-mail address is being protected from spambots. You need JavaScript enabled to view it. 
Last Updated on Wednesday, 19 May 2010 08:25
Columns
Eastern-US: China's New Competitor?
Parity emerges among EMS Factories from Asia, Mexico and the US.
For the first time in years we see parity in the Eastern US among EMS factories from Asia, Mexico and the US. This EMS market condition will permit American OEMs (the EMS industry refers to OEMs as customers) to have more EMS pathways to choose from. Now more than ever, such EMS assignments will require deeper investigation relating to the OEMs' evaluation of manufacturing strategies.
Read more...
For those who count on the electronics industry for big feats, it's been a remarkable couple of years.
Read more...
Features
Advances in Concentration Monitoring and Closed-Loop Control
Contaminated bath water skews refractive index results. New technology can accurately measure aqueous cleaning agent concentration.
Read more...
Circuits Disassembly: Materials Characterization and Failure Analysis
A systematic approach to nonconventional methods of encapsulant removal.
Read more...