Written by Chris Hunt
Tuesday, 01 January 2013 19:30
Relying on noncontact measures is preferable when looking for open BGA connections.
It is unfortunate, but mechanical testing of joints does happen on production boards. Figure 1 shows the result. The ball has broken off the BGA package and the PCB pad.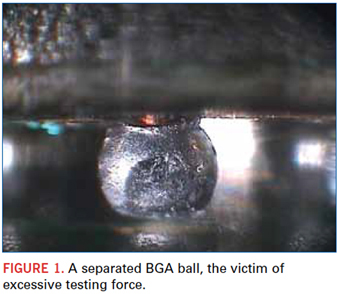 Mechanically probing BGA joints is poor practice, given the ready availability of inspection techniques like x-ray and endoscopes. We can all appreciate that, in some cases, inspection methods may have difficulty finding open connections, but great care needs to be taken if testing of suspect joints is to be considered.

It is clear from the damage to the ball surface and the joint interface that the termination has been subjected to a high force. It is very easy to apply well over 1kg of force with a toothpick, and this type of action should be avoided or well-documented.

These are typical defects shown in the National Physical Laboratory's interactive assembly and soldering defects database. The database (http://defectsdatabase.npl.co.uk), available to all this publication's readers, allows engineers to search and view countless defects and solutions, or to submit defects online. To complement the defect of the month, NPL features the "Defect Video of the Month," presented online by Bob Willis. This describes over 20 different failure modes, many with video examples of the defect occurring in real time.
Chris Hunt is with the National Physical Laboratory Industry and Innovation division (npl.co.uk); This e-mail address is being protected from spambots. You need JavaScript enabled to view it . His column appears monthly.
Last Updated on Wednesday, 02 January 2013 14:46
Columns
European RoHS Enforcement Explained
A series of workshops next month on compliance with RoHS and other directives will help US companies looking to break into the European market.

Read more...
Believing Foxconn Means Suspending Belief
The Foxconn makeover is in full swing, with the latest this piece from the New York Times that supposes that the world's largest ODM is worried that Apple -- yes, Apple -- might be bringing it down:
Read more...
Features
Managing Your ESD Program
SMT Reflow Oven-to-Oven Repeatability
How to adjust an oven so a single recipe will work across multiple ovens for an individual product.
Read more...
Products
Alpha Introduces Lumet LED Materials
Lumet LED materials are for die attach and package, package on board, Luminaire module, power driver/supply and control systems. Lumet P33 Pb-free, no-clean solder paste for LED package-on-board...