Written by Mike Buetow
Thursday, 01 November 2012 18:39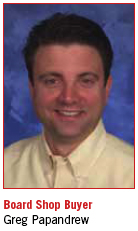 Many board shops dabble in printed circuit board distribution, but few (read: almost none) distys own board shops. By acquiring Hunter PCB, a longtime supplier of PCBs to the military, medical, industrial and test end-markets, Bare Board Group founders Greg and Jackie Papandrew are breaking that mold. Greg spoke with PCD&F editor in chief Mike Buetow following the acquisition, announced Sept. 26 at PCB West.

PCD&F: Have you looked at acquiring other board shops over the years? If so, what kept you from pulling the trigger?
GP: BBG has been investigating an acquisition for some time. We had defined some critical requirements regarding capabilities, quality, services and workforce of a domestic production shop, and Hunter was the first that exceeded those requirements.

PCD&F: Why buy Hunter? And why buy now?
GP: BBG has been expanding its product and service capabilities over the last few years, and the Hunter acquisition fills the missing piece of our global offering: domestic, ITAR, MIL, RF, medical and design capabilities. And another factor was location. With East and West Coast operations, in conjunction with our expansion this year with BBG Canada – no one can serve North America better than the Bare Board Group.

PCD&F: You've built a thriving distribution business. What's the advantage to taking on the risk of owning a shop?
GP: BBG has had equity positions with production partners, and this is a natural extension. BBG has a very large and very committed clientele (as evidenced by our customer feedback). With this acquisition, BBG is responding to the critical needs of the market and key customers. We see our ability to service their existing domestic needs for RF, HDI, as well as ITAR and MIL product as a major opportunity, not a risk.

PCD&F: Are you concerned that the acquisition will pose problems with your existing PCB suppliers?
GP: Absolutely not. The technical attributes of each of our partners fit a piece of the total BBG puzzle. BBG Silicon Valley allows us to service a market that we have not been able to support in the past. This adds to our offerings, rather than subdivides.

PCD&F: Tell me about what makes Hunter a good bet for BBG. Is there a particular technology or customer base that makes them attractive?
GP: Hunter's technology offering was our driving motivator. We needed a high-quality domestic HDI, RF, medical and military source. Their quickturn and design capabilities also allowed us to service requests of our customer base that we previously were unable to support.

PCD&F: Hunter gives you a stake in the quickturn prototype market. Are there other shops you are considering investing in?
GP: Jackie and I will only do one acquisition at a time (laughs). However, BBG will continue to monitor our customer needs and support those needs with investments worldwide when required.

PCD&F: If Hunter's revenues take a dive, does this deal become a strategic mistake?
GP: Great care has been taken to make certain that our investment will make BBG Silicon Valley more successful. BBG brings a large sales rep network, along with an even larger customer base with current needs the Hunter operation supports. Our primary task is to facilitate that connection.

PCD&F: Who will run the shop operations? And given that BBG is in the business of selling boards, are you keeping Hunter's existing sales force/reps in place?
GP: We are very pleased that the Hunter production team will remain intact and will participate in a cross-functional team making decisions affecting growth and development of the operation. Hunter's rep sales force was not as robust as BBG's when it came to the sales of just bare boards, and we see that as a huge growth opportunity. This allows BBG's sales and marketing organization to immediately promote the capabilities of BBG SV without fear of any sales conflict. Our entire sales structure engages immediately.

PCD&F: What will the name of the Hunter operation be after the acquisition?
GP: The Santa Clara plant will be known as Bare Board Silicon Valley.
Last Updated on Friday, 02 November 2012 15:49
Columns
The Flash Programming Flow
On-board flash memory device testing and programming.
Read more...
Does Reliability Have a Place In EMS?
Experts say physics of failure is overtaking MTBF as the go-to model.
Read more...
Features
MassChallenge, a not-for-profit accelerator program, aims to "create a bigger pie" by helping innovators get to market.
Read more...
Who says a Tier IV EMS can't have the foresight, and follow-through, of the big players?
Read more...
Products
Dial Releases Buran B100 Screen Printer
Buran B100 screen printer has a print format of 75 x 75mm to 508 x 508mm. Repeatability said to be -/±15μm @ 6 Sigma. Cycle time is 12 sec. (without print). Handles PCB of thicknesses ranging from...