Written by Chris Hunt
Thursday, 01 November 2012 18:29
High standoff parts are more susceptible to improper wave height.
Figure 1 shows a solder skip, due mainly to incorrect wave height, as there is no evidence of solder on the pad or the termination. This may be a Pb-free joint, but the principle behind the defect is the same. If there had been solder on the termination, the process parameters may have been correct, and problems with the pad solderability may have been present.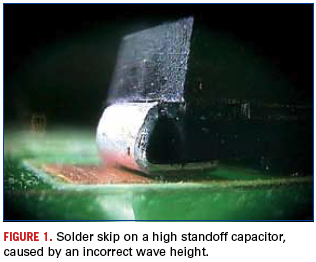 In the past, skips on this type of capacitor have also been seen with different component suppliers and different lead forms. This type of component has the highest standoff of any component. When investigating skips, look at the design, differences in component lead form and process issues like flux gassing and wave height.

These are typical defects shown in the National Physical Laboratory's interactive assembly and soldering defects database. The database (http://defectsdatabase.npl.co.uk), available to all this publication's readers, allows engineers to search and view countless defects and solutions, or to submit defects online. To complement the defect of the month, NPL features the "Defect Video of the Month," presented online by Bob Willis. This describes over 20 different failure modes, many with video examples of the defect occurring in real time.
Chris Hunt is with the National Physical Laboratory Industry and Innovation division (npl.co.uk); This e-mail address is being protected from spambots. You need JavaScript enabled to view it . His column appears monthly.
Last Updated on Friday, 02 November 2012 16:00
Columns
European RoHS Enforcement Explained
A series of workshops next month on compliance with RoHS and other directives will help US companies looking to break into the European market.

Read more...
Believing Foxconn Means Suspending Belief
The Foxconn makeover is in full swing, with the latest this piece from the New York Times that supposes that the world's largest ODM is worried that Apple -- yes, Apple -- might be bringing it down:
Read more...
Features
Managing Your ESD Program
SMT Reflow Oven-to-Oven Repeatability
How to adjust an oven so a single recipe will work across multiple ovens for an individual product.
Read more...
Products
Polyonics Introduces Double Coated Bonding Tapes
Ultra thin double coated tapes are for bonding and attaching components and assemblies where high dielectric strength is required. REACH and RoHS compatible. Come in polyimide (PI) and polyester...