Written by Jie Bai
Friday, 12 October 2012 13:42
Strategies for TMV PoP protection.
When package-on-package (PoP) devices emerged on the scene a few short years ago, they presented many challenges to assembly specialists. Not the least of these hurdles was how to ensure reliable protection of the top level package interconnects, as underfilling the space between the two packages presented some obstacles. The narrow gap between the packages can sometimes slow the flow of underfill so much that air can be trapped in this space as the underfill flows around the outer bumps. These challenges have been largely overcome and PoPs are arguably the preferred technique for 3D memory integration. And, like most useful devices, PoP architectures have continued to evolve, again presenting some device protection challenges.

The most recent advance in PoP design architecture is the through mold via (TMV) PoP. Similar to traditional PoPs, TMV PoPs have been widely adopted by manufacturers of handheld devices, as they deliver the ability to pack more functionality into a tighter space. As its name implies, TMV PoPs incorporate interconnect vias through the mold cap thereby enabling the use of thinner substrates. With these packages, however, the gap between the bottom package mold cap and the underside of the top package is extremely narrow and, therefore, much more difficult to effectively underfill. In fact, with some TMV PoP designs, the gap height can be as small as 10µm. Like its PoP predecessor, protecting the TMV PoP requires a unique underfill strategy. A space as narrow as 10µm needs an underfill that flows well in order to ensure complete coverage in a relatively short amount of time while maintaining good reliability. Good flow is critical not only due to the reduced gap height, but also because many TMV PoP designs also have very fine pitches and surrounding the interconnects completely is essential.

To ensure reliability and address the underfill flow requirements needed for robust TMV PoP assembly, new underfill formulations have been developed specifically for tight gap TMV PoPs, as well as for fine-pitch BGAs, CSPs and WLCSPs. The new materials are generally non-reworkable underfills that provide outstanding flow performance and good reliability. In fact, some of the more novel TMV underfills flow as much as twice as fast as the previous versions so, for devices with very narrow pitch and gaps, the faster flow characteristics speed up processing time and ensure more complete coverage.

Although I can't speak for other materials companies, in our internal testing of a new TMV PoP underfill, reliability was also very good and consistent with requirements of packaging specialists incorporating TMV PoPs. In over 1,000 hr. of -40° to 85°C thermal cycling testing on a 0.4mm CSP test vehicle, the material had zero failures. In drop testing, the material was able to withstand 100 drops before the first failure and there were no underfill failures.

There's no doubt that package architecture will continue to undergo dynamic changes as the industry strives to add function and reduce product size. And, as our indispensable handheld devices become increasingly value-packed, protecting the internal components is more critical than ever before. Underfill systems that can address these reduced dimensions without sacrificing reliability performance will ensure that today's consumers can continue to enjoy modern convenience and connectivity.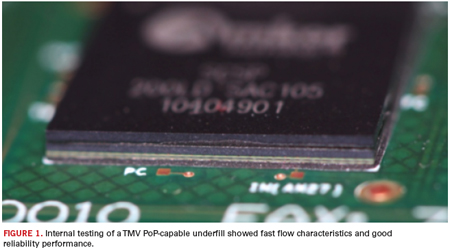 Jie Bai is a chemist at Henkel Electronics Group (henkel.com); This e-mail address is being protected from spambots. You need JavaScript enabled to view it .
Aknowledgments

The author would like to thank Henkel's Stanley Hu, product development manager, and Wilson Ma, technical service supervisor, for their valuable inputs.
Last Updated on Friday, 12 October 2012 16:54
Columns
Eastern-US: China's New Competitor?
Parity emerges among EMS Factories from Asia, Mexico and the US.
For the first time in years we see parity in the Eastern US among EMS factories from Asia, Mexico and the US. This EMS market condition will permit American OEMs (the EMS industry refers to OEMs as customers) to have more EMS pathways to choose from. Now more than ever, such EMS assignments will require deeper investigation relating to the OEMs' evaluation of manufacturing strategies.
Read more...
For those who count on the electronics industry for big feats, it's been a remarkable couple of years.
Read more...
Features
Advances in Concentration Monitoring and Closed-Loop Control
Contaminated bath water skews refractive index results. New technology can accurately measure aqueous cleaning agent concentration.
Read more...
Circuits Disassembly: Materials Characterization and Failure Analysis
A systematic approach to nonconventional methods of encapsulant removal.
Read more...