Written by Adrian Ababa
Friday, 28 September 2012 15:14
Why turnkey solutions may be a better option for complex functional tests.
To turn test engineering into a strategic tool, electronics assemblers need to develop a team of skilled people, and establish and invest in processes and technology for a standard and cohesive test strategy that can be applied across their entire range of manufacturing processes and products. This strategy will enable them to streamline test development and ensure reuse as much as possible over a range of manufactured products and processes.

To establish an efficient test engineering function, assemblers need to develop competencies and facilities to support the entire lifecycle. Let's take the example of establishing an end-of-line test station like functional test (FCT). Functional test system setup requires efficient integration, from design, development and deployment to support and maintenance.

In the first stage of an FCT lifecycle (Figure 1), test engineers must decide on the test system architecture and goals. This will depend on the manufacturing environment and applications. For example, in high-volume, low-mix manufacturing environments, the goal of the test system architecture is to enable hundreds to thousands of devices under test (DUT) to be tested as quickly and inexpensively as possible. Conversely, for high-mix, low-volume environments, the goal would be to have a system architecture that is reusable with fast switchover, to test as many different applications as possible.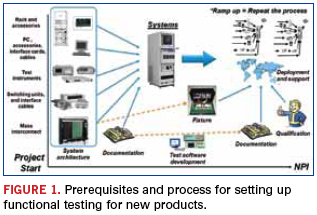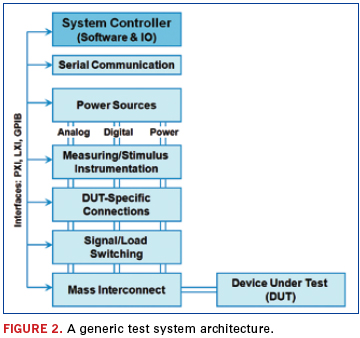 Figure 2 depicts a typical test system architecture. Test engineers will need to determine the following:

Instrumentations (stimulus and measurement). Rack-and-stack instruments are defined as standalone instruments stacked in a rack to save floor space and controlled via external PC controllers. Card cage instruments are modular test instruments on plug-in cards. They are inserted into a card cage or main frame and controlled via an embedded controller or an external PC.

Factors to consider when deciding on whether which architecture to use include existing instrumentation environment (whether card-cage or rack and stack), and cost of system maintenance (cost of repair and spare parts inventory).

Computing subsystem (computer, software and I/O). Weigh the option of whether the computing system would be manually controlled, or if a semi-automated or fully automated control system would be used instead. Other considerations include rack-and-stack or card cage architecture, the need for hardware expansion capabilities in the computing system, and the cost of system upgrade and maintenance.

Switching (relays that interconnect system instrumentation and loads to the DUT). The switch type and topology will impact the cost, speed, longevity, safety and overall functionality of a test system. Switching topologies can be divided into three categories based on their complexity: simple relay configurations, multiplexers and matrices. The best one to use depends on the number of instruments and test points, whether connections must be simultaneous or not, required test speed, cost considerations and other factors.

Mass interconnects. A mass interconnect panel is a DUT-to-system wiring interface that permits use of fixtures instead of wiring each connection separately. For manufacturing tests, mass interconnects provide a fast and robust means of changing connections to different DUTs using the same system.

Power sources. The choice of power supply can dramatically impact system throughput, since waiting for power supplies to settle can be one of the most time-consuming elements in a typical test plan. Some key considerations in the choice of power sources are:
Settling time.
Output noise.
Fast transient response.
Fast programming.
Remote sensing – compensation for voltage drop in wiring.
Built-in, accurate, voltage and DC current measurement or waveform digitization.
Triggering options.
Over-voltage and current protection.
DUT specific connections (loads, serial interfaces). Many DUTs require components to be connected to their outputs in order to adequately stress the unit. These can take the form of resistive or reactive output loads such as resistors, light bulbs or motors, or complicated, simulated loads such as the dynamically varying current from a solenoid.

In the first stage of an FCT system lifecycle, test engineers will need to develop competencies to answer these questions:
Rack-and-stack or card cage architecture?
Embedded PC or external PC for controller subsystem?
Which switch topology to use.
Should mass interconnects be deployed? If yes, what type?
Which power supplies and loads to be designed in.
Which stimulus and measurement instruments best fit the application?
How do I minimize hardware costs and development time?
How do I maximize throughput?
At the second stage of the FCT system lifecycle, test engineering teams will need to:
Perform system integration.
Develop the test plan and software application for the test system.
Develop and fabricate the fixtures for the DUT.
Develop documentation (e.g., site preparation and installation, wiring guide and hardware reference, etc.).
At the final stage of the FCT system lifecycle, test engineers will then need to perform the following, depending on the region of deployment:
Safety qualifications (e.g., EMC, safety).
Deploy the FCT systems and provide training and support if the system is deployed in a different geographical location or region.
Provide training documentation to enable end-users and other sites to support the FCT systems.
Substantial expertise and resources are required to set up a robust FCT station. An alternative to grappling with the various competency requirements would be for firms to outsource the entire FCT system lifecycle (development, deployment and support). Test engineering vendors have the economies of scale, as well as technical expertise and experience to provide "instant" competent test engineering capabilities.

The following criteria can be used when selecting the test engineering vendor:
Does the vendor have the technical expertise and experience to design, deploy and maintain FCT systems for customers in their respective industries?
Is the vendor able to provide a consistent FCT system integration and deployment lead time that meets their timeline?
Is the vendor able to build and deploy FCT systems globally with consistent build quality with test results that are repeatable and reproducible?
Is the vendor able to provide and support FCT systems with long system lifetime? This is an important consideration, especially for certain industries like automotive, aerospace and defense.
Does the vendor have a local support facility for repair and recalibration of the FCT system for all geographical locations that they will need to deploy and operate the FCT system in to enable short turnaround time (TAT) for repair and calibration?
Does the vendor own the development, enhancement and support of the instruments themselves to meet changing test challenges and trends in the electronics manufacturing industry?
Adrian Ababa is product marketing engineer at Agilent (agilent.com); This e-mail address is being protected from spambots. You need JavaScript enabled to view it .
Last Updated on Monday, 01 October 2012 13:06
Columns
Eastern-US: China's New Competitor?
Parity emerges among EMS Factories from Asia, Mexico and the US.
For the first time in years we see parity in the Eastern US among EMS factories from Asia, Mexico and the US. This EMS market condition will permit American OEMs (the EMS industry refers to OEMs as customers) to have more EMS pathways to choose from. Now more than ever, such EMS assignments will require deeper investigation relating to the OEMs' evaluation of manufacturing strategies.
Read more...
For those who count on the electronics industry for big feats, it's been a remarkable couple of years.
Read more...
Features
Advances in Concentration Monitoring and Closed-Loop Control
Contaminated bath water skews refractive index results. New technology can accurately measure aqueous cleaning agent concentration.
Read more...
Circuits Disassembly: Materials Characterization and Failure Analysis
A systematic approach to nonconventional methods of encapsulant removal.
Read more...