Written by Chris Hunt
Friday, 28 September 2012 14:59
Packing MSDs correctly can reduce popcorning during reflow.
Moisture-sensitive devices must be correctly packaged to prevent mechanical damage during handling or cracking as they pass through reflow. Figure 1 shows components packed in waffle trays tethered with a thick plastic band, which would be inadequate to maintain the tray's position, if dropped. In the case of fine-pitch gullwing-leaded components, this would probably lead to bent leads on the four corners of each device.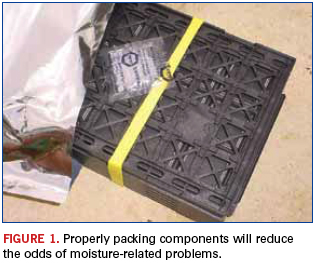 Although the package when opened does have a desiccant bag, there is no evidence of a relative humidity indicator strip, which should also be present to show RH level. High levels of humidity can lead to popcorning or cracking of the component body or the internal wirebonds during reflow. (Examples of cracking are also illustrated in the Defects Database.)

These are typical defects shown in the National Physical Laboratory's interactive assembly and soldering defects database. The database (http://defectsdatabase.npl.co.uk), available to all this publication's readers, allows engineers to search and view countless defects and solutions, or to submit defects online. To complement the defect of the month, NPL features the "Defect Video of the Month," presented online by Bob Willis. This describes over 20 different failure modes, many with video examples of the defect occurring in real time.
Chris Hunt is with the National Physical Laboratory Industry and Innovation division (npl.co.uk); This e-mail address is being protected from spambots. You need JavaScript enabled to view it . His column appears monthly.
Last Updated on Monday, 01 October 2012 13:18
Columns
European RoHS Enforcement Explained
A series of workshops next month on compliance with RoHS and other directives will help US companies looking to break into the European market.

Read more...
Believing Foxconn Means Suspending Belief
The Foxconn makeover is in full swing, with the latest this piece from the New York Times that supposes that the world's largest ODM is worried that Apple -- yes, Apple -- might be bringing it down:
Read more...
Features
Managing Your ESD Program
SMT Reflow Oven-to-Oven Repeatability
How to adjust an oven so a single recipe will work across multiple ovens for an individual product.
Read more...
Products
EMS Introduces 535-18M-57 UV Cure Adhesive
535-18M-57 UV cured epoxy adhesive is formulated for microelectronic assembly applications. Is an ultra-low stress, low shrinkage, ionically clean, low glass transition temperature UV cure adhesive....