Written by Chris Hunt
Friday, 28 September 2012 14:59
Packing MSDs correctly can reduce popcorning during reflow.
Moisture-sensitive devices must be correctly packaged to prevent mechanical damage during handling or cracking as they pass through reflow. Figure 1 shows components packed in waffle trays tethered with a thick plastic band, which would be inadequate to maintain the tray's position, if dropped. In the case of fine-pitch gullwing-leaded components, this would probably lead to bent leads on the four corners of each device.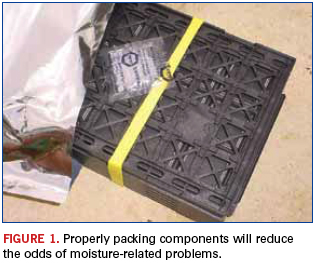 Although the package when opened does have a desiccant bag, there is no evidence of a relative humidity indicator strip, which should also be present to show RH level. High levels of humidity can lead to popcorning or cracking of the component body or the internal wirebonds during reflow. (Examples of cracking are also illustrated in the Defects Database.)

These are typical defects shown in the National Physical Laboratory's interactive assembly and soldering defects database. The database (http://defectsdatabase.npl.co.uk), available to all this publication's readers, allows engineers to search and view countless defects and solutions, or to submit defects online. To complement the defect of the month, NPL features the "Defect Video of the Month," presented online by Bob Willis. This describes over 20 different failure modes, many with video examples of the defect occurring in real time.
Chris Hunt is with the National Physical Laboratory Industry and Innovation division (npl.co.uk); This e-mail address is being protected from spambots. You need JavaScript enabled to view it . His column appears monthly.
Last Updated on Monday, 01 October 2012 13:18
Columns
The Flash Programming Flow
On-board flash memory device testing and programming.
Read more...
Does Reliability Have a Place In EMS?
Experts say physics of failure is overtaking MTBF as the go-to model.
Read more...
Features
MassChallenge, a not-for-profit accelerator program, aims to "create a bigger pie" by helping innovators get to market.
Read more...
Who says a Tier IV EMS can't have the foresight, and follow-through, of the big players?
Read more...
Products
Dial Releases Buran B100 Screen Printer
Buran B100 screen printer has a print format of 75 x 75mm to 508 x 508mm. Repeatability said to be -/±15μm @ 6 Sigma. Cycle time is 12 sec. (without print). Handles PCB of thicknesses ranging from...