Written by Mike Buetow
Tuesday, 03 January 2012 14:56
The tsunami in Japan shook more than just a nation; the shock waves were felt across the entire supply chain. Coupled with the overwhelming floods in Thailand, companies have been forced to look harder at their channels than at any time since the great tech meltdown of 2001-02. Alex Iuorio, senior vice president, supplier management at Avnet Electronics Marketing Americas, spoke with CIRCUITS ASSEMBLY Editor-in-Chief Mike Buetow about the after-effects and the overall muting of the supply chain cycles.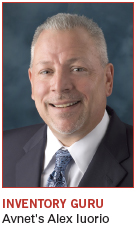 CA: As we approach the nine-month anniversary of the Japan tsunami, has Avnet EM noted any changes in the way customers are managing their supply chains?
AI: What happened was 21% of frontend development and 85% of BT resin was taken offline. Obviously, the frontend concerns were fantastic. But whether it was Japan's ability to respond to the disaster, coupled with significant raw materials and finished goods inventories – that is, Japan's intense treatment of the problem, plus what was already in the pipeline – on a tactical level, there probably wasn't near the perceived impact.

On a macro effect, two things showed through: One, bookings that were probably going to reside in the June quarter were moved into the March quarter. The clear effect was inordinately higher book-to-bill rates at end of May and into April. Then it fell off the table, and industry now sits at one or below one.

The second big effect is the real scrutiny of the supply chain as it existed in Japan leading up to the tragedy and beyond. What was discerned is that Japan had hyper-efficient but fragile supply chains. It was a compilation of so many small companies within those supply chains. All you need is to be [missing] one part and you can't build. We've seen shifts to Taiwan and China, depending on need and expertise.

So in short, we saw bookings accelerated into the March quarter and a real reckoning in the supply chain in Japan to achieve objectives of efficiency without being so fragile.

CA: Are manufacturers stocking more to ensure supplies of key components? If so, any particular parts?
AI: We don't have great visibility into the top tier manufacturers. Our sweet spot is the secondary account base. There, we have not seen changes in buying patterns, but big changes in behavior. In Americas, we generate more than $5 billion in revenue. Of that, over half is supply chain services. That means, at some level, we take a customer forecast and reaction and look at the pipeline, and customers draw off those as a form of inventory management.

People are realizing we are past the worst of it. People want to know what is going on with specific suppliers, where we expect shortages to occur. Nothing different, but we see a substantial leveraging of Avnet as a supplier and quicker information gathering.

CA: Is Avnet itself changing its ordering or stocking practices in light of the Japan tsunami or any other external events?
AI: Our response can be described in four ways: 1. We implemented controlled manual release programs, for all products with country of origin = Japan. 2. Where we didn't have control, we took certain products off the Internet [catalog]. 3. Where we thought lead times were extending, we used our tools to try to service their manufacturing needs. 4. We sent out "Light the Target" notifications to Avnet's customers. This follows the same practice we conduct for end-of-life. We pulled SKUs, and account managers notified customers of shortages and optional cross-reference parts.

We wanted to take a proactive approach. Avnet has in place a doomsday scenario. From experience, cycles many times yield specific allocations from suppliers. We followed that protection process to build a model for Japan.

CA: Are manufacturers stocking more to ensure supplies of key components? If so, any particular parts?
AI: Not particularly. I don't see that happening. What we do see is a much higher degree of analysis of what we have in inventory.

CA: Is that changes in software? Or more phone calls?
AI: Since 2000, we've seen substantial investment in the supplier community to discern visibility. But nothing stops the voice-to-voice communication.

CA: Are manufacturers maintaining the JIT/Lean types of practices as adopted following the 2001 tech downturn?
AI: It's a question of economics. Certainly you don't want more assets in your supply chain than you need because it costs you money. At the same time, this was a peculiar phenomenon based on a specific event that impacts the world in so many areas. So maybe not more stockpiling, but more scrutiny in the up-and-down supply chain, and not inventory build as a standard process. You had a temporary inventory build at some OEMs because they didn't know what the situation was going to be. But those behaviors at the very frontend, the easy answer was pull it in and protect yourself. But the fact the supply chain responded as it did probably shows those behaviors will mute over time.

For example, consider that Japan is responsible for 56% of all ceramic chip production. There were spot shortages in those products, but nothing compared to what it could have been.

CA: Does Taiwan have a similar disaster plan in place?
AI: I can't comment on whether other major manufacturing countries would have these kinds of strategies. Overall, the recovery probably occurred 60 to 90 days earlier than estimates.

CA: How have other macro financial events (debt ceiling, Euro currency crises, etc.) affected inventory and ordering activity, if at all?
AI: That's really out of my wheelhouse.

CA: How have other specific industry vectors such as the counterfeiting of components affected inventory and ordering activity, if at all?
AI: Avnet is a member of the ECIA (Electronics Components Industry Association), formerly NEDA (The National Electronic Distributors Association). We're working together to promote the importance of purchasing from an authorized source. Insofar as counterfeiting, we have found when you buy from authorized channels, you don't end up with the problem. But the moment you go outside the authorized channels, you are leaving yourself wide open.

We are working with our suppliers to ensure that their parts are verifiable. Being a company that deals with franchised manufacturers, I'm already getting certificates from them. But let's be honest, when we get into a constriction environment, for any reason, Purchasing has to keep its lines open. We have seen much more scrutiny. Anecdotally, customers are taking a more mindful view of whom they are buying from and the traceability of those parts. 

CA: Have you seen any indications that original component manufacturers are changing their production strategies beyond what would be considered normal business response to demand cycles?
AI: In a general sense, we're no longer seeing in the cycles this wholesale addition of capacity – from feast to famine. The cycles are becoming a lot more muted. We have better tools, and as an industry don't tend to add capacity for the sake of capacity. We add it prudently and consistently.
I think it goes to the information systems we have in the global supply chain. They have a lot of information they are trading in terms of lead times and source of manufacture, whether it's precious metals or plastics or silicon. We do find when we talk to the major semiconductor manufacturers, they are very wired in upstream and can share that info with us. 
Last Updated on Tuesday, 03 January 2012 18:34
Columns
Eastern-US: China's New Competitor?
Parity emerges among EMS Factories from Asia, Mexico and the US.
For the first time in years we see parity in the Eastern US among EMS factories from Asia, Mexico and the US. This EMS market condition will permit American OEMs (the EMS industry refers to OEMs as customers) to have more EMS pathways to choose from. Now more than ever, such EMS assignments will require deeper investigation relating to the OEMs' evaluation of manufacturing strategies.
Read more...
For those who count on the electronics industry for big feats, it's been a remarkable couple of years.
Read more...
Features
Advances in Concentration Monitoring and Closed-Loop Control
Contaminated bath water skews refractive index results. New technology can accurately measure aqueous cleaning agent concentration.
Read more...
Circuits Disassembly: Materials Characterization and Failure Analysis
A systematic approach to nonconventional methods of encapsulant removal.
Read more...