Written by Sam Wong
Monday, 05 December 2011 14:31
Factors a manufacturer should consider before making an investment.
Total cost of ownership represents all the costs to own and operate a piece of equipment over its useful life. These include purchase price, installation and setup, metrology, downtime mitigation, training, facilities and consumables. Much of this knowledge may reside with personnel in Engineering, but they may not necessarily be the ones doing the actual procurement.

Take in-circuit test. While the core technology of sending a stimulus over a bed-of-nails has not changed, many other factors have, and these changes in turn offer purchasing alternatives:
Equipment cost. ICT equipment prices have fallen over the past decade. A 2500-node-count machine that costs roughly $500,000 in the early 1990s probably costs half that today. Many ICT machines on the market are very reliable, and remarketed or used machines are often available. While the purchase cost of second-hand machines is slightly lower, hidden costs, (older technology, legality and physical conditions of the internal circuitry and boards, etc.) can be a negative.
Facilities. Costs of floor space and labor vary in different regions. Even as these costs change over time, there is concurrent increasing pressure to have better productivity, such as optimizing floor space or equipment throughput. Automation is a popular option, even in low-cost regions. There is a growing need for smaller, modular and flexible machines to adapt to changing requirements, so that new purchases are not absolutely necessary for expansion.
TCO defined. Total cost of ownership represents all of the costs to own and operate a piece of equipment over its useful life. Drilling down for a closer look, a typical TCO model consists of the following cost elements:
Purchase price.
Installation and setup.
Metrology (e.g., calibration).
Repair.
Downtime mitigation (e.g., spares and extra test capacity).
Training and education.
Technology refresh (e.g., code compatibility).
Facilities.
Consumables.
Since TCO is computed over the useful life of the equipment, the useful life of an ICT can be extended in many ways, such as a technology refresh program. Here are some examples:
The ICT's test time must be constantly improved, just like the rest of the SMT equipment on the production line. While the individual test programs can be optimized, there are different techniques to do this systematically, as the overall test time is still fundamentally dependent on the ICT system architecture. Over time, ICT test capability can be enhanced and old test programs made to run faster on the new architecture.
New functionalities are constantly added to the circuit board design. LEDs are very common and so are on-board programmable devices. Machine longevity may be increased by adding functionality incrementally to meet test coverage needs. This can result in huge savings without the need to buy new equipment.
Prolonging the useful life of the ICT not only helps reduce TCO, it is also reduces cost of test. Colleague and test process analysis manager Duane Lowenstein provides this very graphical illustration of understanding what really goes into the cost of test and total cost of ownership, as shown in Figures 1, 2 and 3.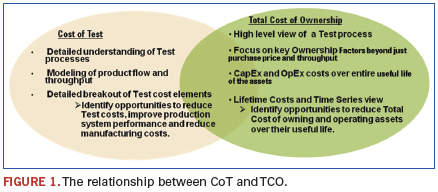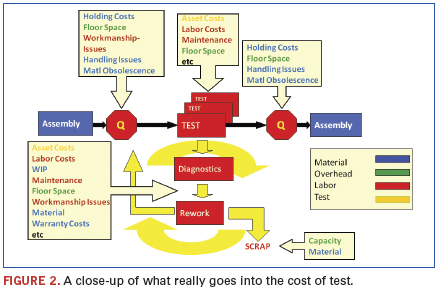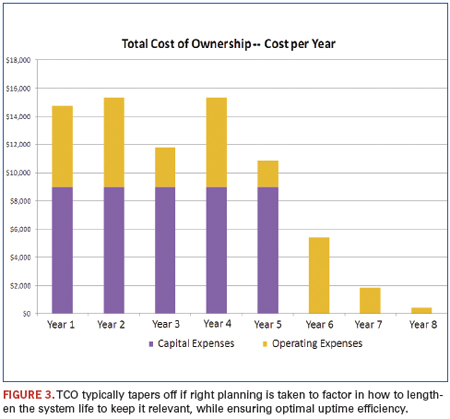 In one of his cost analysis studies, Duane found it possible to reduce TCO over time if one plans to incorporate technology refresh to maximize the mileage of existing capital equipment. This will include all the aforementioned cost elements.

There is no single formula to compute TCO for an ICT. It is valuable to understand other factors as well, such as scalability, which could provide huge savings in the long run. Extending the useful life of a machine by a technology refresh upgrade works well for many manufacturers.
Sam Wong is business development manager, Measurement Systems Division, Agilent Technologies (agilent.com).
Last Updated on Tuesday, 06 December 2011 14:56
Columns
Eastern-US: China's New Competitor?
Parity emerges among EMS Factories from Asia, Mexico and the US.
For the first time in years we see parity in the Eastern US among EMS factories from Asia, Mexico and the US. This EMS market condition will permit American OEMs (the EMS industry refers to OEMs as customers) to have more EMS pathways to choose from. Now more than ever, such EMS assignments will require deeper investigation relating to the OEMs' evaluation of manufacturing strategies.
Read more...
For those who count on the electronics industry for big feats, it's been a remarkable couple of years.
Read more...
Features
Advances in Concentration Monitoring and Closed-Loop Control
Contaminated bath water skews refractive index results. New technology can accurately measure aqueous cleaning agent concentration.
Read more...
Circuits Disassembly: Materials Characterization and Failure Analysis
A systematic approach to nonconventional methods of encapsulant removal.
Read more...