Written by Clive Ashmore
Monday, 03 October 2011 23:55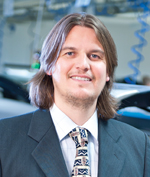 Tighter paste particle distribution can benefit print performance.
If I had to sum up the overarching theme of my columns these past many years, I'd say it centers on high yield processing. Sure, there's been the occasional deviation, but by and large, I focus on what I'm passionate about: getting absolutely everything you possibly can out of your print process. This time, we're going to discuss something that's a bit of a breakaway for me, in that it does not relate to specific tools (under-screen cleaning or stencil technologies, for example) or process approaches, but rather advances in solder paste materials.

The novel solder pastes to which I refer are available from several leading materials manufacturers. You might recognize them by names like "Paste X Type 4.5" or "Paste Y Plus." In essence, they are "type half" solder pastes in that they lie somewhere between traditional Type 3, Type 4 or Type 5 materials. Now, before I go further, I'm obliged to provide full disclosure. When these new material types were first presented, I admit I was a bit skeptical (understatement) about just how "improved" the performance would be. But, after evaluating some of these solders, many of the engineers in our company were blown away by the excellent results.

What exactly are type half solder pastes? Basically, the type half pastes incorporate subtle changes that still fall within the IPC standard particle size range (Table 1) but tighten up particle distribution to enhance print performance. I'm no materials scientist, but here's how I understand the distinction: The current J-STD-005A standard provides a very broad distribution range of particle sizes. For example, for Type 4 pastes, the range can be anywhere from 5 µm up to 50 µm. Type half pastes are designed with a much more condensed range and smaller upper limit particle sizes. As industry incorporates fine feature (0.4mm pitch or smaller) devices, it's my belief that these materials will play a critical role in producing higher yields. For highly miniaturized dimensions, larger particle sizes (even those specified within the current standard) can become lodged in a stencil aperture and may result in insufficient paste volumes and, therefore, result in a relatively high defect rate. Type half pastes help reduce insufficients by enabling more robust paste deposition through tighter particle size distribution. It should also be noted that as particle sizes become smaller, the surface area to volume ratio becomes higher, thereby introducing more oxidation opportunity. This means that flux activity is critical, as is the integrity of the surface finish of the powder particles.

Our team saw a marked improvement with the type half pastes. The ones we've tested print very well and seem to perform better than traditional Type 3 or Type 4 solder paste, particularly for fine feature devices. Of course, just changing solder paste alone isn't going to yield massive improvement. As I always say, it's the sum of the parts that makes a good print process: good inputs = good outputs. The same holds true here. If you look at the print process as individual components with the squeegee, paste type, stencil technology, understencil cleaner, software control, etc., all as components of the process, they each combine to deliver a single, good (hopefully) result. Just switching to a type half paste alone won't be a silver bullet, but it will deliver a step change. Adding modern activated squeegee technology, for example, could offer another step change (Figures 1 and 2).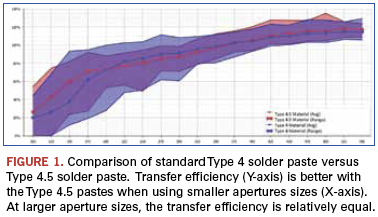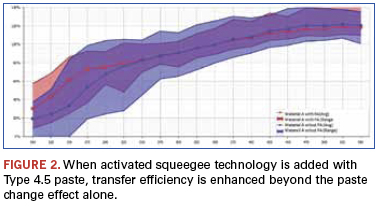 As someone who usually approaches new technologies with a somewhat critical and quite analytical approach, these new type half solder paste materials have made a believer out of this initial skeptic. Since the move to Pb-free, improvements in solder pastes have been negligible at best, but these new materials are worthy of their claims.
Clive Ashmore is global applied process engineering manager at DEK International (dek.com); This e-mail address is being protected from spambots. You need JavaScript enabled to view it . His column appears bimonthly.
Last Updated on Tuesday, 04 October 2011 12:09
Columns
Could 3-D printers undo decades of frame-up circuit board assembly?
Read more...
J-STD-004B: A New Twist on an Old Standard?
Before rejecting a flux, be sure you understand the standard.
Read more...
Features
A Systems-Level Approach to Product Development
Is there a way to more tightly integrate materials and process development so as to accelerate the pace of innovation?
Read more...
Reducing Stencil Wipe Frequency
A new study of nanocoatings allows users to visualize solder paste flow under the stencil.
Read more...
Products
Hitachi Updates Sigma G5S Modular Mounter
Sigma G5S modular mounter has a multi-function head that now features lead-clinching and tamping functionalities. Uses side-mounted lighting and machine vision to identify and locate through-hole...