Written by Mike Buetow
Wednesday, 31 August 2011 01:25
So says Flextronics' top engineer, Dr. Dongkai Shangguan, who argues that regardless of cost, electronics must be at the forefront.
In his engineering career, Dr. Dongkai Shangguan has migrated from the automotive industry to the upper tier of the world's second-largest EMS/ODM. One might say that during that time, he's also moved from the floors of a leading source of air pollution to a company now positioning itself to help customers alter that course of history. As a director of multiple trade associations involved in alternative energy, including SEMA, IPC and the Sustainable Electronics Manufacturing Working Group Board, Dr. Shangguan is also in position to influence not just Flextronics' approach, but that of the entire industry. In an exclusive interview, Dr. Shangguan elaborated on the industry's place in this new green world, and how Flextronics is working to shape it.

CA: Flextronics has customers all around the world, in markets with an innumerable amount of regulations and rules to understand. How do you stay on top of it all?
DS: Flextronics has environmental and sustainability initiatives throughout the organization. In my role, I focus on technology innovation to enable and advance sustainability, while my colleagues focus on other dimensions of sustainability (such as supply chain, operations, social responsibility, etc.).
We have Design for the Environment (DfE) programs for all of our design centers worldwide, with processes, methodologies, checklists, restricted materials lists and several tools to enable our global design team to meet and exceed the environmental requirements of regulations and our customers. Our customer base is very diverse, and each has its own requirements, some that are beyond [exceed external] regulations. That's our challenge, and we try to enable our global design teams to meet those requirements and go beyond in terms of designing products for energy efficiency and design for recycling.
When you go beyond that to address needs for recycling and energy efficiency, then you go to the manufacturing phase, and we are a leader in lead-free technology. We were first, I think, to get into volume production of lead-free. We published and promoted lead-free and environmentally friendly technologies throughout the industry. After lead-free implementation, we got involved in halogen-free and other initiatives in electronics manufacturing.

CA: Can you give some examples?
DS: Of course. We have implemented plastic molding technology that eliminates the need to paint certain plastic enclosures. The painting process has fumes, and it takes energy. Our FSKP process gives us such a good molding surface, we do not have to paint. That's an example from the plastics area.

Then you consider clean technology. We have a comprehensive involvement in the clean tech business. Our solar PV module assembly, inverters, and so on – we are very involved in the clean tech business. Electronics, plastics, clean tech and others.

Then end-of-life: We are involved in logistics, rework, recovery. In logistics, we have a tool that can simulate to help us optimize logistics. Our tool enables us to optimize logistics and minimize environmental impact. This helps us and our customers optimize logistics. We are deeply involved in repair and recovery to minimize impact on waste stream.

CA: Often recovery is driven by cost – metals costs go up, recovery becomes more attractive. Have we broken that cycle?
DS: In our facilities, recovery has always been part of our practice, regardless of fluctuations in the metals market. Of course when the prices go up, there is more interest from the people who work with us, but from our point of view, material recovery has been and will always be part of our standard factory processes.
CA: With respect to green initiatives, should industry proactively lobby governments to ensure regulations don't exceed manufacturers' ability to compete?
DS: Industry should be more proactive in leading toward sustainability.

CA: Tell me about the Sustainable Electronics Manufacturing Working Group.
DS: We want to come up with an action format for industry sustainability. Initially we are working on a definition for sustainability. There are so many interested parties: OEMs, customers, NGOs, governments. We first are trying to define sustainability from the industry's perspective, define the scope, where the industry can impact and influence, and from there, come up with an action roadmap, best practices and guidelines that the entire industry can leverage.

I gave a keynote for the May summit in Nuremberg, Germany, to help this group define the scope and hopefully come up with an action roadmap. Electronics has a holistic program, but it's a global problem. Electronics is here to do our share, to provide our leadership and knowledge, to contribute to sustainability.
CA: Can you give us a glimpse of what the global sustainability roadmap will cover?
DS: Right now, it's too early. I hope we can foster collaborative work to define an industry roadmap that is focused, holistic, proactive, rational and actionable.
CA: And you have also taken a significant role in SEMA and sit on the board of IPC as well.
DS: Right, I sit on the IPC board and on the first board for SEMA
CA: Is part of your role to ensure compatibility between the two groups?
DS: What IPC is doing is working on assembly workmanship standards for solar PV modules. SEMA is not doing that. SEMA is defining the need for standards and publicizing them. I see them as complementary and not with much overlap. Of course, I can help get the message across to the different organizations, but it's not a formal liaison role.

CA: Within the industry, is the emphasis on recycling and reuse, or designing with lower-impact resources? Or both?
DS: Many customers have DfE expectations, and these are one of the parameters we have as part of our design specifications. I would say maybe recyclability is a very important element of our plan. It's becoming very common now in the product development process.
For products such as chargers and adaptors, energy efficiency is a very important consideration. For servers, energy efficient thermal management is important. These are just some of the examples.

CA: The Conflict Metals situation in the DRC has shown that efforts to stop the exploitation of certain local workers might inadvertently end up hurting those same workers, who rely on the mines for their only income. What do you think of the so-called law of unintended consequences, that perhaps in trying to solve one environmental issue, we could inadvertently create another?
DS: [Pauses.] That's a very complex question. I would agree in general that we should have a very holistic review or status before we launch an industry-wide or worldwide initiative that could have a lasting impact. We will not be able to solve all the conflicts in the world. [Pauses.] I would say that Flextronics is very aware and sensitive to the conflict metals issue and has processes in place to be sure we source our materials in a responsible and ethical way. We are a member of the EICC and make sure we do things, including material sourcing, in a very ethical way.

But overall, these are very, very complex issues. We are working on them.

CA: The electronics industry has a mixed history of environmental leadership. We were clearly at the forefront with CFC elimination in line with the Montreal Protocol. However, we've been lagging in keeping up with certain water and toxic chemical best practices, particularly on the bare board side. Do you think electronics companies should be a driver toward environmental best practices?
DS: First, we should be more proactive. We should be leading the trend of work and sharing information. A lot of people don't like legislation. That's a further incentive for us to be proactive to legislation. We are going to energy-efficient product design, more energy-efficient processes. We have an energy-efficiency program for our factories. We must make sure we minimize our carbon footprint and work toward energy savings in every one of our factories.

CA: Are customers willing to pay for best practices?
DS: Customers can mean our OEM customers and the consumer. And they can have different perspectives. Some are consumer products; some are industrial types of products, and the answers can vary. Any responsible company has to be very serious about sustainability.

This is a megatrend. It's coming. It's not something you can avoid, put your head in the sand and hope it goes away. This is also an opportunity. So, regardless of any cost impact on a specific product, we are taking the position that electronics must be at the forefront of sustainability. Second, we need to leverage technology and innovation to enable and advance sustainability. To leverage technology and innovation, I believe we can achieve sustainability and minimize the environmental impact. Take no-clean. After we made the investment and the transition, the no-clean process should be lower-cost than the original process. So fundamentally this should be lower cost. I don't think this applies to every technology, but in general, our goal should be to leverage innovation to come up with better technology while minimizing environmental impact and cost.

CA: Do you monitor end-technologies to help Flextronics pick which markets to go after?
DS: I support certain technology groups from a corporate level. Our objective is to develop and employ technologies to certain business groups. Also, I chair the Engineering Leadership Council. This council works with all our business groups to help integrate their capabilities across the company. Sustainability is part of this function. We enable sustainability through technology innovation. We focus on technologies that facilitate system ability.

Overall I have a responsibility for technology and deployment. We have a roadmapping process. We work with our key customers. We leverage industry and university technologies and our own technology, and we capture it on our technology roadmap. We have corporate milestones in anticipation of the future needs of our factories. Whether it's mechanical or assembly, or plastic injection molding, this technology deployment is worldwide across our business groups. Of course, when it comes time  for unique requirements for a particular factory, we work with that group and address that group.

That also includes process optimization, equipment evaluation and selection, reliability, even test technology. It's a comprehensive development program.
[SIDEBAR] Green by Association

Several trade groups and nongovernmental organizations are vying for influence in the AE market. A short list:

iNEMI (inemi.org): Consortium of electronics OEMs and suppliers. AE efforts currently concentrate on wind system reliability.
IPC (ipc.org): Electronics supply chain trade group. Is working on assembly workmanship standards for solar PV modules.
PV Group (pvgroup.org): A group of SEMI members involved in solar manufacturing supply chain. Mission is to advance industry growth, support efficiency improvements and promote sustainable business practices through standards development, events, public policy, EHS, and market data.
Solar Engineering & Manufacturing Association (SEMA) (solar-ema.org): Association focused on education, training, advocacy and collaboration within solar manufacturing industries.
Sustainable Electronics Manufacturing (SEM) (sustainability2015.com): Industry-wide group of leading electronics technologists whose mission is to promote a sustainable global electronics environment.
[SIDEBAR] Powered by Plexus

Most of the Tier 1 and 2 EMS companies have to some degree targeted the alternative energy sector. Plexus, for example, is concentrating on alternative power conversion and power generation; those areas are among the contributors to a $32 million year-over-year jump in the EMS firm's quarterly revenues in its Industrial/Commercial business segment. CIRCUITS ASSEMBLY spoke with sector vice president Todd Logue in August.

CA: Which alternative energy markets seem most appealing to Plexus' customers at this stage?
TL: Plexus has been focusing and investing in the alternative energy market for nearly five years. We have current customers in both solar and wind, and are actively targeting growth in this marketplace. We have steered away from photovoltaic assembly and have concentrated on complex printed circuit manufacturing and higher level assembly. We have targeted effort on the products after the photovoltaic arrays that convert, manage and measure the power.

CA: What is Plexus doing in those markets?
TL: Plexus is currently building inverters and power conversion devices for multiple customers. We supply products for both the commercial and residential markets. We have developed proven expertise in multiple facets of design-for-manufacturability, hardware, software, mechanicals and power electronics. On the manufacturing side, we build alternative energy products from multiple manufacturing sites and continue to expand system integration and supply chain models.

CA: Are EMS companies expected to perform R&D in alternative energy today, or is that onus still on the OEM?
TL: From our experience, we have seen a trend in the outsourcing of alternative energy R&D efforts. We have alternative energy companies today that engage not just with our product services group for new product introduction, but also our product development teams. We see this especially where custom solutions and IP ownership are most valued. By developing custom solutions, we are able to provide the highest level efficiency and maximize power budgets when those are the critical criteria that define success.

Saying this, the trend has been gradual, and the majority of development work is still completed at the alternative energy OEM. Projecting forward, we anticipate the trend to continue, as the competitive drivers in the market accelerate, highlighting time-to-market requirements. However, standardization and integration will lead to a higher value on the efficiency needs and overall system performance. This is where we expect our design and product introduction experience will add the most value. The other immediate market we are working in includes a wide variety of custom design development, including GUI for grid systems.

CA: Who should drive environmental best practices?
TL: The rapid growth of electronics in today's society highlights the need for electronics companies to drive toward environmental best practices. Plexus' goal is to have environmentally sustainable operations. Plexus is focused on reduction of waste and improvement in efficiencies to increase output through lean principles. Consumers drive OEM supply chain decisions with their buying decisions, and consumer environmental awareness continues to grow. We anticipate that the combination of raised governmental standards and consumer awareness will be a major factor in buying decisions in the future.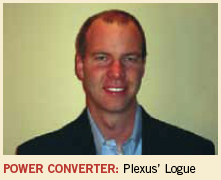 Mike Buetow is editor in chief of Circuits Assembly (circuitsassembly.com); This e-mail address is being protected from spambots. You need JavaScript enabled to view it .
Last Updated on Thursday, 01 September 2011 15:00
Columns
Eastern-US: China's New Competitor?
Parity emerges among EMS Factories from Asia, Mexico and the US.
For the first time in years we see parity in the Eastern US among EMS factories from Asia, Mexico and the US. This EMS market condition will permit American OEMs (the EMS industry refers to OEMs as customers) to have more EMS pathways to choose from. Now more than ever, such EMS assignments will require deeper investigation relating to the OEMs' evaluation of manufacturing strategies.
Read more...
For those who count on the electronics industry for big feats, it's been a remarkable couple of years.
Read more...
Features
Advances in Concentration Monitoring and Closed-Loop Control
Contaminated bath water skews refractive index results. New technology can accurately measure aqueous cleaning agent concentration.
Read more...
Circuits Disassembly: Materials Characterization and Failure Analysis
A systematic approach to nonconventional methods of encapsulant removal.
Read more...