Written by Dr. Davide Di Maio
Thursday, 28 July 2011 15:20


An old trick for eliminating test prints on bare boards.  
Solder paste misalignment (Figure 1) may often occur when setting up the stencil printer and can be easily corrected, but one should not have to conduct the first test print on a bare board and then wash it off. Washing paste off boards leads to solder balls, hole blockage during reflow and, most important, reduces surface solderability on the board. Test prints are good practice, but why contaminate the board surface when a non-stick film could be used (Figure 2)? Basically, apply a sheet of film to the board about to be set up and print on the surface. After assessing the print and its alignment, the film can be peeled off the board surface without contaminating the pad surfaces. The film with its defined print images can also be inspected or measured offline or held for reference.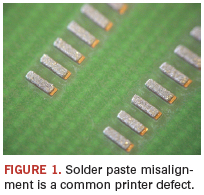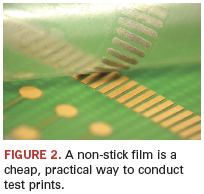 In the early days of surface mount, this technique was used for quality control, as it allowed direct measurements of paste thickness and, of course, coverage in relation to the pad surface. Originally paste dried out quickly, so it was easy to handle the films, which is not the case today.

These are typical defects shown in the National Physical Laboratory's interactive assembly and soldering defects database. The database (http://defectsdatabase.npl.co.uk), available to all this publication's readers, allows engineers to search and view countless defects and solutions, or to submit defects online. To complement the defect of the month, Circuits Assembly now features the "Defect Video of the Month," presented online by Bob Willis. This describes over 20 different failure modes, many with video examples of the defect occurring in real time.
Dr. Davide Di Maio is with the National Physical Laboratory Industry and Innovation division (npl.co.uk); This e-mail address is being protected from spambots. You need JavaScript enabled to view it . His column appears monthly.
Last Updated on Thursday, 28 July 2011 18:46
Columns
The Flash Programming Flow
On-board flash memory device testing and programming.
Read more...
Features
Technology Truck Tours: The New Alternative to Trade Shows?
As the electronics manufacturing industry worldwide has changed dramatically, marketers of OEM capital equipment have changed their strategies and methodologies. Successful marketers have learned to think outside the box – and in some cases, even outside the exhibit hall.
Read more...
MassChallenge, a not-for-profit accelerator program, aims to "create a bigger pie" by helping innovators get to market.
Read more...
Products
TRI Rolls Out TR7500 SIII 3D AOI
TR7500 SIII 3D AOI has five color cameras and 3D laser for 3D height inspection. Combines 3D profile measurement with multi-angle 2D inspection. Is for post-reflow assembly inspection. Inspects 01005...