Written by Alan Cable
Thursday, 30 June 2011 14:57

In housings, in tight spaces, or for odd-form components, custom is the way to go.
We discussed selective soldering nozzles last September, focusing on types generally used and their different applications.1 But we didn't talk about custom nozzles. Oddly, even with the wide range of nozzles available for selective soldering, there are still times when an off-the-shelf nozzle won't do the job. This is not surprising: The selective soldering process is often chosen when something just can't be soldered any other way.

In terms of off-the-shelf standard nozzles, there are generally two basic nozzle designs. One is the "round" nozzle, also known as a "bullet" or universal nozzle. It can approach any solder site from any direction, since it is completely radial in its design on the top. The other is a component-specific "wave" or "letter-slot" nozzle, and its design is better suited to soldering rows of pins, such as found on an array. This nozzle shape is ideal for connectors, for example.

Often, these two types are used in tandem in a machine with a dual-nozzle configuration. In this case, the smallest nozzle is the smallest one needed to solder the tiniest components and tightest areas on a given PCB, while the larger nozzle, no matter which type, is the largest one needed for that particular PCB. Each nozzle is individually programmed, so that a PCB with different-sized components can be processed in a single pass. Both nozzles operate within a single soldering sequence program, and there is no need to interrupt the process to change nozzles.

Occasionally, a custom nozzle is needed. One instance is for a small board in a relatively large panel, with specific solder sites on that small board that could possibly be clustered together for processing. Perhaps there are 10 solder sites on that specific board, all fairly close in proximity, and you want to speed production by soldering them all at once, rather than individually cycling through them. A special nozzle can be designed to solder this group of sites on each panelized assembly all at once, in one upward motion, cutting processing for each assembly (and the entire panel, by extension) to 1/10th of the time that it would take to solder each site individually or singularly. In summary, one important use of custom nozzles is to increase productivity on high run products.

A second instance for custom nozzles is when the sites to be soldered are inside a housing, or surrounded by very low hanging components, such as electrolytic capacitors, a toroid, or power supplies, and as a consequence, a standard-length nozzle simply won't reach or would hit the nitrogen shroud. In such cases, the solution is extended length nozzles. In the event of obstacle avoidance, the nozzles might not only be of custom length, but of custom diameter. Or, one may design rectangular nozzles of irregular shapes specifically configured to avoid contacting other components on a board with tight topography, whereas these adjacent components would otherwise be in the way and prevent effective soldering.

The third occasion is for specific, tight keep-away conditions in which there perhaps is a connector or a row of header pins that are extremely close, and adjacent to surface mount components. In such an instance, it might be necessary to use a special letter-slot nozzle designed to specifically guide solder away from surface mount chips.

These are the three primary instances where one would want to use custom or specific custom-designed nozzles. Generally, custom-designed nozzles are not used by themselves. Often, unique or location fixturing is used in conjunction with the custom nozzles and, generally, is put together in 3-D modeling, which is instrumental to ensure everything works properly.

In summary, fully understand the task at hand, and use 3-D modeling to design and generate the fixturing that locates the product and the nozzle that supports the process. In this way, one can deliver a turnkey solution to a specific selective soldering challenge.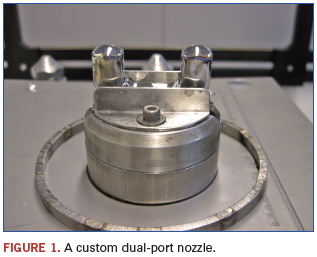 References

1. A. Cable, "Know Your Nozzles!," CIRCUITS ASSEMBLY, September 2010.
Alan Cable is president of A.C.E. Production Technologies (ace-protech.com); This e-mail address is being protected from spambots. You need JavaScript enabled to view it .
Last Updated on Thursday, 30 June 2011 17:35
Columns
Eastern-US: China's New Competitor?
Parity emerges among EMS Factories from Asia, Mexico and the US.
For the first time in years we see parity in the Eastern US among EMS factories from Asia, Mexico and the US. This EMS market condition will permit American OEMs (the EMS industry refers to OEMs as customers) to have more EMS pathways to choose from. Now more than ever, such EMS assignments will require deeper investigation relating to the OEMs' evaluation of manufacturing strategies.
Read more...
For those who count on the electronics industry for big feats, it's been a remarkable couple of years.
Read more...
Features
Advances in Concentration Monitoring and Closed-Loop Control
Contaminated bath water skews refractive index results. New technology can accurately measure aqueous cleaning agent concentration.
Read more...
Circuits Disassembly: Materials Characterization and Failure Analysis
A systematic approach to nonconventional methods of encapsulant removal.
Read more...