Written by Jie Bai
Monday, 09 May 2011 12:42

Dielectric inks that enable multilayer printing are key to printed electronics.
The field of printed electronics is certainly not new. In fact, companies have been using various printing techniques to make products such as membrane switches and keypads for well over 20 years. But, as technology shifts are forcing requirements for high throughput, low cost, flexible form factor applications, printed electronics have emerged as some of the most efficient techniques by which to achieve these criteria.
The list of devices that rely on printed electronics technologies is big and getting bigger. Applications that employ printed electronics include touch screens, RFID antennae, medical sensors, flexible circuits and more. As one of the most cost-effective production methods, printed electronics is enabling the high volume, high throughput, low cost paradigm and is making end product cost much more palatable for today's consumers. That said, the majority of printed electronics applications must interface with other electronic components for functionality and a hybrid of printed electronics alongside mainstay surface mount technology (SMT) will likely remain as the preferred methodology for the foreseeable future.
While there are numerous types of printing processes employed for various applications, the core of the products manufactured for printed electronics use screen or stencil, flexographic or rotogravure printing. Screen/stencil printing is without question the most widely used technique in printed electronics and uses emulsion screens, mesh-mount metal or frameless metal stencils to deposit inks and pastes onto various substrates. Flexographic printing incorporates different rolls – fountain, anilox and plate cylinder rolls – to achieve high speed, continuous roll to roll processing for products such as on-label battery testers, drug delivery patches, printed batteries and other e-label applications. While flexographic printing is very high speed, rotogravure techniques rank among the fastest in printed electronics. Though prevalent in magazine printing, rotogravure is also heavily employed for certain electronics products such as medical EKG pads and high-volume RFID applications.
Of course, essential to the success of any type of printed electronic device is the processability, performance and long-term reliability of the pastes, inks or coatings that are used within them. Because of the variety of printing methods, the materials requirements also vary greatly with viscosity, shear rate and film deposit characteristics being dependent upon the type of printing being performed. For example, screen/stencil printing dictates a relatively thick ink that quickly shear thins to a lower viscosity and recovers quickly after shear to allow for fine lines and limited slumping or bleeding. Conversely, flexographic inks need to be even thinner to allow flow into the various rolls. Rotogravure printing requires the thinnest of all the inks to accommodate fast flow and ultra high-speed processing.
Though many types of inks are market- and application-specific, some are highly versatile, cross-functional and can be used for a variety of printed electronics applications. The most common of these cross-functional materials are conductive and dielectric inks. For conductive ink systems, variations in the resin and carrier systems are vast, but the conductive pigments are not. Silver and carbon are the two types of conductive pigments, with silver being the most electrically and thermally conductive of all metals. Carbon inks are generally used when resistance is a requirement for the functional part. Also key to robust printed electronics function are the dielectric inks which are used to enable multi-layered printing, provide environmental protection of the conductive trace and help limit silver migration.
Understanding the complexities of each formulation and the frequent interdependence and compatibility requirements of these various inks is critical for any supplier providing materials for this growing market segment. Like most things in electronics, the majority of applications that incorporate printed electronics are getting finer in dimension and more complex in functionality. Suppliers must be able to formulate inks that address the demands of fine-line printing while maintaining robust conductive and other functional properties.
Though in existence for over two decades, in many respects printed electronics is just now really coming into its own. The functionality, speed, throughput and accuracy afforded by printing techniques will undoubtedly ensure the longevity of printed electronics applications. New applications in the solar, energy storage and interactive display markets are adding to the already wide spectrum of products that incorporate printed electronics. In my view, we have only touched the tip of the ice berg when it comes to these applications and the future looks very promising for printed electronics!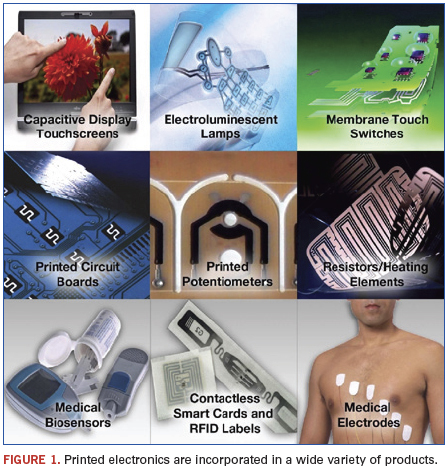 Jie Bai is a chemist at Henkel Electronics Group (henkel.com); This e-mail address is being protected from spambots. You need JavaScript enabled to view it . 
Last Updated on Monday, 09 May 2011 18:16
Columns
The Flash Programming Flow
On-board flash memory device testing and programming.
Read more...
Does Reliability Have a Place In EMS?
Experts say physics of failure is overtaking MTBF as the go-to model.
Read more...
Features
MassChallenge, a not-for-profit accelerator program, aims to "create a bigger pie" by helping innovators get to market.
Read more...
Who says a Tier IV EMS can't have the foresight, and follow-through, of the big players?
Read more...
Products
PBT Rolls Out Moduleclean Inline Batch Cleaner
Moduleclean inline batch cleaning system is for cleaning assembled PCBs, stencils, and other electronics products. Cleans surface mount technology applications such as defluxing of low-residue and...