Written by Jennifer Read
Thursday, 31 March 2011 14:02

Despite recent social upheaval, Thailand and Tunisia have great potential for EMS.
As the world watches the impact of what some are calling "The Tunisia Effect" in North Africa, there's a sense the world economy just rounded an unexpected curve on the globalization roller coaster. Countries once thought of as stable have, one by one, seen their populations come together in a remarkable grassroots consensus (although there isn't much grass in those regions) fueled by technology-enabled social networking, and have forced their governments to agree to democratic reforms. Time will tell if these reforms have any lasting effect.

These breathtaking events may turn out badly for those living under despotic regimes still in control of military might; however, the optimist sees this as part of a bigger picture, where emerging market demand creates, as Ian Bremmer explained in The Wall Street Journal recently, a "super-cycle" that benefits the entire globe. It's not a zero sum game, some argue, where BRICs take away GDP from waning developing nations, but rather a rising tide that raises all boats. Those protesting in the streets across the globe want freedom and smartphones. Oh, and by the way, jobs, food, sanitation infrastructure, and corruption-free governments, thank you very much. This may be good news. The forced transparency brought about by the inexorable availability of instant information makes it increasingly difficult for despots who wish to hold on to power to do so without improving the lives of those they govern.

If retreating into a shell and hoping all these global risk issues will just go away is not an option, how can electronics manufacturers prepare and succeed in the coming super-cycle?

In CBA's recent report, Next Horizons in Global Electronics Manufacturing, we outlined an analytical framework that emphasizes the importance of aligning the
strengths and weaknesses of a geography with a company's strategic objectives. This analysis must take into account issues such as geopolitical risk, population statistics, corruption perception and ease of doing business indices from public agencies, and other issues of history, culture and government. (Ease of Doing Business rankings were compiled by the World Bank Group. Figure 1 shows the rank of each country profiled in CBA's Next Horizons Report. For more information about how these figures were derived, visit doingbusiness.org. For an executive summary of the report, go to http://charliebarnhart.com/next-horizon/.)

History matters. Let's compare Tunisia with another country undergoing political upheaval: Thailand. The only country in Southeast Asia never to have been taken over by a European power, Thailand became a constitutional monarchy in 1932. This peaceful independent landscape has eroded in recent years as one political challenge after another erupted since Prime Minister Thaksin Chinnaway was ousted in a 2006 military coup. The country seems to be in an unproductive cycle of coup, constitutional rewrite, descent into corruption, repeat. The unrest in April-May of 2010 resulted in the deaths of around 30 people, including a Japanese photojournalist whom many believe was killed by government security forces.

Thailand has a population of about 66 million. Citizens are well-educated, and have a per capita GDP of $8,200. While Thailand may seem unstable, the economy contracted by less than 3% in 2009, mostly due to the global financial crisis. The Thai government is stimulating the economy with infrastructure projects and so forth to make up for the damage to the investment climate wrought by the unrest. Exports dropped by double digits during the 2008-2009 downturn, but due to the government's intervention, the overall effect on the economy was mitigated and the economy expanded by nearly 8%.

The country has good coverage in water/sanitation; substantially better electricity infrastructure than India or Indonesia, and a high-quality telephone system. There are 16 million Internet users and 62 million cellphone subscribers; Thailand is 17th in the world in cellphone use. In short, while the poverty rate is still too high, and political unrest will probably increase with the waning influence of King Bhumibol Adulyadej, seen as a stabilizing force, but now in his 80s and ailing, Thailand's history of independence and self-rule, its open society and growing middle class will make it a good place to do business.

Tunisia is home to 10.5 million people; the literacy rate is low: Only 74% of the population (65% for women) can read and write. Unemployment is high, and there are great disparities between rich and poor. Tunisia's history with high tech has been as a low labor cost region for European manufacturers, so while there is already a robust ecosystem for telecoms, automotive and industrial sectors, the country is still in emerging stages as a market.

Water/sanitation coverage is better than South Africa and Morocco, but not universal. Electricity production is higher than Morocco, but infrastructure projects are still in the planning stages. Technological parks have good infrastructure, however. There is an urgent need for roads, and telecommunications is above average for Africa, but still being upgraded. Internet access is available throughout the country, but use is low.

The population and economic facts indicate Tunisia to be a higher long-term risk than Thailand, in spite of the same basic political instability in both countries. However, companies that sell products that go into infrastructure projects would be unwise to overlook Tunisia. The recent regime change will bring world attention, not to mention FDI and World Bank consultants. It will be a wild ride, but per this recent press release, "The Foreign Investment Promotion Agency's services remain ready to provide answers regarding this transitional moment, which is can be [sic] a prelude to an improved business climate in Tunisia."

We sincerely hope "is" turns out to be the operative verb tense.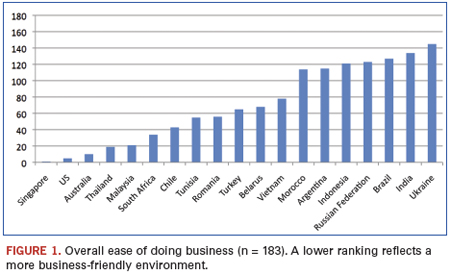 Ed.: The next Outsourcing Navigator Council meeting takes place in June at Tellabs outside Chicago (www.charliebarnhart.com).
Jennifer Read is cofounder and principal at Charlie Barnhart & Associates LLC  (www.charliebarnhart.com), a consulting company serving the electronic manufacturing services (EMS) market; This e-mail address is being protected from spambots. You need JavaScript enabled to view it .
Last Updated on Thursday, 31 March 2011 17:22
Columns
Eastern-US: China's New Competitor?
Parity emerges among EMS Factories from Asia, Mexico and the US.
For the first time in years we see parity in the Eastern US among EMS factories from Asia, Mexico and the US. This EMS market condition will permit American OEMs (the EMS industry refers to OEMs as customers) to have more EMS pathways to choose from. Now more than ever, such EMS assignments will require deeper investigation relating to the OEMs' evaluation of manufacturing strategies.
Read more...
For those who count on the electronics industry for big feats, it's been a remarkable couple of years.
Read more...
Features
Advances in Concentration Monitoring and Closed-Loop Control
Contaminated bath water skews refractive index results. New technology can accurately measure aqueous cleaning agent concentration.
Read more...
Circuits Disassembly: Materials Characterization and Failure Analysis
A systematic approach to nonconventional methods of encapsulant removal.
Read more...