Written by Dr. Davide Di Maio
Thursday, 31 March 2011 13:50

Resin cracks proliferate with high-Tg laminates.
This month we feature an example of pad cratering submitted to the database. The microsection (Figure 1) shows an area array solder joint termination. The image shows the bottom of the ball to copper pad interface. A small void cavity is present in the solder connection, which is not an issue. Just below the pad is a crack in the PCB resin. This is a common fault seen on boards exposed to drop testing, flexure or vibration. The crack is through the resin in the interface next to the copper circuitry. It has become a more common defect on high-Tg laminates and with the increased rigidity of Pb-free terminations.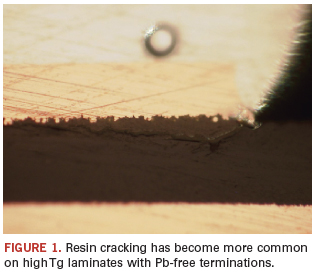 There are a number of issues to examine: the laminate resin system, the Pb-free solder alloy type and, of course, the environment the product is subjected. Is corner bonding of the device to the board or complete underfilling the solution?

These are typical defects shown in the National Physical Laboratory's interactive assembly and soldering defects database. The database (http://defectsdatabase.npl.co.uk), available to all this publication's readers, allows engineers to search and view countless defects and solutions, or to submit defects online.
Dr. Davide Di Maio is with the National Physical Laboratory Industry and Innovation division (npl.co.uk); This e-mail address is being protected from spambots. You need JavaScript enabled to view it . His column appears monthly.
Last Updated on Thursday, 31 March 2011 17:10
Columns
The Flash Programming Flow
On-board flash memory device testing and programming.
Read more...
Does Reliability Have a Place In EMS?
Experts say physics of failure is overtaking MTBF as the go-to model.
Read more...
Features
MassChallenge, a not-for-profit accelerator program, aims to "create a bigger pie" by helping innovators get to market.
Read more...
Who says a Tier IV EMS can't have the foresight, and follow-through, of the big players?
Read more...