Written by ACI Technologies Inc.
Saturday, 05 March 2011 00:23
The two basic strategies weigh material reuse, cost and processing time.
Conformal coatings are regularly employed to protect the surface of a soldered printed circuit board from moisture, chemicals in the service environment, and foreign objects or debris. Conformal coatings are nonconductive and therefore cannot be placed on any location where electrical contact will be required, such as connector pins, test points and sockets. Conformal coatings are also not permitted on any mechanical interface location, such as mounting holes or brackets, to ensure proper fit between items in the final assembly. To apply conformal coatings to an assembly and comply with the restrictions on keep-out areas, masking is employed to protect those surfaces.

There are two basic strategies for masking of conformal coatings. The first strategy is to use a temporarily installed material that prevents conformal coatings from bonding to locations that forbid coating application. Polyimide tape can be used as a temporary masking agent. The tape must be cut to the proper shape to ensure the tape only covers the area where conformal coatings are not desired. Polyimide tape has a few basic advantages as a masking material. The first advantage is that polyimide tapes are able to withstand a typical oven cure cycle for conformal coatings without damage. Another major advantage is that polyimide tapes have a resistance to tearing that exceeds many other types of adhesive tapes, which permits easy removal after the coating has been cured. Tapes can be cut and formed to cover very precise areas on an assembly. A final advantage is that the assembly is ready for coating immediately after tape is applied.

Another type of temporary masking material is commonly referred to as a "peelable mask." These products are marketed as a means to quickly and easily mask areas to prevent the flow of solder or conformal coatings during assembly. These materials are dispensed to the area where coating is not desired and left to cure. Some peelable masks can cure at room temperature, while an oven cure cycle can be used to cure or accelerate cure of some types. These materials have a very low adhesion to the surface and can be peeled off when required with very little residue on the assembly. A disadvantage of peelable masks is the cure time required after application.

A final type of temporary masking material is plugs or caps. Plugs are used to protect the inner cavity of a connector that cannot be coated and are designed to have a snug fit inside the connector housing, covering all pins or contacts inside the connector. Caps are placed over a connector to prevent any coating from contacting the connector and should fit snugly around the outside surface of a connector housing. Plugs and caps are manufactured from materials that can withstand the temperatures required for the oven cure of conformal coatings. The plugs and caps are removed after the coating has been cured and can be reused on subsequent assemblies. An advantage of plugs and caps is their low cost, especially when considering the many times they may be reused. A significant disadvantage is that plugs and caps can typically only be used on the specific item they are designed to cover, so many different types of plugs or caps may be required if a variety of parts require masking from conformal coatings.

The second basic strategy for masking an assembly is to implement purpose-built masking fixtures (Figure 1). Fixtures are designed to mask all areas of an assembly that cannot have coating applied and are designed specifically for the assembly in question. The major advantage for a fixture is the short time required to apply as compared to applying tape, peelable mask or plugs. The major disadvantage of fixtures is that they can require significant upfront investment and may require modification or redesign every time the design of the PCB is changed.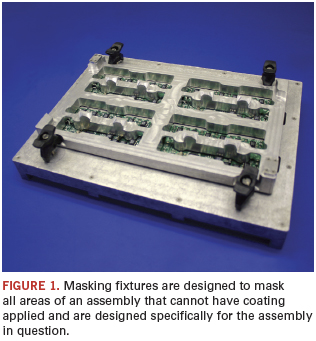 ACI Technologies Inc. (aciusa.org) is the National Center of Excellence in Electronics Manufacturing, specializing in manufacturing services, IPC standards and manufacturing training, failure analysis and other analytical services. This column appears monthly.
Last Updated on Monday, 07 March 2011 15:58
Columns
Could 3-D printers undo decades of frame-up circuit board assembly?
Read more...
J-STD-004B: A New Twist on an Old Standard?
Before rejecting a flux, be sure you understand the standard.
Read more...
Features
A Systems-Level Approach to Product Development
Is there a way to more tightly integrate materials and process development so as to accelerate the pace of innovation?
Read more...
Reducing Stencil Wipe Frequency
A new study of nanocoatings allows users to visualize solder paste flow under the stencil.
Read more...
Products
Hitachi Updates Sigma G5S Modular Mounter
Sigma G5S modular mounter has a multi-function head that now features lead-clinching and tamping functionalities. Uses side-mounted lighting and machine vision to identify and locate through-hole...