Written by Jie Bai
Saturday, 05 March 2011 00:05
Not only does the miniaturization trend mean big changes for device assembly processes and materials capabilities in-package, but protective encapsulant and molding techniques as well. Today's components with tight dimensions, increasingly fragile and complex geometries, and corresponding higher costs are far more difficult to effectively encapsulate at high yield. Traditional injection molding and potting methods introduce pressure levels and temperatures that can be very damaging to delicate assemblies.
An innovative low pressure molding technology that incorporates a polyamide hot melt offers a fast and convenient encapsulation alternative to conventional techniques. Not only does this method encapsulate the circuitry, but also simultaneously forms the outer shell of the component to deliver a self-contained, integrated assembly – all in one step. This method limits stress to the device, and reduces the time, cost and complexity associated with older-generation processes.
Low pressure molding employs thermoplastic hot melt adhesives designed specifically for insert molding. Historically, these materials have been used for electrical connector assembly, as the self-contained assemblies offer significant advantages over conventional wired connectors that use a mechanically fastened, molded plastic housing. The one-step low pressure molding process surrounds the assembly, adheres to the wire surface, protects the solder joints and isolates all elements of the assembly from atmospheric moisture.
Building on its advantages for the connector market, this technology is also delivering superior protection of printed circuit boards and other electronic devices and effectively eliminating the need for potting. Because the application pressure for this molding method is just 20 to 500 psi, the low pressure within the mold cavity won't damage small, fragile components. The material's viscosity is also quite low, enabling the hot melt adhesive to flow around extremely fine, tight dimensions without requiring extremely high pressure, as is generally the case with injection molding or potting techniques. Because the pressure is at such a reduced level, even the most highly miniaturized components can be molded with very little stress to the device.
The process is very simple. Using specialized hot melt equipment, a low pressure dispensing system and a mold, electronic devices for a variety of applications can be encapsulated in one simple step. The component is placed into the mold; the liquefied polyamide material is injected into the mold cavity, and following a rapid cure, the component is ready in a matter of seconds.
Compared to other methods, particularly potting, low pressure molding is superior in many respects. Because the hot melt material is a single part – not the two-part resin plus hardener of potting formulations – there is no mixing required. This, in combination with the material's fast cure capability, saves significant amounts of process time. The cure cycle, which takes only seconds with low pressure molding materials, is also a throughput enhancement, compared to potting materials, which can take as long as 24 hr. to cure. What's more, the novel polyamide materials do not contain fillers, so lower cost aluminum molds can be used.
The polyamide materials employed with low pressure molding processes are also nonhazardous, biodegradable, reworkable and do not produce any waste, making them far more environmentally responsible than potting materials. Once the encapsulated part is removed from the mold, any residual un-molded material can be reused by simply re-melting it for the next part. This is contrary to potting materials, which, once mixed, are not suitable for reuse.
Over the past decade, low pressure molding materials and processes have begun to gain more widespread acceptance in the electronics sector. They have proved to save manufacturers time and money and, therefore, have been employed in numerous applications for a variety of markets, including automotive, medical and portable storage devices, to name a few. Because of the material's versatility, low pressure molding formulations can be manufactured in a variety of colors to address the particular requirements for certain industries. For example, a Big Three auto maker recently worked with our company to develop a UV-stabilized, safety orange-colored version to provide easy identification for the main power connection of a new hybrid vehicle. (Figure 1) In the medical market, white colored, solvent-resistant hot melt materials are used to encapsulate medical monitoring devices. Indeed, the possibilities and benefits are endless.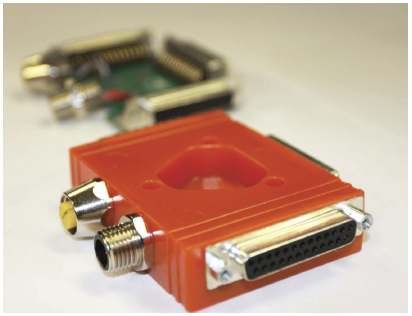 Figure 1. Safety orange-colored low pressure molding materials are used for encapsulating components of the main power connection for modern, hybrid vehicles.
While these materials have been commercially available for some time, I believe they are only now coming into their own – particularly as the electronics industry moves to smaller, more fragile devices with much tighter dimensions. The simplicity of the one-part low pressure molding process, the cost and time savings associated with the technology, and its environmental benefits will most certainly assure its future success.

Acknowledgments
The author would like to thank Henkel engineers Ricky Zhang, Kok-Soo Goh and Raymond Wu for their valuable inputs.
Jie Bai is a chemist at Henkel Electronics Group (henkel.com); This e-mail address is being protected from spambots. You need JavaScript enabled to view it .
Last Updated on Monday, 07 March 2011 15:08
Columns
Eastern-US: China's New Competitor?
Parity emerges among EMS Factories from Asia, Mexico and the US.
For the first time in years we see parity in the Eastern US among EMS factories from Asia, Mexico and the US. This EMS market condition will permit American OEMs (the EMS industry refers to OEMs as customers) to have more EMS pathways to choose from. Now more than ever, such EMS assignments will require deeper investigation relating to the OEMs' evaluation of manufacturing strategies.
Read more...
For those who count on the electronics industry for big feats, it's been a remarkable couple of years.
Read more...
Features
Advances in Concentration Monitoring and Closed-Loop Control
Contaminated bath water skews refractive index results. New technology can accurately measure aqueous cleaning agent concentration.
Read more...
Circuits Disassembly: Materials Characterization and Failure Analysis
A systematic approach to nonconventional methods of encapsulant removal.
Read more...