Written by Paul Lotosky
Saturday, 05 March 2011 00:05

Excessive reflow ramp is just one of several spurs for these potential short causers.
After reflow, small spherical particles with various diameters can be formed away from the main solder pool. These are known as solder balls.

Possible Cause: Stencil.

Description. Paste stuck under the stencil will be transferred onto the solder mask of the next PCB.

Recommendations.
Verify zero print gap setup.
Check minimum print pressure used.
Check cleaning efficiency such as wet/dry/vacuum.
Check wipe frequency.
Possible Cause: Reflow profile.

Description. Fast ramp-up rate or preheat rate will not permit sufficient time for solvent to vaporize gradually.
Recommendations. Slow preheat rate is recommended, typically <1.5°C/sec. from room temperature to 150°C.

Possible Cause: PCB moisture.

Description. Trapped moisture may result in explosive vaporization.
Recommendations. Lower grade PCB laminates such as FR-2 and CEM-1 tend to absorb moisture. Bake at 120°C for 4 hr. if necessary.
Paul Lotosky is global director – customer technical support at Cookson Electronics (cooksonelectronics.com); This e-mail address is being protected from spambots. You need JavaScript enabled to view it . His column appears monthly.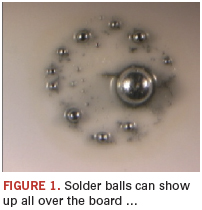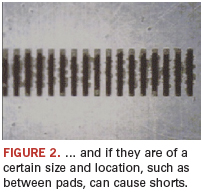 Last Updated on Monday, 07 March 2011 15:14
Columns
Eastern-US: China's New Competitor?
Parity emerges among EMS Factories from Asia, Mexico and the US.
For the first time in years we see parity in the Eastern US among EMS factories from Asia, Mexico and the US. This EMS market condition will permit American OEMs (the EMS industry refers to OEMs as customers) to have more EMS pathways to choose from. Now more than ever, such EMS assignments will require deeper investigation relating to the OEMs' evaluation of manufacturing strategies.
Read more...
For those who count on the electronics industry for big feats, it's been a remarkable couple of years.
Read more...
Features
Advances in Concentration Monitoring and Closed-Loop Control
Contaminated bath water skews refractive index results. New technology can accurately measure aqueous cleaning agent concentration.
Read more...
Circuits Disassembly: Materials Characterization and Failure Analysis
A systematic approach to nonconventional methods of encapsulant removal.
Read more...