Written by Dr. Davide Di Maio
Saturday, 05 March 2011 00:04

Total separation is cause for investigation.
The conformal coating has separated from the surface of the plastic QFN/LGA body, which is not uncommon on many plastic parts. Devices often have molding release agents on the surface that make coating adhesion difficult to maintain, and minor loss or separation may not normally be reworked. In this case, the root cause should be established, as all the coating on the device has completely lifted.

Cleaning the board assembly after soldering may overcome the problem in future production runs, or it might not, unless a proper assessment is conducted on the cleaning process compatibility. The next batch of parts might not have the problem, and, convinced, you will be cleaning for life. The fault can be seen on most conformal coatings, more likely on thinner coating, although the poor adhesion will still be apparent on thicker coating that may not be so easily displaced.

These are typical defects shown in the National Physical Laboratory's interactive assembly and soldering defects database. The database (http://defectsdatabase.npl.co.uk), available to all this publication's readers, allows engineers to search and view countless defects and solutions, or to submit defects online.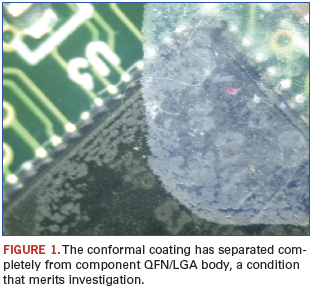 Dr. Davide Di Maio is with the National Physical Laboratory Industry and Innovation division (npl.co.uk); This e-mail address is being protected from spambots. You need JavaScript enabled to view it . His column appears monthly.
Last Updated on Monday, 07 March 2011 15:16
Columns
Could 3-D printers undo decades of frame-up circuit board assembly?
Read more...
J-STD-004B: A New Twist on an Old Standard?
Before rejecting a flux, be sure you understand the standard.
Read more...
Features
A Systems-Level Approach to Product Development
Is there a way to more tightly integrate materials and process development so as to accelerate the pace of innovation?
Read more...
Reducing Stencil Wipe Frequency
A new study of nanocoatings allows users to visualize solder paste flow under the stencil.
Read more...
Products
Metcal Updates Scorpion Rework System
Scorpion rework system now includes an automatic placement package capable of 50mm of motorized travel in the Z-axis and 360° in ϴ. Automatic placement package offers fine motor control in the...