Written by Paul Lotosky
Wednesday, 02 February 2011 15:25

What to do when fillets aren't forming completely.
Insufficient solder occurs when the amount of solder paste deposited on the PWB by the printer is much less than stencil opening design, or after reflow, there is insufficient solder to form a fillet at the component leads. Potential causes include the stencil, printer, reflow profile, and paste itself.

Stencil

Description: Solder paste adheres on the stencil aperture walls.
Recommendations:
Ensure area ratio > 0.66.
Ensure aspect ratio > 1.5.
Ensure no burrs on stencil aperture edge.
Screen Printer

Description: Print definitions.
Recommendations:
Verify print setup.
Reduce print speed to provide sufficient time for paste to roll into aperture.
Reflow Profile

Description: Mismatch in CTE between component and PCB can cause solder wicking effect that may look like insufficient solder on pads.
Recommendations:
Attach thermocouple on component and PCB.
Apply soak profile to minimize ∆T before reflow zone.
Set bottom zones to be higher temperature if possible, to keep PCB hotter than component leads.
Solder Paste

Description: Solder paste viscosity.
Recommendations:
Check paste conditions such as dry paste phenomenon by verifying if paste rolls or skids along print direction.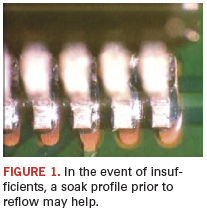 Paul Lotosky is global director – customer technical support at Cookson Electronics (cooksonelectronics.com); This e-mail address is being protected from spambots. You need JavaScript enabled to view it . His column appears monthly.
Last Updated on Wednesday, 02 February 2011 17:15
Columns
Eastern-US: China's New Competitor?
Parity emerges among EMS Factories from Asia, Mexico and the US.
For the first time in years we see parity in the Eastern US among EMS factories from Asia, Mexico and the US. This EMS market condition will permit American OEMs (the EMS industry refers to OEMs as customers) to have more EMS pathways to choose from. Now more than ever, such EMS assignments will require deeper investigation relating to the OEMs' evaluation of manufacturing strategies.
Read more...
For those who count on the electronics industry for big feats, it's been a remarkable couple of years.
Read more...
Features
Advances in Concentration Monitoring and Closed-Loop Control
Contaminated bath water skews refractive index results. New technology can accurately measure aqueous cleaning agent concentration.
Read more...
Circuits Disassembly: Materials Characterization and Failure Analysis
A systematic approach to nonconventional methods of encapsulant removal.
Read more...