Written by Dr. Davide Di Maio
Wednesday, 02 February 2011 15:18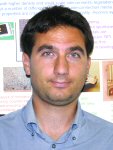 The pad/lead junction must be correctly coated to avoid corrosion.
This month we feature a recent issue submitted to the database. Coating inspection under UV light shows the impact of capillary action, although there is evidence the coating coverage on the board and component surface have capillaried under the PLCC, as indicated by the tide line around the component (Figure 1).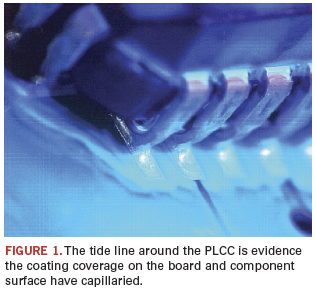 Based on inspection criteria, this meets common standards, but the thickness of the material will vary on the surface of the board. This is more likely to be seen on low-standoff devices.

Changing the material viscosity, reducing the spray travel speed, or increasing the amount of material or solids applied during spray application should improve the results. Experience tells us that the pad/lead interface is the area where corrosion is most likely to occur, so correct coating is most important around the joint interfaces than on open areas of the board surface, which are protected by solder mask.

These are typical defects shown in the National Physical Laboratory's interactive assembly and soldering defects database. The database (http://defectsdatabase.npl.co.uk), available to all this publication's readers, allows engineers to search and view countless defects and solutions, or to submit defects online.
Dr. Davide Di Maio is with the National Physical Laboratory Industry and Innovation division (npl.co.uk); This e-mail address is being protected from spambots. You need JavaScript enabled to view it . His column appears monthly.
Last Updated on Wednesday, 02 February 2011 17:18
Columns
European RoHS Enforcement Explained
A series of workshops next month on compliance with RoHS and other directives will help US companies looking to break into the European market.

Read more...
Believing Foxconn Means Suspending Belief
The Foxconn makeover is in full swing, with the latest this piece from the New York Times that supposes that the world's largest ODM is worried that Apple -- yes, Apple -- might be bringing it down:
Read more...
Features
Managing Your ESD Program
SMT Reflow Oven-to-Oven Repeatability
How to adjust an oven so a single recipe will work across multiple ovens for an individual product.
Read more...
Products
Inventec Releases SnBiAg Solder Paste
Tin-bismuth-silver solder paste for SMT assembly has silver content of >1% for improved mechanical reliability and thermal cycling. Melting point is around 139°C. Offers good soldering yield for...