Written by Paul Lotosky
Friday, 07 January 2011 16:26

What to do when solder isn't penetrating the aperture.
Insufficient fill occurs when the amount of solder paste deposited on a printed circuit board by the printer is much less than the stencil opening design.
Among the potential causes:

Stencil: Paste scooping effect, especially on large pads.
Recommendation: Segment the large opening into smaller apertures.

Screen printer: Paste does not roll into aperture.
Recommendations:
Reduce print speed.
Increase print pressure.
Adopt lower squeegee contact print.
Ensure paste is not expired or dry.
Ensure sufficient board support.
Reduce squeegee pressure.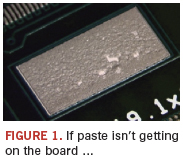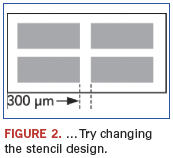 Paul Lotosky is global director – customer technical support at Cookson Electronics (cooksonelectronics.com); This e-mail address is being protected from spambots. You need JavaScript enabled to view it . His column appears monthly.
Last Updated on Friday, 07 January 2011 19:00
Columns
The Flash Programming Flow
On-board flash memory device testing and programming.
Read more...
Does Reliability Have a Place In EMS?
Experts say physics of failure is overtaking MTBF as the go-to model.
Read more...
Features
MassChallenge, a not-for-profit accelerator program, aims to "create a bigger pie" by helping innovators get to market.
Read more...
Who says a Tier IV EMS can't have the foresight, and follow-through, of the big players?
Read more...
Products
Dial Releases Buran B100 Screen Printer
Buran B100 screen printer has a print format of 75 x 75mm to 508 x 508mm. Repeatability said to be -/±15μm @ 6 Sigma. Cycle time is 12 sec. (without print). Handles PCB of thicknesses ranging from...