Written by Dr. Davide Di Maio
Friday, 07 January 2011 16:24

Consider the component and the coating process, not just the speed.
Coating contamination was found under UV light inspection. The coating process has caused the material to contaminate the surface of the connector pins. This assembly was coated with an automatic spray system that was probably incorrectly set up for production. The overspray (Figure 1) is visible under UV light on the surface of the gold connector pins and the body of the part. The contamination can also be seen on the black body of the connector.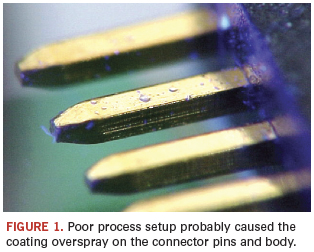 Some connectors are poorly designed for coating, permitting the fluid to capillary through the body/pin interface, leaving residues on the surface of the pins. Provided there is a gap between the connector and the coating line, a good, well-defined process should achieve contamination-free coating. A process engineer needs to look at the head type, coating material and the process parameters in detail, and not just focus on the speed of application. Slowing the process is still much faster than manually masking the connector with tape!

The connector pins can be reworked using a cleaning fluid recommended by the coating supplier. The cleaning material should not damage the board or the connector body. As gold contacts are inert, there should be no issue with contact resistance, but other plated connector termination surfaces may need to be tested. It's important to run test boards or cards to check for correct setup and spray application, then inspect the sample prior to running the process. It is not time-consuming and can be conducted in less than 5 min.

These are typical defects shown in the National Physical Laboratory's interactive assembly and soldering defects database. The database (http://defectsdatabase.npl.co.uk), available to all this publication's readers, allows engineers to search and view countless defects and solutions, or to submit defects online.
Ed. Join Bob Willis and members of the NPL team for free process advice during the "NPL Defect Database Clinic Live" at IPC Apex.
Dr. Davide Di Maio is with the National Physical Laboratory Industry and Innovation division (npl.co.uk); This e-mail address is being protected from spambots. You need JavaScript enabled to view it . His column appears monthly.
Last Updated on Friday, 07 January 2011 18:21
Columns
Could 3-D printers undo decades of frame-up circuit board assembly?
Read more...
J-STD-004B: A New Twist on an Old Standard?
Before rejecting a flux, be sure you understand the standard.
Read more...
Features
A Systems-Level Approach to Product Development
Is there a way to more tightly integrate materials and process development so as to accelerate the pace of innovation?
Read more...
Reducing Stencil Wipe Frequency
A new study of nanocoatings allows users to visualize solder paste flow under the stencil.
Read more...
Products
Metcal Updates Scorpion Rework System
Scorpion rework system now includes an automatic placement package capable of 50mm of motorized travel in the Z-axis and 360° in ϴ. Automatic placement package offers fine motor control in the...