Written by Dr. Davide Di Maio
Monday, 06 December 2010 17:43

Dip pastes may elevate solder ball levels.
This month we feature x-ray inspection of package-on-package. Figure 1 shows a four-stack PoP assembly with what looks like columns of solder balls visible on the same pitch. The image also shows chip resistor component terminations with some evidence of voiding on the surface of the printed board. There is also some evidence of solder balling to the left; however, it's difficult to say on which layer of the PoP assembly the random balls are located.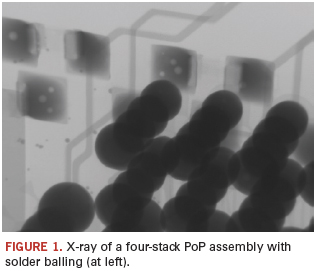 Dip paste has a lower metal content, often designed for nitrogen reflow, and has a smaller solder particle size than stencil printing grades. Hence, it is more prone to solder balling and slump during reflow. Based on this, the solder balling would be more likely on the surface of the PoP devices than the surface of the board. Changing the viewing angle and the magnification should permit the PCB surface interface to be inspected. If the solder balls are away from balls, then it may be a wash off rather than slump of solder balling from the paste. If it were paste-related, the solder particles would be close to the solder joints, like Indians circling a wagon train.

These are typical defects shown in the National Physical Laboratory's interactive assembly and soldering defects database. The database (http://defectsdatabase.npl.co.uk), available to all this publication's readers, allows engineers to search and view countless defects and solutions, or to submit defects online.

Dr. Davide Di Maio is with the National Physical Laboratory Industry and Innovation division (npl.co.uk); This e-mail address is being protected from spambots. You need JavaScript enabled to view it . His column appears monthly.
Last Updated on Monday, 06 December 2010 18:51
Columns
European RoHS Enforcement Explained
A series of workshops next month on compliance with RoHS and other directives will help US companies looking to break into the European market.

Read more...
Believing Foxconn Means Suspending Belief
The Foxconn makeover is in full swing, with the latest this piece from the New York Times that supposes that the world's largest ODM is worried that Apple -- yes, Apple -- might be bringing it down:
Read more...
Features
Managing Your ESD Program
SMT Reflow Oven-to-Oven Repeatability
How to adjust an oven so a single recipe will work across multiple ovens for an individual product.
Read more...
Products
Kolb Releases PS300 2HY Stencil Cleaner
PS300 2HY hybrid batch stencil cleaner is suitable for stencils, PCBs, misprints and solder frames. Is an automatic single-chamber system; features 3-4 step PowerSpray cleaning. Is part of compact...