Written by Alan Cable
Monday, 06 December 2010 17:36

Thicker boards require consistent preheat and targeted fluxing.
Achieving good barrel fill and consistent top-side fillets with selective soldering is fairly routine with PCBs of normal thickness (0.062" to 0.093" thick), but can be a little trickier with unusually thick or heavy boards such as backplanes. Following are a few suggestions to help ensure top-quality results when soldering particularly challenging boards.

With traditional boards, in selective soldering, one can program the time of immersion for each solder joint under solder (which cannot be done in wave soldering). This permits compensating for varying thicknesses or heatsink characteristics by extending the time that heat is pumped into the individual soldering site. For example, say a 128-pin connector needs soldering, and one of the pins is a ground, connecting to a ground plane. To get the same good results as other pins, a slightly longer dwell time may be needed to get more heat into that connection, helping the solder migrate better up the barrel and to the top side.

This works fine for a time. But for significantly thicker boards, such as backplanes, multilayer boards that can be 0.125" to 0.250" thick or unusual boards and assemblies, the strategy needs to be modified.

First, use drop jet fluxing for these difficult applications. (Most selective machines have this.) Drop jet fluxing directs a powerful, focused, controlled amount of flux at a very specific site, and has the power to force flux through the barrel to the top of the board. This is essential because solder won't go where there isn't flux. The tiny flux droplets (1 mm or so) from a drop jet actually impact the bottom of the board with a significant penetrating force, enough to force the flux up through the ID of the through hole where spray fluxing and even ultrasonic fluxing probably cannot go, since they simply do not have enough penetrating power. Fluxing all the way through the thickness of the board is critical to complete barrel fill and consistent top-side fillet formation. Use of the drop jet is mandatory for top-side fillets (Class III) on thicker boards with high copper content.

Next, make sure the board preheat temperature is maintained during the entire soldering process. This is especially important when soldering backplanes, when the actual soldering process can take in excess of 15 min. Otherwise the board cools during the soldering process, and the actual time/temperature profile is destroyed.
Top-side preheating is a good way to achieve consistent heating and a stable soldering process. It may seem contradictory, though; isn't it easier to heat the board from below? Actually, top-side preheating is preferred, because the preheater heats the top of the board preferentially, and by doing so, actually draws the solder through the board to the top. Solder tends to migrate toward the heat source.

In summary, good, consistent barrel filling and top-side fillet form when selective soldering thick, heavy boards is aided by top-side preheating in combination with drop jet fluxing. These techniques, combined with proper time/temperature profiles (including making sure the actual temperature of the flowing solder itself is sufficient), will provide top-quality results when soldering even the most challenging boards.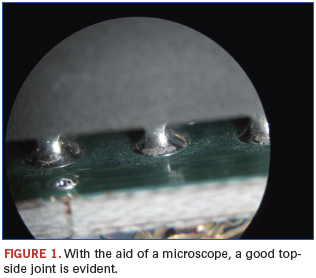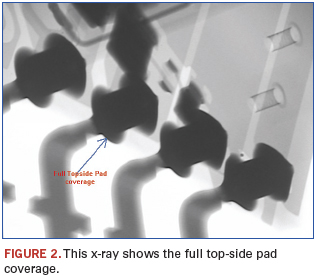 Alan Cable is president of A.C.E. Production Technologies (ace-protech.com); This e-mail address is being protected from spambots. You need JavaScript enabled to view it .
Last Updated on Monday, 06 December 2010 19:30
Columns
Eastern-US: China's New Competitor?
Parity emerges among EMS Factories from Asia, Mexico and the US.
For the first time in years we see parity in the Eastern US among EMS factories from Asia, Mexico and the US. This EMS market condition will permit American OEMs (the EMS industry refers to OEMs as customers) to have more EMS pathways to choose from. Now more than ever, such EMS assignments will require deeper investigation relating to the OEMs' evaluation of manufacturing strategies.
Read more...
For those who count on the electronics industry for big feats, it's been a remarkable couple of years.
Read more...
Features
Advances in Concentration Monitoring and Closed-Loop Control
Contaminated bath water skews refractive index results. New technology can accurately measure aqueous cleaning agent concentration.
Read more...
Circuits Disassembly: Materials Characterization and Failure Analysis
A systematic approach to nonconventional methods of encapsulant removal.
Read more...