Written by Clive Ashmore
Monday, 06 December 2010 17:33

When it comes to stencils, good inputs equal good outputs.
In previous columns, I've discussed the importance of stencil quality from the base material all the way through to laser cutting, storage and maintenance. But, I certainly think a little reminder is in order! As the primary interface between the printer and substrate, the stencil is a critical factor in delivering the required volume at the required location. This is compounded as smaller area ratios are used in mainstream production.

When one considers that the area ratio boundaries for today's assembly technologies (more on that later) are between 0.60 and 0.50, even a slight variation of aperture size or stencil foil thickness can have a huge impact on paste transfer and yield. A recent study conducted by our company revealed as much. Analyzing a +/-10% tolerance off nominal Gerber data, this work showed the impact even a minor deviation can deliver – particularly with finer pitched devices (Figure 1). For example, suppose a manufacturing process requires 220 µm apertures on a 100 µm foil for the assembly of 0.4 mm CSPs. This would give an area ratio of 0.55 – on the edge of today's standard process window. But, if the stencil was fabricated using the full tolerance specification, then the area ratio could drop as low as 0.45. This represents a process outside today's standard process window and would likely lead to low yield and high costs.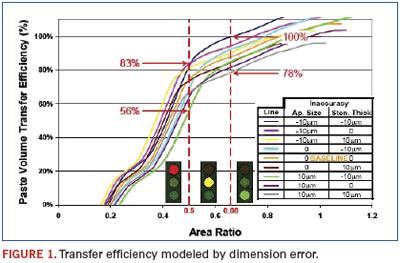 This scenario is frustrating but common. A designer spends hours designing the stencil and studying its architecture, only to have it produced on cheap metal stock with subpar lasers, resulting in an inferior product. Stencil verification, though achievable, is an expensive proposition. While many electronics assemblers can measure and verify aperture dimensions of finished stencils, it's safe to say that a significant majority do not. For these professionals, stencil quality comes down to supplier trust and certification (ISO 9000, for example). In all honesty, it is incredible to me how many manufacturers will source inferior quality stencils just to save a few dollars when what they are sacrificing in cost due to poor yield can number in the thousands or hundreds of thousands of dollars!

Once the process is optimized and a high-quality stencil supply has been established, getting even more out of your stencil toolset is the next order of business. One such approach is improving the number of prints between understencil cleans, and new coating technologies have been shown to achieve this. These coatings, some of which are available for self-application and some applied by the stencil fabricator, essentially keep flux from breaking past the aperture edge during the print cycle. During normal printing operations, flux will leach out of the aperture and on the underside of the stencil; this flux tends to also pull metal particles across the web of the stencil, ultimately forming a bridge. Historically, the only way to remove excess material on the stencil web has been to induce stencil cleaning. Although considered necessary, frequent cleaning consumes time and money. New fluxophobic coating technology has improved the time between cleans by introducing a chemical system that inhibits flux leaching, as the chemistry effectively creates a barrier between the apertures, thus rendering the webs impregnable to the flux. This reduces the unwanted material and, therefore, the need to clean as often. These new coatings offer a simple, low-cost solution that require minimal investment, but deliver huge returns in the way of throughput, consumables cost, overhead and product quality.

And, as I mentioned in October, another technology just arrived into the SMT community permits sub-0.50 area ratios to be printed, using an active, energized squeegee.

Modern stencil production methods, new paste efficiency tools and even simple wipe-on coating advances are helping assembly specialists get even more out of their processes. When it comes to stencils, remember my ongoing soapbox chant: "Good inputs equal good outputs." Quite simply, you cannot get a good result from a poor stencil. So, select the supplier carefully and worry less about saving a few dollars upfront and more about producing high-quality assemblies at the end of the line.
Clive Ashmore is global applied process engineering manager at DEK International (dek.com); This e-mail address is being protected from spambots. You need JavaScript enabled to view it . His column appears bimonthly.
Last Updated on Monday, 06 December 2010 19:12
Columns
Eastern-US: China's New Competitor?
Parity emerges among EMS Factories from Asia, Mexico and the US.
For the first time in years we see parity in the Eastern US among EMS factories from Asia, Mexico and the US. This EMS market condition will permit American OEMs (the EMS industry refers to OEMs as customers) to have more EMS pathways to choose from. Now more than ever, such EMS assignments will require deeper investigation relating to the OEMs' evaluation of manufacturing strategies.
Read more...
For those who count on the electronics industry for big feats, it's been a remarkable couple of years.
Read more...
Features
Advances in Concentration Monitoring and Closed-Loop Control
Contaminated bath water skews refractive index results. New technology can accurately measure aqueous cleaning agent concentration.
Read more...
Circuits Disassembly: Materials Characterization and Failure Analysis
A systematic approach to nonconventional methods of encapsulant removal.
Read more...