Written by Mike Buetow
Monday, 06 December 2010 16:24
Formed just a decade ago, our EMS Company of the Year, AsteelFlash, is moving as fast as its name. 
Foxconn's topline growth may make it the envy of any manufacturing company, but under the radar, at least one Tier 2 EMS firm has been expanding almost as quickly.

Since its inception as Asteel in 1999, the company has rapidly grown both organically and by acquisition, boosted in large part by its February 2008 purchase of Flash Electronics. The merged entity now encompasses 12 production sites on four continents, and ranks third in size behind only Elcoteq and Zollner (founded 1965) among Europe-based EMS companies.

On its own, Asteel was growing steadily, topping $200 million in revenue in 2007. But it was the acquisition of Fremont, CA-based Flash Electronics that shot the company up the EMS charts. The combined entity – Asteel also purchased UK-based MRP Electronics that year – boosted Asteel from primarily a central European player to a legitimate worldwide entity. It is the only Tier 2 (revenues between $500 million and $1 billion) to see sales double over the past decade. Yet through the rapid change in size and geographic scope, Asteel's management, manufacturing approach and corporate philosophy have remained constant.

Gilles Benhamou has been there from the beginning. Starting in 2000 with a greenfield, the founder and chief executive says the model has been to build in small batches close to customers and to the point of end-use, and to focus on industrial and related technologies, while staying away from lower-margin products like cellphones. Networking infrastructure, storage, industrial, RF, and lighting are the primary end-products. "We want to produce on each continent for its domestic market. We build very complex product in small batches. We can do boards with 16,000 components, but the average [lot size] is 25 pieces." Today, high-mix, low-volume orders make up 60% to 70% of revenue, and 200 pieces would be considered a large batch.

Because each of the 12 production sites has similar core competencies, they follow the same strategy. Lean manufacturing and design rules are uniform across the company. Quality documentation also is instituted globally.

Beyond the equipment and manufacturing practices, management takes great care to ensure a common culture – no easy feat given the inherent regional differences. Still, Benhamou sees a unified company as a must. "We are different," he acknowledges. "All our management and worldwide team must know each other and work together. We only want one culture in AsteelFlash, and it's very important, or one day you could have a problem."

This is how a global company can ensure consistent customer service across dozens of time zones and an even greater number of national or ethnic divides. "We have people everywhere able to work a lot, on Saturday and Sunday to satisfy the customer. But when you have the culture, it's no problem. It's our job; it takes a lot of energy. The main point is we constitute one group, and to hire the right people to support that customer."

The cultural philosophy informs AsteelFlash's site locations. "At the NPI, it's very important to be near the end-customer. You want on-time delivery. You cannot do that if all the design development team is not very close and cannot react to tests and so on. It's very important to localize parts."

One differentiator is the company's commitment to Northern Africa. Although AsteelFlash is not the only EMS player there, it is easily the largest both in terms of factory space and revenues. The company's third factory in Tunisia is scheduled to come online by mid 2011 and will double the contract electronics manufacturer's capacity there to 390,000 sq. ft. Forecasts call for AsteelFlash to double its revenue this year and next in Tunisia, as customers move programs west from China. The company also plans to add 1,500 workers, for a total of 2,500 by 2014.

"It's very important to be close to our customers as an NPI and ODM, to be able to meet them and make recommendations for the global supply chain and procurement," Benhamou says. "Tunisia is a long-term, low-cost center. Wages are controlled under long-term policy. When you see what has happened in China with labor [where steep wage inflation has taken place over the past year], it's not at all the same in Tunisia. The evolution of wages is progressively controlled."
Tunisia also fits the company's desire to be close to its customers. The nation is one hour by air to Milan and two to Paris. "If you have problems, you can be there in the same day. It is very flexible," says Benhamou. The proximity compresses the supply chain both in Europe and in the US to four to five days, he adds, versus the 10 to 15 days it could take to deliver to the eastern US from China.

AsteelFlash sees as its sweet spot customers of modest to medium size, but with high-mix products. "We are able to produce for companies with $10 million to $20 million in revenue. They cannot have this same type of service with Tier 1s. Tier 1s want to focus on big business. 

"We can support a customer in a global view, but we are not too huge. We can take a project with three factories together – Europe, Asia, US – and work with only one team in front of the customer. We could commit, for example, to customers that the ramp will be done in France, but local content will be built in the US."

There aren't many EMS companies that can offer this combination of size and breadth, Benhamou asserts, and he's right. According to the Circuits Assembly Top 50, 12 EMS companies had annual revenues between $400 million and $1 billion last year. Of them, only Kimball also has sites in the three major regions. And none can boast AsteelFlash's balance: In terms of revenue, China makes up 35%, the US contributes 25%, and Europe 40%.

AsteelFlash sees further expansion ahead. The company alludes to possible acquisitions in Mexico and on the East Coast in the US, in addition to other countries in Europe. It also sees growth in military and aerospace and medical, which currently are not major end-markets it serves. "We want to develop our footprint in Europe and the US. We want low-cost centers in Tunisia and Mexico, places where added-value can be done," Benhamou says. Internal forecasts call for revenues to reach $850 million next year and $1 billion in two years.

For its thoughtful management and consistent approach, its topline growth over a decade's time, and its willingness to pioneer fresh locales, AsteelFlash is CIRCUITS ASSEMBLY'S 2010 EMS Company of the Year.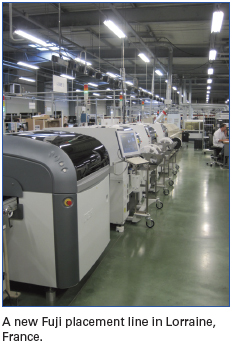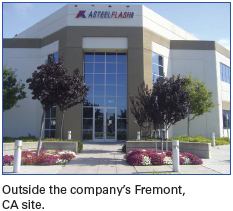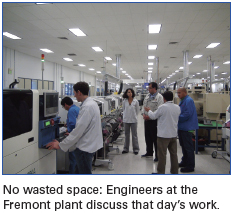 Others of Note

Here are some other EMS companies that, for better or worse, made a mark in 2010.

Flextronics: Who says an American company can't excel in PC manufacturing?
Foxconn: Internal personnel crises (not to mention the ever-increasing revenue spike) precipitate a massive shift inland.
IEC Electronics: Small tier EMS firm is one of the great turnaround stories of the past decade.
Lightspeed Manufacturing: EMS veteran Rich Breault continues to show that success isn't necessarily
tied to size.
Mike Buetow is editor-in-chief of CIRCUITS ASSEMBLY; This e-mail address is being protected from spambots. You need JavaScript enabled to view it .
Last Updated on Monday, 06 December 2010 19:23
Columns
Eastern-US: China's New Competitor?
Parity emerges among EMS Factories from Asia, Mexico and the US.
For the first time in years we see parity in the Eastern US among EMS factories from Asia, Mexico and the US. This EMS market condition will permit American OEMs (the EMS industry refers to OEMs as customers) to have more EMS pathways to choose from. Now more than ever, such EMS assignments will require deeper investigation relating to the OEMs' evaluation of manufacturing strategies.
Read more...
For those who count on the electronics industry for big feats, it's been a remarkable couple of years.
Read more...
Features
Advances in Concentration Monitoring and Closed-Loop Control
Contaminated bath water skews refractive index results. New technology can accurately measure aqueous cleaning agent concentration.
Read more...
Circuits Disassembly: Materials Characterization and Failure Analysis
A systematic approach to nonconventional methods of encapsulant removal.
Read more...