Written by Paul Lotosky
Wednesday, 07 July 2010 16:45

Removing solder mask between pads can mitigate this defect.
Bridging is solder connecting or, in most cases, misconnecting two or more adjacent pads that come into contact to form a conductive path.

Possible PCB causes include:
Surface mount pads will contribute to coplanarity issue, resulting in poor gasketing during printer setup.   

Recommendations:
It is highly recommended to remove solder mask between adjacent pads, especially for fine-pitch components.

Possible stencil causes include:
Dirty stencil with paste underneath, which will contaminate the bare board on the next print, attributing a potential bridge. Recommendations include verifying zero print gap setup, ensuring minimum print pressure, increasing wipe frequency, and using different cleaning chemicals.
Stencil tension. Recommendations include ensuring stencil tension is tight. Poor stencil tension will make it impossible to have a good setup for consistent print definition.
Aperture design. For fine-pitch components, it is highly recommended to have the opening slightly smaller than landing pad size to improve stencil to PCB gasketing.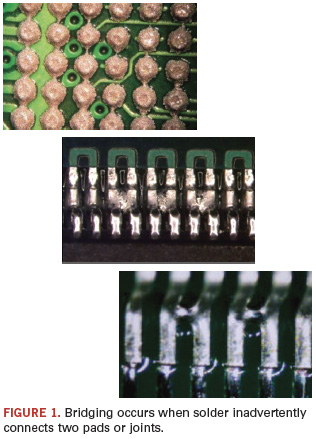 Paul Lotosky is global director – customer technical support at Cookson Electronics (cooksonelectronics.com); This e-mail address is being protected from spambots. You need JavaScript enabled to view it . His column appears monthly.
Last Updated on Wednesday, 07 July 2010 18:00
Columns
European RoHS Enforcement Explained
A series of workshops next month on compliance with RoHS and other directives will help US companies looking to break into the European market.

Read more...
Believing Foxconn Means Suspending Belief
The Foxconn makeover is in full swing, with the latest this piece from the New York Times that supposes that the world's largest ODM is worried that Apple -- yes, Apple -- might be bringing it down:
Read more...
Features
Managing Your ESD Program
SMT Reflow Oven-to-Oven Repeatability
How to adjust an oven so a single recipe will work across multiple ovens for an individual product.
Read more...
Products
Essemtec Introduces Scorpion Fluid Jetter
Scorpion high-speed jetter has piezo jetting valves that enable jetting with speeds of up to 800Hz. Fluid box is less than 150nl. No tubing to connect fluid to jet valve. Can be equipped with up to...