Written by ACI Technologies Inc.
Wednesday, 07 July 2010 16:44
In the RoHS world, sharing supply lines has forced a change on defense contractors.
While electroplated SnPb surface finish exhibits good solderability and is virtually immune to tin whisker growth, a termination plated with pure tin is very likely to spawn tin whiskers, usually in months or years after plating (Figure 1). Tin whiskers, being electrically conductive, have been the cause of short-circuit failures.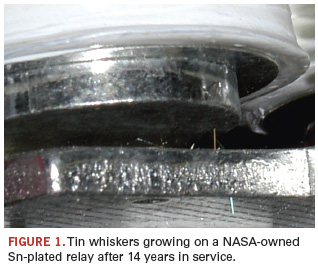 RoHS has similarly compelled board fabricators to final finish solder pads with electroless nickel/immersion gold (ENIG), immersion tin, or immersion silver (since all are Pb-free) instead of the SnPb hot air solder level (HASL) finish used successfully for some 60 years. Immersion tin has shown a propensity to permit tin whisker growth (Figure 2). Immersion silver reacts with sulfur-bearing atmospheres to form nonconductive silver sulfate, which then reacts with any exposed copper on the board to form nonconductive copper sulfate, which also causes board failure. The long-used ENIG finish is still usable under RoHS, with no major drawbacks.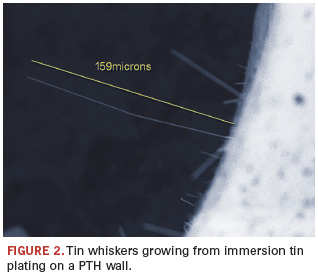 When selecting components and circuit boards, the military, in spite of being exempt from RoHS, uses the same supply lines as non-exempt commercial electronics firms. It comprises too small an annual volume to influence the market (e.g., surface finish) for components or boards.

The military would prefer to have all component terminations (and PWBs) finished with the known reliable SnPb alloy rather than pure Sn, because the lead content in the tin prevents the potential of tin whisker-induced failures in electronics systems (Figure 3). To overcome the whisker risk with pure tin-plated (albeit RoHS-compliant) components (the only ones available), critical military electronics require expensive and time-consuming refinishing of component terminals. This usually is done by dipping the tin-coated component contacts in molten SnPb solder, one at a time.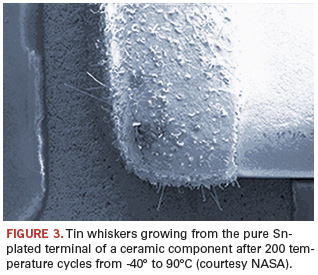 Because of RoHS, the military is forced to accommodate the added expense and time of refinishing electronics component terminations. Adding to that turmoil, component refinishing adds the risk of thermally damaging the dipped components due to the hot-dipping procedure, potentially reducing the reliability of Pb-free electronics.

The US Department of Defense now is challenged to develop a department-wide policy that will preserve the reliability of SnPb electronics. This policy will inevitably include the idea of a Lead-Free Control Plan (LFCP), documenting methods used by each DoD supplier to mitigate risks for every item of electronic hardware acquired by any DoD program. This acquisition policy would cover any electronics, commercial off-the-shelf (COTS) or otherwise, for any military use. One uniform policy across all DoD components (services and agencies) would go a long way toward mitigating confusion among vendors about the need and techniques to limit Pb-free electronics risks.
ACI Technologies Inc. (www.aciusa.org) is the National Center of Excellence in Electronics Manufacturing, specializing in manufacturing services, IPC standards and manufacturing training, failure analysis and other analytical services. This column appears monthly.
Last Updated on Wednesday, 07 July 2010 19:09
Columns
Eastern-US: China's New Competitor?
Parity emerges among EMS Factories from Asia, Mexico and the US.
For the first time in years we see parity in the Eastern US among EMS factories from Asia, Mexico and the US. This EMS market condition will permit American OEMs (the EMS industry refers to OEMs as customers) to have more EMS pathways to choose from. Now more than ever, such EMS assignments will require deeper investigation relating to the OEMs' evaluation of manufacturing strategies.
Read more...
For those who count on the electronics industry for big feats, it's been a remarkable couple of years.
Read more...
Features
Advances in Concentration Monitoring and Closed-Loop Control
Contaminated bath water skews refractive index results. New technology can accurately measure aqueous cleaning agent concentration.
Read more...
Circuits Disassembly: Materials Characterization and Failure Analysis
A systematic approach to nonconventional methods of encapsulant removal.
Read more...