Written by Chris Hunt
Friday, 30 November 2012 16:01
Consider a dip paste for resoldering components after rework.
Figure 1 is a good example of solder balling under a BGA that is certainly outside of IPC criteria. The ball will have undoubtedly reduced the insulation separation distance below the minimum for the product design. The solder ball is most likely the result of using paste to rework the part, with excessive paste resulting in a solder ball. In such cases, it's worth looking at the new range of dip pastes for rework, as they can eliminate rework stencils.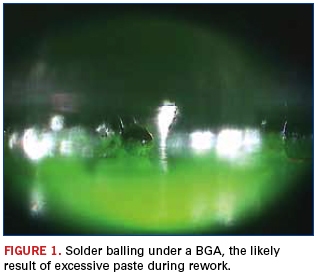 Reworking the component to remove the solder ball may be an extreme response, however. With care and a height pressure air line, the ball could probably be removed without removing the component. It's worth a try. Inspect the component location afterward using optical or x-ray equipment.

These are typical defects shown in the National Physical Laboratory's interactive assembly and soldering defects database. The database (http://defectsdatabase.npl.co.uk), available to all this publication's readers, allows engineers to search and view countless defects and solutions, or to submit defects online. To complement the defect of the month, NPL features the "Defect Video of the Month," presented online by Bob Willis. This describes over 20 different failure modes, many with video examples of the defect occurring in real time.
Chris Hunt is with the National Physical Laboratory Industry and Innovation division (npl.co.uk); This e-mail address is being protected from spambots. You need JavaScript enabled to view it . His column appears monthly.
Last Updated on Monday, 03 December 2012 17:08
Columns
The Flash Programming Flow
On-board flash memory device testing and programming.
Read more...
Does Reliability Have a Place In EMS?
Experts say physics of failure is overtaking MTBF as the go-to model.
Read more...
Features
MassChallenge, a not-for-profit accelerator program, aims to "create a bigger pie" by helping innovators get to market.
Read more...
Who says a Tier IV EMS can't have the foresight, and follow-through, of the big players?
Read more...
Products
VJ Electronix Introduces X-Quik Benchtop X-Ray
X-Quik x-ray inspects items such as electromechanical devices, sensors, molded parts, mail parcels and biological samples. Footprint is just more than 2 ft.3. Is suited for engineering labs, machine...