Written by Terence Q. Collier
Friday, 28 September 2012 15:23
Modifying small form-factor PCBs using preformed pads can save thousands in tooling costs. 
Need to fix a PCB? Easy. Need to fix a substrate or interposer? Not easy.

A number of variables contribute to the level of difficulty, but the primary delta is the difference in pad and trace size. Repair kits are available for large form factor boards with their larger feature sizes, but smaller form factor boards (and features) are not as readily available.

For larger pads and traces on traditional PCB designs, suppliers offer repair kits containing various combinations of pads, traces and lands. Larger and wider pads can be fabricated with various techniques to yield copper and copper base metal solutions with and without enhanced solderable surfaces. Tighter aspect geometries (less than 150µm) prove more difficult than larger pitch (400µm and wider) geometries.

Traces are narrow; metallization is thinner, and it is possible that metal finishes might not suit solder profiles; for example, thick gold on small pads can lead to embrittled solder joints with small flip chip bumps. As a result of these smaller geometry requirements on small form-factor boards, fabrication techniques prove more difficult due to undercutting on etch solutions and any number of issues with laser-cutting (heat damage, inability to cut fine geometries, metal curling and subsequent plating issues) and flatness when stamping or punching.

For small or standard form-factor PCBs, "modification," not repair, can be required. Metal shielding, an extension to a power or ground plane, addition of a passive or active component, or any other modification are design changes that might need to be reviewed prior to investments in new die and boards. Removing failed devices can cause lifted pads, damaged traces, and corrupted metallization that require repair. Repair is a better solution than scrapping or ordering replacement boards. Both can be expensive, of course, and lead to delays, and in some cases do not yield acceptable results, resulting in scrap.

A new novel board repair kit includes fabricated traces and pads, which are then placed on the board (Figure 1). Custom shapes are available, as well as standard circular and round pad sizes of 150, 200, 250, and 300µm geometries (Figure 2). Pad sizes in sub 100µm geometry footprints with and without traces/tails can be fabricated as well. Base metals of copper can be plated with ENIG, gold, SAC, tin, and SnPb (Figures 3 and 4). Sidewalls have less than 5% taper, so tight geometries can be fabricated. (Spiral inductors have been fabricated with spaces less than 6µm on 10µm wide traces.)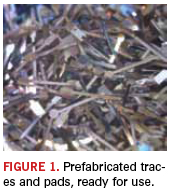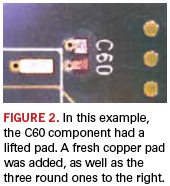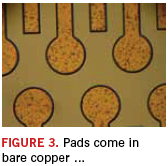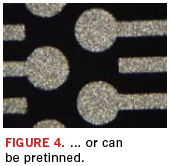 In many cases, especially for high-frequency boards, modifying the board is less expensive than repairing it. In some cases, the pads have been mounted on boards and used as antennas.

In one instance, four modifications were performed on a series of buildup boards, saving the customer considerable time and expense. "We are very pleased in the ability to solder down the flip-chip substrates, and it allowed us to test modifications on the substrate at a speed that would be impossible through the normal substrate design cycle of ~1.5 months," said Francisco Ledesma of nVidia. "The process allowed us to try several substrate modifications without incurring the large expense of redesigning the layout several times. In the end, this provided us fewer design iterations, less time and lower cost." Given that tooling charges for buildup boards can cost up to $50,000 to $80,000, it is estimated the customer saved more than $200,000 in tooling costs alone.

Turn times are typically less than one week. Structures can be shipped on gel packs, inside vials, tape and reel, or in custom packages.
Terence Q. Collier is president of CVinc (covinc.com); This e-mail address is being protected from spambots. You need JavaScript enabled to view it .
Last Updated on Monday, 01 October 2012 11:39
Columns
There's been a flurry of EMS acquisition activity of late, with Natel's acquisition of EPIC Technologies and Benchmark's pickup of Suntron and CTS among the larger deals.
Read more...
What Does New CEO for Microsoft Mean for Hardware?
In the end, Microsoft couldn't pull the trigger. In Seattle, outside just wasn't "in."
The world's largest software developer today named Satya Nadella, head of the the company's Server and Tools unit, as its new chief executive. The 46-year-old Nadella becomes just the third person to lead Microsoft, one of the most successful and wealthiest companies ever.
Read more...
Features
A Systems-Level Approach to Product Development
Is there a way to more tightly integrate materials and process development so as to accelerate the pace of innovation?
Read more...
Reducing Stencil Wipe Frequency
A new study of nanocoatings allows users to visualize solder paste flow under the stencil.
Read more...
Products
Getech Releases GLRS Laser Singulater
GLRS laser singulation system is configurable with a near IR laser (1032nm) for use with metal-core substrates or a green laser (532 nm) for use with ultra-thin and flexible substrates. Inert gas...