Written by Chris Hunt
Tuesday, 04 September 2012 02:29
Kill the opens through tighter stencil apertures.
Open solder joints caused by lifting of a land grid array (LGA) package during reflow are very common. This is normally very easy to overcome with good stencil design.
The most common reason for problems with these parts is excess solder paste under the center pad of the package, which causes the part to float on the surface of the solder. As a basic guide, the center pad stencil aperture should be reduced to 50% to 60% of the area of the pad. Depending on the size of the pad, the area should be split up with four, six or even nine equally spaced apertures. This modification reduces float on reflow and increases the chance of the volatile elements of the solder paste escaping, reducing void formation in the joint interfaces.
Blind via holes in the center pad can also cause lifting of the part during reflow and, where possible, vias should be plated up to reduce the impact during manufacture.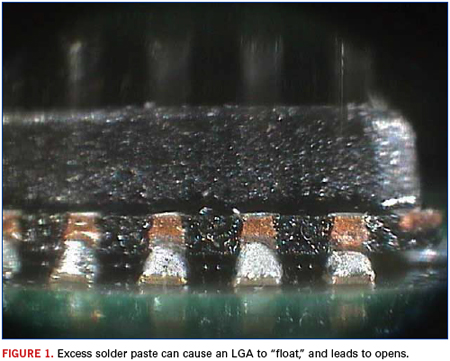 These are typical defects shown in the National Physical Laboratory's interactive assembly and soldering defects database. The database (http://defectsdatabase.npl.co.uk), available to all this publication's readers, allows engineers to search and view countless defects and solutions, or to submit defects online. To complement the defect of the month, NPL features the "Defect Video of the Month," presented online by Bob Willis. This describes over 20 different failure modes, many with video examples of the defect occurring in real time.
Chris Hunt is with the National Physical Laboratory Industry and Innovation division (npl.co.uk); This e-mail address is being protected from spambots. You need JavaScript enabled to view it . His column appears monthly.
Last Updated on Tuesday, 04 September 2012 14:46
Columns
European RoHS Enforcement Explained
A series of workshops next month on compliance with RoHS and other directives will help US companies looking to break into the European market.

Read more...
Believing Foxconn Means Suspending Belief
The Foxconn makeover is in full swing, with the latest this piece from the New York Times that supposes that the world's largest ODM is worried that Apple -- yes, Apple -- might be bringing it down:
Read more...
Features
Managing Your ESD Program
SMT Reflow Oven-to-Oven Repeatability
How to adjust an oven so a single recipe will work across multiple ovens for an individual product.
Read more...
Products
Cognex Debuts CIC Digital Camera Series
Cognex Industrial Camera (CIC) series are GigE Vision digital industrial cameras designed for integration with VisionPro and CVL vision software. First four models are 29mm x 29mm, monochrome, area...