Written by Chris Hunt
Tuesday, 04 September 2012 02:29
Kill the opens through tighter stencil apertures.
Open solder joints caused by lifting of a land grid array (LGA) package during reflow are very common. This is normally very easy to overcome with good stencil design.
The most common reason for problems with these parts is excess solder paste under the center pad of the package, which causes the part to float on the surface of the solder. As a basic guide, the center pad stencil aperture should be reduced to 50% to 60% of the area of the pad. Depending on the size of the pad, the area should be split up with four, six or even nine equally spaced apertures. This modification reduces float on reflow and increases the chance of the volatile elements of the solder paste escaping, reducing void formation in the joint interfaces.
Blind via holes in the center pad can also cause lifting of the part during reflow and, where possible, vias should be plated up to reduce the impact during manufacture.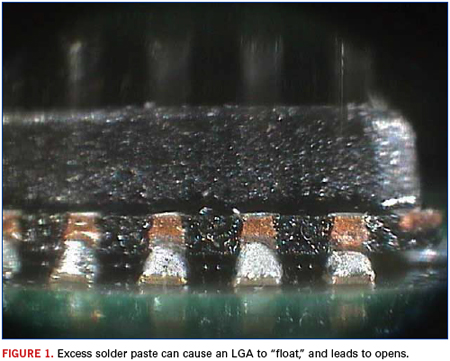 These are typical defects shown in the National Physical Laboratory's interactive assembly and soldering defects database. The database (http://defectsdatabase.npl.co.uk), available to all this publication's readers, allows engineers to search and view countless defects and solutions, or to submit defects online. To complement the defect of the month, NPL features the "Defect Video of the Month," presented online by Bob Willis. This describes over 20 different failure modes, many with video examples of the defect occurring in real time.
Chris Hunt is with the National Physical Laboratory Industry and Innovation division (npl.co.uk); This e-mail address is being protected from spambots. You need JavaScript enabled to view it . His column appears monthly.
Last Updated on Tuesday, 04 September 2012 14:46
Columns
There's been a flurry of EMS acquisition activity of late, with Natel's acquisition of EPIC Technologies and Benchmark's pickup of Suntron and CTS among the larger deals.
Read more...
What Does New CEO for Microsoft Mean for Hardware?
In the end, Microsoft couldn't pull the trigger. In Seattle, outside just wasn't "in."
The world's largest software developer today named Satya Nadella, head of the the company's Server and Tools unit, as its new chief executive. The 46-year-old Nadella becomes just the third person to lead Microsoft, one of the most successful and wealthiest companies ever.
Read more...
Features
A Systems-Level Approach to Product Development
Is there a way to more tightly integrate materials and process development so as to accelerate the pace of innovation?
Read more...
Reducing Stencil Wipe Frequency
A new study of nanocoatings allows users to visualize solder paste flow under the stencil.
Read more...
Products
Getech Releases GLRS Laser Singulater
GLRS laser singulation system is configurable with a near IR laser (1032nm) for use with metal-core substrates or a green laser (532 nm) for use with ultra-thin and flexible substrates. Inert gas...