Written by Jie Bai
Sunday, 05 August 2012 15:29


Breaking free of grease can mean void-free (and cleaner) solution.
When considering which thermal management materials are right for the task, top-of-mind are usually greases, pastes or pads. Are they always the best solution, though, or just the most well-known? For certain applications, there's one class of materials that may be more suitable than any of the more common thermal management products. In fact, these materials may be the only solution in some cases. I'm talking about thermal adhesive films (often referred to as assembly adhesive films), and their advantages are many, especially when there is a requirement for bonding large areas or complex parts.
Although thermal adhesive films are most often found in defense and automotive applications, the advantages they deliver can extend to any application where robust thermal and electrical performance, void-free bond lines and controlled thicknesses are required. For certain products, thermal adhesive films are quite simply the only thermal management solution. Take, for example, large (6" x 6" or larger) printed circuit board (PCBs) that must be bonded to a heatsink. Printing paste evenly across a surface this large is challenging at best, and will almost certainly result in an uneven bond line and/or voids in the material. These types of problems can be catastrophic for some applications and highly problematic for others. Uneven material distribution can lead to inconsistent heat transfer and spotty electrical performance, both of which can affect the work life of components on the assembly and the overall reliability of the product. The larger a device is, the more difficult it becomes to guarantee a void-free bond line with a paste material, as its dependence on precise pressure to develop the bond line also adds an element of uncertainty – particularly for larger devices. Thermal adhesive films, however, eliminate all of these concerns. Supplied in custom, pre-cut formats for the applications in which they will be used, films aren't subject to the same flow concerns associated with pastes. The film is placed onto the backside of the device, aligned and attached to its heat sink or chassis, following which pressure and heat is applied to cure the material. Films are remarkably simple to use and the reliability they provide is, in many cases, superior to alternative products.
Alhough most frequently used for large form factor base station telecom boards, big integrated circuit boards used in satellites or defense applications such as radar systems, thermal adhesive films aren't limited to larger product sets. Manufacturers of smaller, highly complex devices also find that films deliver a far more elegant, reliable and user friendly alternative to paste-based mediums. As compared to thermal paste adhesives, films offer a cleaner, no-waste, easily processed solution with a lower total cost of ownership. And, when it comes to stacking up against solder as a thermal solution, films there are superior for certain applications. As stated, films can provide void-free adhesion over large surface areas – something solder does not do – and enable a lower stress interface. What's more, thermal adhesive films are processed at a lower temperature than solder, enabling the use of temperature-sensitive components without the risk of damage. Manufacturers of many microwave applications (RF telecom and radar, for example) have already replaced solder with thermal adhesive films.
Thermal adhesive films come in a variety of formulations that address multiple applications. Films that provide for high thermal conductivity, electrical conductivity, insulation performance or a combination of these characteristics are readily available from select electronics materials suppliers. If greases, pastes or pads aren't satisfying requirements for void-free, consistent bond lines, reliability and thermal and/or electrical performance, consider thermal adhesive films.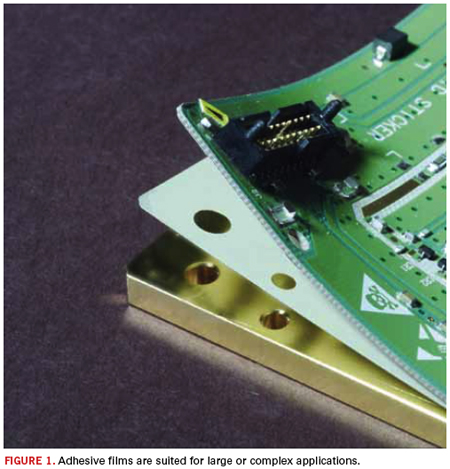 Jie Bai is a chemist at Henkel Electronics Group (henkel.com); This e-mail address is being protected from spambots. You need JavaScript enabled to view it .
Last Updated on Monday, 06 August 2012 10:18
Columns
There's been a flurry of EMS acquisition activity of late, with Natel's acquisition of EPIC Technologies and Benchmark's pickup of Suntron and CTS among the larger deals.
Read more...
What Does New CEO for Microsoft Mean for Hardware?
In the end, Microsoft couldn't pull the trigger. In Seattle, outside just wasn't "in."
The world's largest software developer today named Satya Nadella, head of the the company's Server and Tools unit, as its new chief executive. The 46-year-old Nadella becomes just the third person to lead Microsoft, one of the most successful and wealthiest companies ever.
Read more...
Features
A Systems-Level Approach to Product Development
Is there a way to more tightly integrate materials and process development so as to accelerate the pace of innovation?
Read more...
Reducing Stencil Wipe Frequency
A new study of nanocoatings allows users to visualize solder paste flow under the stencil.
Read more...
Products
Getech Releases GLRS Laser Singulater
GLRS laser singulation system is configurable with a near IR laser (1032nm) for use with metal-core substrates or a green laser (532 nm) for use with ultra-thin and flexible substrates. Inert gas...