Written by Robert Dervaes
Thursday, 02 August 2012 18:52
Thermal mass disparities can lead to bottomside 0201 tombstoning.
The 0201 chips on the bottom side of a PCB were experiencing tombstoning and insufficient solder volume problems at reflow (Figure 1). All the 0201 chips have one termination attached to the ground plane and the other attached to a wide trace, as compared to the 0201 land pad size. The solder mask opening exposes a larger solderable area (Figure 2). If only the chip land pad size is used to generate the stencil apertures, there is not enough solder volume to form a solder joint and cover the additional solderable area. In addition, the ground plane has a higher thermal mass than the traces and will take longer to reach reflow temperature in the oven. This will cause the ground pads to wet later in the reflow cycle. This can lead to tombstone problems with the chip tombstoning toward the non-ground pad.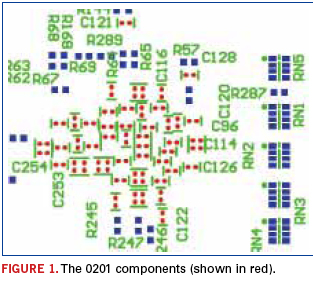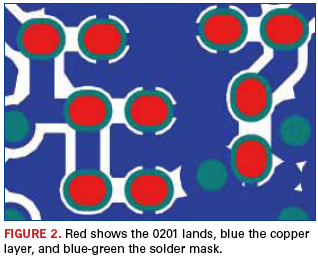 To eliminate the insufficient solder volume problem, the stencil aperture volume needs to be increased to cover the additional solderable area. This will also help to minimize tombstone and skewing problems by preventing the solder from wetting away from the 0201 termination to fill the additional solderable area. As the solder wets away from the termination, it can shift the package. This shift creates uneven wetting forces on the 0201 terminations.

The oven settings also have a huge influence on tombstoning. If the temperature increases too quickly, the flux does not have enough time to thoroughly remove the oxidation from the terminations and land pads. Any oxidation on the surface will slow the wetting rate of the molten solder. 

A profile length that is too long also has a negative effect. Flux can be exhausted prior to liquidus, and oxidation starts to build up again on the metal surfaces. A nitrogen atmosphere minimizes oxidation buildup, but can worsen the tombstone problem by keeping the metal surfaces cleaner for a longer time. This increases the wetting strength of the solder across the land pad and termination.

This solution will most likely involve the recommended stencil changes, as well as modifications to the oven settings.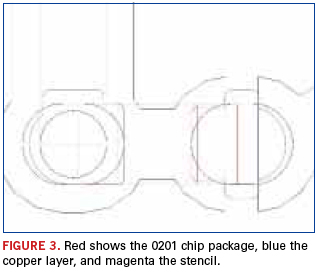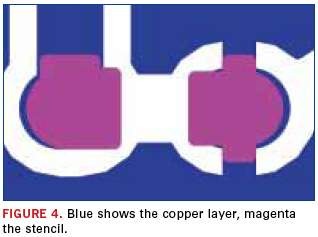 Robert Dervaes is vice president of technology at FCT Assembly (fctassembly.com) This e-mail address is being protected from spambots. You need JavaScript enabled to view it .
Last Updated on Friday, 03 August 2012 11:01
Columns
Could 3-D printers undo decades of frame-up circuit board assembly?
Read more...
J-STD-004B: A New Twist on an Old Standard?
Before rejecting a flux, be sure you understand the standard.
Read more...
Features
A Systems-Level Approach to Product Development
Is there a way to more tightly integrate materials and process development so as to accelerate the pace of innovation?
Read more...
Reducing Stencil Wipe Frequency
A new study of nanocoatings allows users to visualize solder paste flow under the stencil.
Read more...
Products
Hitachi Updates Sigma G5S Modular Mounter
Sigma G5S modular mounter has a multi-function head that now features lead-clinching and tamping functionalities. Uses side-mounted lighting and machine vision to identify and locate through-hole...