Written by Mike Buetow
Thursday, 02 August 2012 18:36
As a former IBMer and then founding executive of Celestica, Paul Blom has seen the EMS industry grow up. Now executive vice president, operations at SMTC, where he is responsible for engineering, manufacturing operations and supply chain management on a global basis, Blom spoke with Circuits Assembly editor-in-chief Mike Buetow about the contract assembler's recent growth, and in particular its focus on the Silicon Valley at a time when Tier 1 firms have downsized their local operations.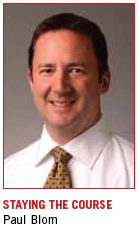 CA: You now have one of the larger EMS footprints in San Jose. What makes this the right area for SMTC?
PB: There continues to be an incredible amount of new product innovation in the Bay area. This provides for attractive investment opportunities, both for OEMs and EMS companies. The Silicon Valley area offers an excellent talent base, supporting the launch of new products and exciting new companies. Many of these companies are what I would call smaller to mid-sized, providing excellent fit for the Tier 2 EMS space, and SMTC in particular.

Many OEMs in the Bay Area are looking for local support, coupled with a pathway to Mexico or China, and broader engineering, supply chain, and sourcing capabilities. In addition, we encounter OEMs that have already sourced components in Asia, and that lack the supporting procurement resources to support these supply chains. Through our procurement staff in Hong Kong and China, we offer a compelling solution for managing vendor performance. This always gets the customer's attention.

We find that staff with many of the Bay Area OEMs have excellent experience with outsourcing and have a clear understanding of EMS requirements and processes. This goes a long way to driving efficiency in the outsourcing process, including clarity of requirements, documentation, DfM processes and supply chain collaboration. Having people in the Bay Area who understand how to outsource is an important factor for us.

CA: What makes the Bay Area so special when it comes to supply chain knowledge?
PB: If I talk about the virtual model – take, for example, Juniper or Cisco, they never built factories to build PCBAs. Rather, they went straight to market using EMS. You have many employees who grew up in those companies for years, and because that was their primary business execution model, they know how to work with EMS. Years later, I have the opportunity to meet with some of the same staff from these companies now working in smaller OEMs. They bring the same skills, knowledge and discipline to the outsourcing process.

CA: What are the biggest concerns those who build their own products have about outsourcing?
PB: There are still many companies, especially in the industrial segment, that elect to remain predominantly in-sourced with their electronics manufacturing. For computer and datacom, the early 1990s was provided for a large wave of outsourcing to EMS providers. Telecom followed similarly in the mid to late 1990s. Industrial products companies followed in the late 1990s, and the 2000-05 timeframe. There still are a handful of companies in the industrial segment that continue with some level of insourcing – and are questioning this strategy: "Does in-sourcing impact margins and performance?" They hit breakpoints where they need to invest in new equipment, processes and technologies. Often working capital can be used elsewhere for greater strategic benefit to an OEM.

It's critical that SMTC makes the first EMS outsourcing experience a positive one. Often a customer starts with PCBA outsourcing, then later moving to box build, and where appropriate, end-customer fulfillment. When we do a great job of bringing on board PCBA production, working with OEMs to ensure we support their materials procurement strategies, and collaborate effectively with the OEMs' strategic suppliers, we see the greatest win-win relationships.

Also key to success are SMTC's global copy-exact manufacturing and supply chain systems. These provide important levels of efficiency as we transfer product manufacturing to lower cost geographies. SMTC leverages common systems and processes, and works with customers to understand where the supply chain and broader relationship requires tailoring and unique services.

CA: When you make an acquisition, do you leave the existing lines intact, or do you start consolidating the newly acquired factory onto the same platform as other SMTC sites?
PB: We recently completed the ZF Array acquisition. Within three months of closing the deal, the SMTC and ZF teams worked to move the ZF supply chain onto the SMTC common systems and process platform. Within six months, all equipment and production processes were consolidated under one roof. For SMTC and our customers, it was important to understand the opportunities to deliver an improved service level and execute on the opportunities within the framework of the consolidation.

What was unusual is that we took the hardware platform from ZF Array – we were centered on Panasonic, they were on Fuji – and we shifted to their platform and purchased another Fuji line to increment up our overall capacity. Given the scale of the ZF Array business, it made sense to move ZF's existing equipment to the SMTC building and not alter their existing production processes.

SMTC's contribution included product data management systems, supply chain management systems, and common shop floor control systems. We kept the SMTC Panasonic/Mydata equipment in place to provide for flexible NPI/prototyping. These, coupled with SMTC's AOI, ICT, flying probe and x-ray capabilities provide for an excellent EMS customer experience.

CA: Is each site run independently, or do you have a central loading process?
PB: We empower each site team with the ability to execute locally for their customers. Where we have multi-site customers, we use our account management process to ensure communication and consistency. Demand is loaded at the site level, with an added focus on strong inter-site coordination for multi-plant supply chains. As each customer's needs are different, we build multi-site solutions based upon the individual customer needs.

CA: Much has been made of the reshoring trend. Has SMTC seen this to any degree, and is this a significant trend or more smoke than fire?
PB: It's very real, and it's particularly real in Tier 2 and below. For companies that outsource hundreds of millions per year, this isn't the same issue. For the mid-size OEM, this is very relevant. We've seen enormous success in Mexico. I believe it's more than just reshoring, and involves a deeper level of strategic consideration from our OEM customers. Key factors include total cost, supply flexibility and proximity to end markets, OEM's time and energy consumed by the outsourcing process, and more recently, the perishable nature of end market demand if left unmet in the near term.

CA: SMTC is coming off an outstanding quarter and is forecasting more of the same. What are the significant factors that have brought about the increase in sales? Is the increase sustainable this time, and if so, why?
PB: One aspect is very simple: We have a fresh executive team and a fresh approach, and it's all about driving growth and reinvestment in our customers and in the company. That's what drives us every day.

We are seeing growth from existing customers. Our focus is on customer satisfaction, retention and share of wallet. Retention comes from doing an excellent job on service delivery. In terms of driving share, we are seeing growth in PCBA business, box build and configuration and order fulfillment services. We're also seeing growth in after-market services, in warranty and out of warranty repairs.

We're also winning new customers, bringing on board new and exciting accounts.

And finally, we continue to be active with a renewed focus on M&A. We recently acquired ZF Array in San Jose, and have announced the acquisition of our JV partner's operations in Dongguan, China.

CA: How significant at this time do OEMs view AMS in their EMS decision-making process?
PB: I see OEMs not spending enough time talking about aftermarket services when they are talking with SMTC and other EMS companies. It's too much of an afterthought on the part of many OEMs. In some instances, AMS outsourcing activities are handled by someone else at the OEM who is not included in kicking off EMS relationships. Fortunately, SMTC brings excellent capabilities to the table in the area of aftermarket services, and we eventually get to the stage where we're addressing these customer needs.

CA: How would you characterize your after-market services offerings? Where do you see this going over the next couple of years?
PB: We do plenty of repair activity. Because we are in the higher end and in a lot of industrial type product, there is a lot of revision work we do for customers, where they want to upgrade to a new design level. Those three businesses are all ones we are strong in.

We just completed a warehouse and distribution center in Hong Kong. We have customers interested in returning Asia-based products to us, so that business will grow. I could see in the next year putting a European point in for our network for refurbishment and repair.

CA: Does that tend to be higher margin work?
PB: On a percentage basis, repair services activities will typically deliver a higher margin than the more mainstream EMS activities. This is the result of returned product or materials coming back to the EMS under consignment. Overall there's a real win-win here, as the margins on repair services are attractive, and SMTC's customers receive a more comprehensive service offering and support.

CA: Not long ago, you could go into a Verizon store and see service techs wearing Solectron shirts. Could you see SMTC getting into that level of engagement?
PB: Although this sounds interesting, it's not at the core of where SMTC engages with customers. We don't build cellphones, thus we are unlikely to get into repairing them. The low end-product repair business is highly migratory, typically moving between service providers and to the lowest bidder. There's not a lot of complexity or value-add in repairing a cellphone.

Our first focus is on offering excellent aftermarket services to our existing customers. From here, SMTC will provide aftermarket services to customers having requirements similar to those of existing customers, and with the potential to phase in the broader SMTC EMS service offering.

CA: SMTC touts that it can reduce liabilities and speed lead times by means of the way it manages component lifecycle support and BoM analysis.  Explain what is novel about how SMTC does this.
PB: We work with customers to intelligently expand their AVL, leveraging SMTC's preferred suppliers and seeking cost opportunities that come from a broader set of sourcing options. This AVL expansion also increases SMTC's ability to shift a part from an NCNR (non-cancellable, non-returnable) source to a non-NCNR source, reducing inventory liabilities. As customers leverage SMTC's network of preferred suppliers, we find we can drive a more responsive, lower lead time supply chain offering.

CA: How, if at all, does the entry of a Tier 1 into the end-markets common to SMTC affect the way you do things?
PB: This is very straightforward. We stay the course with our existing and our prospective customers. Most outsourcing professionals within OEMs understand the risks of engaging with Tier 1 when, in the end, they will become the 50th largest customer of their service provider. EMS is about focused and personalized service to the OEM, and ultimately about fit for the work that is being outsourced.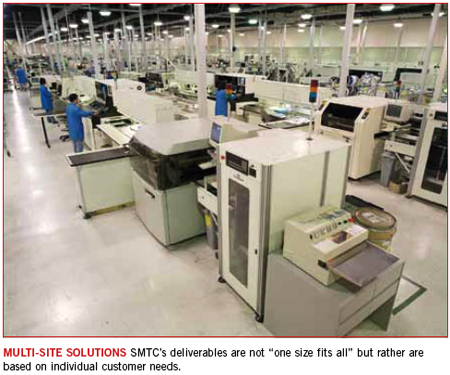 Last Updated on Friday, 03 August 2012 11:54
Columns
Eastern-US: China's New Competitor?
Parity emerges among EMS Factories from Asia, Mexico and the US.
For the first time in years we see parity in the Eastern US among EMS factories from Asia, Mexico and the US. This EMS market condition will permit American OEMs (the EMS industry refers to OEMs as customers) to have more EMS pathways to choose from. Now more than ever, such EMS assignments will require deeper investigation relating to the OEMs' evaluation of manufacturing strategies.
Read more...
For those who count on the electronics industry for big feats, it's been a remarkable couple of years.
Read more...
Features
Advances in Concentration Monitoring and Closed-Loop Control
Contaminated bath water skews refractive index results. New technology can accurately measure aqueous cleaning agent concentration.
Read more...
Circuits Disassembly: Materials Characterization and Failure Analysis
A systematic approach to nonconventional methods of encapsulant removal.
Read more...