Written by Clive Ashmore
Thursday, 02 August 2012 18:11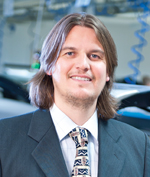 It's the same old song and dance: miniaturization.
The defining lyrics of the famous Eagles song "Take it to the Limit" were running through my head as I put fingers to keyboard (the laptop type, not the instrument type) to draft this column.  Indeed, "take it to the limit one more time" is the continuing theme in electronics, especially when it comes to miniaturization and high-yield processing. Just when we think we've hit the go-no-further mark, new requirements force us to rethink convention and push beyond our comfort zones. 

Our company has been focused on 0.3mm CSP printing for some time – years, in fact. And, in my view, we've developed some fairly novel technologies and approaches to addressing the diminishing pitch dimensions and high-yield demands of modern surface-mount processes; new squeegee technology, nano-stencil coatings, and more accurate printing platforms all push past traditional limits. But a recent meeting at one of our customers had me again humming that Eagles tune. The challenge: develop a robust printing process for 0.25mm CSPs and metric 0201s (in essence, half the size of an 01005). Admit it: You're singing right along with me, aren't you?

Is moving from 0.3mm CSPs to 0.25mm CSPs a big leap? When you take into account the fundamental printing rules that this will upend, yes, it is. Consider when the industry moved from 0.4mm CSPs to 0.3mm CSPs. To print these dimensions in a normal manner without using ultra-thin stencils and exotic materials is extraordinarily challenging. Around 170µm/180µm is achievable with a combination of the aforementioned tools (new squeegee technology, nano-stencil coatings and well-made stencils). Using all the latest innovative tools will result in a sound, stable and high-yield process using normal printing methods and materials. But, move to 0.25mm CSPs and the 160µm mark is now being broken, in fact pushing toward 150µm, which results in area ratios well below 0.4. It doesn't sound insurmountable because it's only a 50µm step change in pitch, but it really comes down to the math and the fact that we are approaching area ratios that are simply unfathomable – and over a very short period of time.

The industry migrated from area ratios of 0.66 down to 0.50 in a span of 15 years, made possible by a combination of great stencils, innovations in printing technology and materials advances (Figure 1). Now we're looking at going from 0.45 to 0.40 area ratios in the next 18 to 24 months. It could be done with a combination of non-standard (read: expensive) materials, tools and techniques, but the requirement will be to process these highly miniaturized devices in high-volume at high-yield using standard processes. These little guys are going to be printed alongside more hefty devices, so a heterogeneous assembly solution will be required.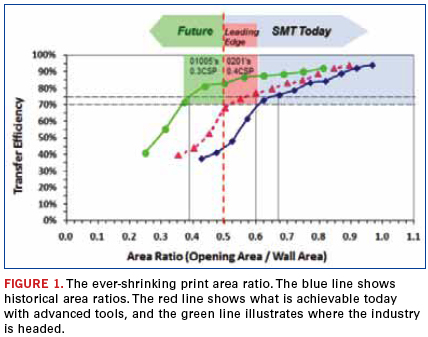 Fortunately, we have the 0.4 area ratio bit sorted out and proven in high-volume manufacturing. It's now a case of throwing all of our 0.4 solutions on the table and innovating even more. And, we are definitely going to need another innovative solution to break past the 0.3 area ratio barrier. 

Of course, it's not all about the equipment and stencils; excellent solder paste capability will also be key. I think we can probably get there with the type half (Type 4.5) pastes on the market. (See "The All-Good 'Type Half,'" CIRCUITS ASSEMBLY, October 2011.) Indeed, the achievements we've realized in area ratio reductions thus far (going from 0.66 to 0.5) have also largely been driven by paste innovation. But, it's going to take superb paste materials in tandem with some pretty out-of-the-box stencil printing technologies to make sub 0.4 area ratios a reality.

So, here we go. Let's take it to the limit one more time! (Something tells me this won't be the last time.)
Clive Ashmore is global applied process engineering manager at DEK International (dek.com); This e-mail address is being protected from spambots. You need JavaScript enabled to view it . His column appears bimonthly.
Last Updated on Friday, 03 August 2012 12:41
Columns
Eastern-US: China's New Competitor?
Parity emerges among EMS Factories from Asia, Mexico and the US.
For the first time in years we see parity in the Eastern US among EMS factories from Asia, Mexico and the US. This EMS market condition will permit American OEMs (the EMS industry refers to OEMs as customers) to have more EMS pathways to choose from. Now more than ever, such EMS assignments will require deeper investigation relating to the OEMs' evaluation of manufacturing strategies.
Read more...
For those who count on the electronics industry for big feats, it's been a remarkable couple of years.
Read more...
Features
Advances in Concentration Monitoring and Closed-Loop Control
Contaminated bath water skews refractive index results. New technology can accurately measure aqueous cleaning agent concentration.
Read more...
Circuits Disassembly: Materials Characterization and Failure Analysis
A systematic approach to nonconventional methods of encapsulant removal.
Read more...