Written by Chris Hunt
Thursday, 01 March 2012 18:18
Excessively large metal particles can block stencil apertures.
Solder paste consistency is very good lead-in to consistent printing yields, provided we remember the basics. When looking at process improvements, consider running simple trials on the paste product used or under evaluation. (Tests are detailed in J-STD-006 or IPC-TM-650, Test Methods Manual.) Solder paste balling, solder paste slump and particle size are well-documented by good suppliers and in international standards. Inconsistency, however, for whatever reason, can lead to blocked stencil apertures and defects.

Figure 1 shows a small sample of paste taken from a fresh pot of paste placed in a solvent to separate the metal particle. Clearly there is an issue here. The figure shows a range in size of spherical particles that may well be within specification. Review the standards and supplier documentation. There are samples of particle twining and many solder splashes, often found when the sample board is manually inspected, rather than relying only on AOI.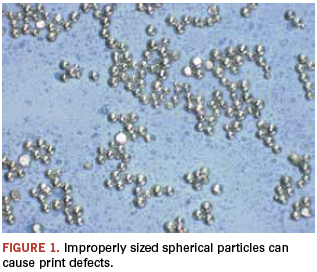 These are typical defects shown in the National Physical Laboratory's interactive assembly and soldering defects database. The database (http://defectsdatabase.npl.co.uk), available to all this publication's readers, allows engineers to search and view countless defects and solutions, or to submit defects online. To complement the defect of the month, NPL features the "Defect Video of the Month," presented online by Bob Willis. This describes over 20 different failure modes, many with video examples of the defect occurring in real time.

Chris Hunt is with the National Physical Laboratory Industry and Innovation division (npl.co.uk); This e-mail address is being protected from spambots. You need JavaScript enabled to view it . His column appears monthly.
Last Updated on Friday, 02 March 2012 16:26
Columns
European RoHS Enforcement Explained
A series of workshops next month on compliance with RoHS and other directives will help US companies looking to break into the European market.

Read more...
Believing Foxconn Means Suspending Belief
The Foxconn makeover is in full swing, with the latest this piece from the New York Times that supposes that the world's largest ODM is worried that Apple -- yes, Apple -- might be bringing it down:
Read more...
Features
Managing Your ESD Program
SMT Reflow Oven-to-Oven Repeatability
How to adjust an oven so a single recipe will work across multiple ovens for an individual product.
Read more...
Products
Kolb Releases PS300 2HY Stencil Cleaner
PS300 2HY hybrid batch stencil cleaner is suitable for stencils, PCBs, misprints and solder frames. Is an automatic single-chamber system; features 3-4 step PowerSpray cleaning. Is part of compact...