Written by Mike Buetow
Tuesday, 31 January 2012 17:26
Asteelflash, CIRCUITS ASSEMBLY'S EMS Company of the Year in 2010, continues to make waves. The contract assembler in January acquired Catalyst Manufacturing Services, whose $75 million a year in revenues should help boost the company's standing into the Top 15 worldwide. CEO Gilles Benhamou spoke with Editor in Chief Mike Buetow on the latest deal. Excerpts.

CA: What made Catalyst the right company to acquire?
GB: Several reasons. We want to be a global company. And it's clear that we begin with the US and China, when we acquired Flash. It's very important to us to be able to service customers all over US, not just California. We needed to have a facility in the East Coast.

In our strategy, it's clear that we want to have low-cost centers. But certain customers want to be close to their own design centers. We want to give them real service and help them at the beginning of a project – the NPI – to help them optimize the cost and quality of the product. This acquisition will put us close to our key customers in the US.

Through this acquisition, we have a footprint in Mexico. We are able now to have low-cost centers in China, Tunisia and in North America.

Third, clearly the telecom industry is in California, but medical and industrial customers are located closer to the East Coast.

CA: What do you see as Catalyst's technical strengths?
GB: They are very strong in medical and do military, railway, defense and aerospace. They have a high level of quality. They have good organization of what we like to call processability. And they have all the qualifications for aerospace and medical.

CA: What was the acquisition price?
GB: We never comment on that. The price is always too high [laughs].

CA: Will you keep the management intact?
GB: Yes, yes. We don't fire people. We implement our own strategy, but they work with the same structure they had before. We never change a good structure.

CA: In Mexico, was it an easy decision to acquire a plant instead of greenfielding?
GB: We want to have a footprint in Mexico. We want to have the right company where we can grow and have all the qualifications. A greenfield takes more time. We were ready in July to do a greenfield, but to go from zero, if you want to grow, you have to find the right people, the location, the equipment. With Catalyst, we can bring it together immediately.

CA: Will Asteelflash keep all the Catalyst factories open?
GB: Sure. We are not in a situation where we acquire a company and close them. If we close a factory, it's a loss of our position. We don't buy for the revenue. We are an EMS company – electronics manufacturing service. To give service, you must be close to your customers. It means not having to go far, people speaking the same language. What's happened is the Tier 1s close their factories in Europe or the US and think they can give the same services with people in Mexico or China or Eastern Europe. We don't think so. Our strategy is completely different. Even if the cost is a little bit higher, the service makes the difference.

CA: Is there any customer overlap between Asteelflash and Catalyst?
GB: Zero overlap. The customers are completely different. Catalyst's customers are mainly based on the East Coast. Now we have the qualifications.

It's clear that we bring to Catalyst huge advantages. We offer a global footprint. They were only in Mexico. We can support their customers' business in China, in West Coast, in Europe. A lot of Catalyst's customers are global. They normally need more support in other regions. Catalyst was not able to support them. A lot of them are happy about this. It's clear, due to our size, we have access to a better supply chain.

CA: Given the natural disasters in Japan, Thailand and Malaysia and the political uprisings in the Middle East, 2011 was a difficult year for supply chain. Does this acquisition help spread your risk?
GB: Our job is to work with customers across a variety of products. We want to provide service, not just volume. Our customers want service everywhere in the world. We don't have operations in Japan or Malaysia. In Tunisia, we have very good relationships with our employees. They want to support the company. [The change in government in Tunis] was more a problem for our customers, who believed it could be more dramatic than it was. After a few months, it [calmed down]. Globally, we don't have a problem.

CA: Can you comment on your next target region?
GB: Yeah, sure. Germany. The US market remains a huge one. Between the two main markets in Europe, the first is Germany and the second is France. We have a position in the UK and France, but not in Germany.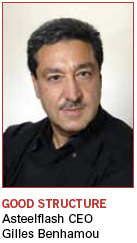 Last Updated on Tuesday, 31 January 2012 20:18
Columns
Eastern-US: China's New Competitor?
Parity emerges among EMS Factories from Asia, Mexico and the US.
For the first time in years we see parity in the Eastern US among EMS factories from Asia, Mexico and the US. This EMS market condition will permit American OEMs (the EMS industry refers to OEMs as customers) to have more EMS pathways to choose from. Now more than ever, such EMS assignments will require deeper investigation relating to the OEMs' evaluation of manufacturing strategies.
Read more...
For those who count on the electronics industry for big feats, it's been a remarkable couple of years.
Read more...
Features
Advances in Concentration Monitoring and Closed-Loop Control
Contaminated bath water skews refractive index results. New technology can accurately measure aqueous cleaning agent concentration.
Read more...
Circuits Disassembly: Materials Characterization and Failure Analysis
A systematic approach to nonconventional methods of encapsulant removal.
Read more...