Written by Chris Hunt
Tuesday, 31 January 2012 17:22
A poor stencil seal could lead to solder paste contamination.
Solder paste contamination on the base of the stencil can quickly lead to solder spots on gold surfaces. Figure 1 shows an aperture with a minor amount of paste held between prints, but also contamination under the stencil on the board contact side. This can be overcome with an understencil dry or wet wipe. But what is the main cause?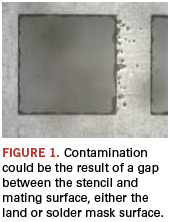 Paste seepage out of the confines of the aperture means there was a gap between the stencil and the mating surface, which could be the surface mount pad or solder mask surface. Ideally, during printing, the stencil surface will seal with the circuit board prior to the solder paste print stroke. The aperture should maintain a seal during the print stroke until the pressure against the paste is released, and then the stencil separated from the surface of the board. An ideal situation, however, also considers all the other issues have been controlled or specified:
Solder mask height.
Copper plating distribution.
Legend marking height or distribution.
Solder finish type.
PCB flatness.
These are typical defects shown in the National Physical Laboratory's interactive assembly and soldering defects database. The database (http://defectsdatabase.npl.co.uk), available to all this publication's readers, allows engineers to search and view countless defects and solutions, or to submit defects online. To complement the defect of the month, NPL features the "Defect Video of the Month," presented online by Bob Willis. This describes over 20 different failure modes, many with video examples of the defect occurring in real time.
Chris Hunt is with the National Physical Laboratory Industry and Innovation division (npl.co.uk); This e-mail address is being protected from spambots. You need JavaScript enabled to view it . His column appears monthly.
Last Updated on Tuesday, 31 January 2012 20:26
Columns
Could 3-D printers undo decades of frame-up circuit board assembly?
Read more...
J-STD-004B: A New Twist on an Old Standard?
Before rejecting a flux, be sure you understand the standard.
Read more...
Features
A Systems-Level Approach to Product Development
Is there a way to more tightly integrate materials and process development so as to accelerate the pace of innovation?
Read more...
Reducing Stencil Wipe Frequency
A new study of nanocoatings allows users to visualize solder paste flow under the stencil.
Read more...
Products
Hitachi Updates Sigma G5S Modular Mounter
Sigma G5S modular mounter has a multi-function head that now features lead-clinching and tamping functionalities. Uses side-mounted lighting and machine vision to identify and locate through-hole...