Written by Chris Hunt
Tuesday, 31 January 2012 17:22
A poor stencil seal could lead to solder paste contamination.
Solder paste contamination on the base of the stencil can quickly lead to solder spots on gold surfaces. Figure 1 shows an aperture with a minor amount of paste held between prints, but also contamination under the stencil on the board contact side. This can be overcome with an understencil dry or wet wipe. But what is the main cause?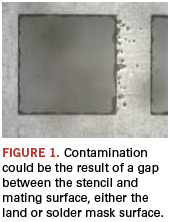 Paste seepage out of the confines of the aperture means there was a gap between the stencil and the mating surface, which could be the surface mount pad or solder mask surface. Ideally, during printing, the stencil surface will seal with the circuit board prior to the solder paste print stroke. The aperture should maintain a seal during the print stroke until the pressure against the paste is released, and then the stencil separated from the surface of the board. An ideal situation, however, also considers all the other issues have been controlled or specified:
Solder mask height.
Copper plating distribution.
Legend marking height or distribution.
Solder finish type.
PCB flatness.
These are typical defects shown in the National Physical Laboratory's interactive assembly and soldering defects database. The database (http://defectsdatabase.npl.co.uk), available to all this publication's readers, allows engineers to search and view countless defects and solutions, or to submit defects online. To complement the defect of the month, NPL features the "Defect Video of the Month," presented online by Bob Willis. This describes over 20 different failure modes, many with video examples of the defect occurring in real time.
Chris Hunt is with the National Physical Laboratory Industry and Innovation division (npl.co.uk); This e-mail address is being protected from spambots. You need JavaScript enabled to view it . His column appears monthly.
Last Updated on Tuesday, 31 January 2012 20:26
Columns
European RoHS Enforcement Explained
A series of workshops next month on compliance with RoHS and other directives will help US companies looking to break into the European market.

Read more...
Believing Foxconn Means Suspending Belief
The Foxconn makeover is in full swing, with the latest this piece from the New York Times that supposes that the world's largest ODM is worried that Apple -- yes, Apple -- might be bringing it down:
Read more...
Features
Managing Your ESD Program
SMT Reflow Oven-to-Oven Repeatability
How to adjust an oven so a single recipe will work across multiple ovens for an individual product.
Read more...
Products
Polyonics Introduces Double Coated Bonding Tapes
Ultra thin double coated tapes are for bonding and attaching components and assemblies where high dielectric strength is required. REACH and RoHS compatible. Come in polyimide (PI) and polyester...