Written by Chris Hunt
Tuesday, 03 January 2012 14:50
Reflow might resolve paste slump without operator intervention.
Solder paste quality today is very good and consistent thanks to controls put in place by suppliers and users. For printing problems, always go back to basics and check each part of the process and the materials used. If the metal size distribution or material quality does not meet international standards, that could be the root cause of stencil blockage problems, but also the reason for paste slump (Figure 1).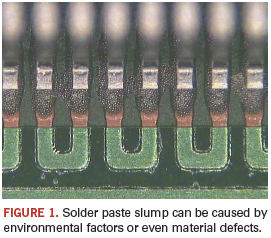 Solder paste slump can, in some instances, lead to solder shorts. Any cold or hot slump of solder paste is not ideal, but if the material volume is correct for the pad and component combination, and the pad surface solderability and pin are satisfactory, these small wet paste shorts will disappear during reflow, even more so when reflowed in nitrogen or vapor phase due to the better solder coverage. (The solder volume is spread over a larger area.)

Run some simple trials to look at hot and cold hot paste slump with reference to the test methods in J-STD-005 or the IPC-TM-650, Test Methods Manual. Look at the environment controls in your manufacturing area to see if this is a contributor. Finally, look at the placement process; Figure 1 may be simply paste displacement, rather than a paste problem.

These are typical defects shown in the National Physical Laboratory's interactive assembly and soldering defects database. The database (http://defectsdatabase.npl.co.uk), available to all this publication's readers, allows engineers to search and view countless defects and solutions, or to submit defects online. To complement the defect of the month is the "Defect Video of the Month," presented online by Bob Willis. This describes over 20 different failure modes, many with video examples of the defect occurring in real time.
Chris Hunt is with the National Physical Laboratory Industry and Innovation division (npl.co.uk); This e-mail address is being protected from spambots. You need JavaScript enabled to view it . His column appears monthly.
Last Updated on Tuesday, 03 January 2012 18:42
Columns
Eastern-US: China's New Competitor?
Parity emerges among EMS Factories from Asia, Mexico and the US.
For the first time in years we see parity in the Eastern US among EMS factories from Asia, Mexico and the US. This EMS market condition will permit American OEMs (the EMS industry refers to OEMs as customers) to have more EMS pathways to choose from. Now more than ever, such EMS assignments will require deeper investigation relating to the OEMs' evaluation of manufacturing strategies.
Read more...
For those who count on the electronics industry for big feats, it's been a remarkable couple of years.
Read more...
Features
Advances in Concentration Monitoring and Closed-Loop Control
Contaminated bath water skews refractive index results. New technology can accurately measure aqueous cleaning agent concentration.
Read more...
Circuits Disassembly: Materials Characterization and Failure Analysis
A systematic approach to nonconventional methods of encapsulant removal.
Read more...
Products
KIC Debuts K2 Thermal Profiler
K2 thermal profiler has plug-and-play hardware and a graphical user interface said to make profiling both quick and easy. Enables each thermocouple to use its own unique process window, while...