Written by Chris Hunt
Tuesday, 03 January 2012 14:50
Reflow might resolve paste slump without operator intervention.
Solder paste quality today is very good and consistent thanks to controls put in place by suppliers and users. For printing problems, always go back to basics and check each part of the process and the materials used. If the metal size distribution or material quality does not meet international standards, that could be the root cause of stencil blockage problems, but also the reason for paste slump (Figure 1).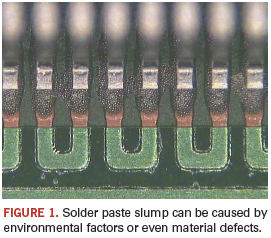 Solder paste slump can, in some instances, lead to solder shorts. Any cold or hot slump of solder paste is not ideal, but if the material volume is correct for the pad and component combination, and the pad surface solderability and pin are satisfactory, these small wet paste shorts will disappear during reflow, even more so when reflowed in nitrogen or vapor phase due to the better solder coverage. (The solder volume is spread over a larger area.)

Run some simple trials to look at hot and cold hot paste slump with reference to the test methods in J-STD-005 or the IPC-TM-650, Test Methods Manual. Look at the environment controls in your manufacturing area to see if this is a contributor. Finally, look at the placement process; Figure 1 may be simply paste displacement, rather than a paste problem.

These are typical defects shown in the National Physical Laboratory's interactive assembly and soldering defects database. The database (http://defectsdatabase.npl.co.uk), available to all this publication's readers, allows engineers to search and view countless defects and solutions, or to submit defects online. To complement the defect of the month is the "Defect Video of the Month," presented online by Bob Willis. This describes over 20 different failure modes, many with video examples of the defect occurring in real time.
Chris Hunt is with the National Physical Laboratory Industry and Innovation division (npl.co.uk); This e-mail address is being protected from spambots. You need JavaScript enabled to view it . His column appears monthly.
Last Updated on Tuesday, 03 January 2012 18:42
Columns
Could 3-D printers undo decades of frame-up circuit board assembly?
Read more...
J-STD-004B: A New Twist on an Old Standard?
Before rejecting a flux, be sure you understand the standard.
Read more...
Features
A Systems-Level Approach to Product Development
Is there a way to more tightly integrate materials and process development so as to accelerate the pace of innovation?
Read more...
Reducing Stencil Wipe Frequency
A new study of nanocoatings allows users to visualize solder paste flow under the stencil.
Read more...
Products
Hitachi Updates Sigma G5S Modular Mounter
Sigma G5S modular mounter has a multi-function head that now features lead-clinching and tamping functionalities. Uses side-mounted lighting and machine vision to identify and locate through-hole...