Written by Clive Ashmore
Monday, 05 December 2011 14:29
Identifying factors that can lead to a stencil's premature demise.
Death by squeegee. Sounds dreadful, doesn't it? But, in fact, this is precisely what is happening to numerous stencils, as foils get thinner and pitches get finer. The industry has gone from 150 µm-thick stencils down to 100 µm-thick stencils in a very short time frame, and logically, thinner stencils are more delicate and, therefore, more prone to damage. In the days of thicker stencils and larger deposits, any stencil problems could be more easily masked and stencil life extended. Today's a different story.

Stencils are critically important to process integrity and aren't often given the value they deserve as a key element to the tool set, with each individual aperture acting as a mold that aligns to a pad, fills with material and produces a deposit. When stencils are new and straight out of the box, there is a high probability they will work exactly as they should (assuming they have been manufactured correctly). Once they get some wear and tear – which doesn't take long with today's miniaturized dimensions – stencils get damaged, and it can cost your process mightily in yield and expense.

Not only is the stencil's diminishing thickness contributing to early death, but the combination with modern aperture sizes is making shortened stencil lives more prevalent than you may think. Specifically, the large RF CANs used in mobile communication products are the primary culprits (along with poor stencil care – more on that below). The CANs require large areas (aperture sizes of 0.5 by 3mm) of the stencil to be cut out, and these tend to get snagged by the squeegee. The large cut-outs can also adversely affect the tension of the stencil, as the area around these larger openings can get stretched more readily than other areas. The smaller apertures on the perimeter of the CANs will react negatively to any of these factors. When you consider that many stencils are very high cost, replacing them often doesn't bode well for the bottom line.

So, how do you identify those factors that can lead to a stencil's premature demise? Here's my short list of stencil killers:
Damaged squeegee. It's remarkable how often operators don't even inspect the squeegee before they put it on the machine. Squeegees can be nicked, warped or insufficiently cleaned. Operators have been known to run squeegees that are too large for the board (longer than the board length). Any of these things can quickly damage a stencil. I've seen a squeegee rip the stencil like an electric can opener – not pretty. There are simple remedies: inspect the squeegee for damage, use universal blade holding systems for easy blade changeover (to avoid the squeegee length/board length mismatch) and make sure squeegees are clean.
Improper paste deflector settings. Paste deflectors are mechanically set at each end of the squeegee to help alleviate paste trails. Like everything else, they need maintenance and proper setting. If the deflectors are lower than the recommended height settings, increased squeegee pressure can cause the deflectors to cut through the stencil. Again, this is a very easy and common-sense fix. Ensure deflector settings are correct (it may take a few minutes to modify, but worth the time investment) or use some of the new auto-adjusting paste deflectors on the market.
Poorly manufactured tooling. If dedicated tooling is made properly, it works like a charm. If tooling is poorly manufactured, nothing could be worse for your stencils. Every single print cycle, the table comes up and forcefully connects to the stencil. This delicate 100µm stencil is sandwiched into the middle, and something's got to give. Unfortunately, the stencil is the one that loses the battle. Even when tooling is made properly, things can go wrong. If a component gets knocked off and lands in one of the pockets of the tooling plate, you'll have a high point on the next board that will eventually cause stencil damage. For certain applications, automatic board support that readjusts to each board can be a good remedy.
Sub-par stencil maintenance. Clean your stencils! When solder paste remains in the apertures and sets up like concrete, you're in trouble – or at least in for some serious scrubbing. Keeping stencils alive means taking good care of them.
Incorrect squeegee pressure. The general rule of thumb is that enough pressure is applied to just clear the stencil. That's the methodology I follow, and I tend not to use the mathematical equations as much because I think the pressure often depends on the material used. That said, if you are winding the squeegee down so far that it doubles up on itself (and I have seen this!), you're only going to be coining and polishing the stencil. Within a shift, the life of that stencil has probably been cut in half. Check the solder paste application notes for the proper pressure. Failing that, use my previously mentioned rule of thumb.
It's difficult to quantify how many prints should or can be achieved with a single stencil, as there are so many process variables. And, while there are technologies (RFID tags, for example) available to help measure print count per stencil, costs prohibit market acceptance. Suffice it to say, a well-cared-for stencil should last a substantial amount of print cycles before the elasticity/tension eventually diminishes. Take a pulse on your stencils. If you're getting process errors, then it's likely your stencil is dead. Perhaps you should implement life-saving measures for the next one.
Clive Ashmore is global applied process engineering manager at DEK International (dek.com); This e-mail address is being protected from spambots. You need JavaScript enabled to view it . His column appears bimonthly.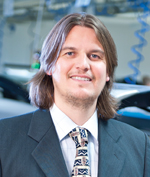 Last Updated on Monday, 19 December 2011 09:27
Columns
Eastern-US: China's New Competitor?
Parity emerges among EMS Factories from Asia, Mexico and the US.
For the first time in years we see parity in the Eastern US among EMS factories from Asia, Mexico and the US. This EMS market condition will permit American OEMs (the EMS industry refers to OEMs as customers) to have more EMS pathways to choose from. Now more than ever, such EMS assignments will require deeper investigation relating to the OEMs' evaluation of manufacturing strategies.
Read more...
For those who count on the electronics industry for big feats, it's been a remarkable couple of years.
Read more...
Features
Advances in Concentration Monitoring and Closed-Loop Control
Contaminated bath water skews refractive index results. New technology can accurately measure aqueous cleaning agent concentration.
Read more...
Circuits Disassembly: Materials Characterization and Failure Analysis
A systematic approach to nonconventional methods of encapsulant removal.
Read more...